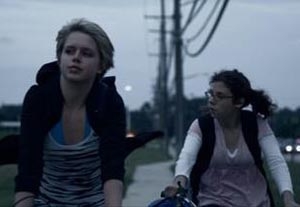 At this year's
SXSW Film Festival
in Austin, Texas, "
The Myth of the American Sleepover
" won the award for best ensemble cast. What makes the award so special is the fact that the cast is composed of unknown actors, many of whom were making their onscreen debut, with a writer-director who had never previously directed a full-length feature. The film, which was made for about $50,000 and was filmed in just five weeks, was also an official selection at Cannes for the festival's International Critics' Week, a selection for AFI Fest, winner of the American Indie Newcomer Prize at the Munich International Film Fest, the Prix du Jury at the Deauville American Film Fest, and Best Narrative Feature Award at the New Orleans Film Fest.
Back Stage chatted with writer-director David Robert Mitchell and actors Brett Jacobsen ("Scott"), Amanda Bauer ("Claudia"), and Claire Sloma ("Maggie") about this surprising breakout that might just be the debut film of the year.
Back Stage: Tell me about the experience of winning best ensemble cast at SXSW.David Robert Mitchell:
It was really cool. It was our premiere and we were all just really excited.
Brett Jacobsen:
It was amazing just going to Austin and being a part of that festival. I remember walking up to the theater where it was playing and there was a line around the building and I thought it must be for the restaurant or something. That can't be for our [film], right?
Mitchell:
It was a big line.

Amanda Bauer:
It was such a cool festival to be a part of too because I feel like the film community in Austin is very communal and supportive. There were a lot of people who would go to each other's screenings.
Mitchell:
The coolest thing about the award was for them to recognize all the actors in it—across the board with such a big cast.

Back Stage: David, is it true you started writing this script in college?Mitchell:
In grad school, yes. I'd done a bunch of short films that were similar, sort of semiautobiographical stuff, and it seemed to connect with people. So I got the idea to do a longer-form version.

Back Stage: So this film is semiautobiographical? Any particular storyline?Mitchell:
They are all a little bit me. The guy characters, the girl characters—there's parts of my personality that I think are in all of them. But it's certainly fiction.
Back Stage: Your whole cast is new or unknown actors. Was it a choice not to cast any "names," or a budget necessity?Mitchell:
To me, finding new talent for this film was important because I felt like people would see the actors and think of them as those people; as if they're being introduced to them for the first time and see them as these kids. We were trying not to find really well-known actors for these roles but to find new talent where their personalities could come through in a really unique way. We were looking for people the audience could be charmed by. I think all of their personalities really did that. 

Back Stage: Can you talk about the casting process?
Mitchell:
It was mostly in Michigan. We put out notice to community papers, local schools, everything in the Detroit area. I knew Brett from film school.
Jacobsen:
I have a weirder story than that, but I think it's a good thing for actors to know. If somebody ever asks you to be a reader for their auditions, do it. If you happen to be good for the role, the director might ask you to audition. That is what happened to me. They were auditioning twins at the place where I worked at the time, which were the two characters Scott plays against, and David asked me to be a reader. I was like, "That sounds fun, reading with cute twins. I think I could take a few hours off of work to do that." We read several sets of twins, including Nikita and Jade Ramsey, the twins that are in the film, and I think there was a slight chemistry between me and them.

Mitchell:
That was definitely it. They were great together. We read a lot of people for the Scott part, and initially I wasn't thinking of Brett for this role until he read it, and then after a little bit I was like, "Brett's great; maybe Brett can do it." So that's how Brett got cast. With Amanda, we actually found her out here in Los Angeles, although she's from Michigan. We had one day of auditions out here in L.A. just to see if we could find some people, but our primary goal was to cast in Michigan.  We were nearly a "no budget" movie, and it was important for us to have the actors nearby. We wanted local kids.  But we did have auditions here and I remember thinking Amanda was great, but we had found a girl to play that part who was very good in Michigan. Well, she canceled by basically texting us and said she was not going to do the movie literally an hour before we were supposed to start filming with her. I remembered Amanda, and I asked the producer [Adele Romanski] to see if Amanda could fly out and do it. Thankfully, she could and she was fantastic. Claire we found at an open audition in Michigan.

Claire Sloma:
I had only done theater at my high school and stuff.  I did a lot of different things in high school but theater was always a big passion of mine, so my mom's friend was like, "Hey! Open casting call!" I had never done anything with film, so I wasn't very familiar with the subtleties of it. I had a couple callbacks and David even sent me a DVD of the twins doing an audition just to show me that eye contact was important, whereas in theater it's not as important. Thankfully, he coached me and worked with me. It was definitely a process, but it was well worth it. 

Back Stage: Claire, you just moved out here to L.A., right?Sloma:
This morning! I'm officially here. I just graduated from the University of Michigan a couple of months ago.

Back Stage: David, how do you go about directing actors who have never done a film before?
Mitchell:
It was different for almost all of them. Like I was saying, we were casting for personality and a certain screen quality that was natural. So there were certain parts of the performance that I think were inherent to the actors, and so some of the job was done in just asking. For some it was about bringing out more from them. For some it was about toning things down. It was fairly intuitive for me, but yeah, it's different for everyone. A decent amount of rehearsing too. Probably some actors we brought in more than others, and in different pairings, and I think that was helpful. 
Back Stage: What did you learn from directing your first feature?Mitchell:
For me the hardest thing was just the physical difficulty of that prolonged sort of stress. Lack of sleep, lack of eating...the physical aspect of it. It's incredibly difficult and it actually affects the ability to concentrate and to get the work done. In terms of directing actors, I think it's just about trying to be open to the differences in personality and approach. Trying to understand that everyone is going to have their own way of working, and I have mine, and trying to be sensitive to each of them. Understanding that they're putting everything they have into it the same way that I am. The physical difficulty of [filming] is the same for them too.... I guess the most important thing is that you find the best people that you can, that they're very talented, and then you give them everything you have to give and you step back a little bit. Then it's this giant collective group effort. I always felt like the burden was on my shoulders more than anyone else's before directing this. Now I see that it is on them too. 
Back Stage: Actors, what did you learn from this experience?
Jacobsen:
You have to give a part of yourself to a movie. I always miss that part of myself, and watching the movie lets me see a little bit of it again.
Bauer:
It was three years ago. I look back on it and I've grown so much since then. It was my first movie, so it was a huge life experience. Keeping track of your character, where they're at, and what's going on with them. Having to go again and again to those night shoots.  But it was such a fun experience. I think James [Laxton], our cinematographer, said at one point, "It was like summer camp for all of us."
Jacobsen:
Isn't that what you said when you accepted the ensemble award?

Bauer:
I had to make an acceptance speech, which was probably not a good idea. I said the first thing that came to my mind, which was "This is way cooler than fourth-grade summer camp and it was really fricken awesome." Afterwards, I felt everyone was like, "What the hell did she just say?"
Sloma:
I gained a much better understanding of how the simplest things in film can really say a lot. That definitely resonated with me. Thanks to David and Adele I think hopefully I'll continue to do okay. 
Back Stage: David, what's your best advice for actors who might audition for you someday?
Mitchell:
I don't think anyone should stress or be nervous about auditioning. Just come in and do your best. Do what feels right to you. Try not to be hurt if you don't get something, but ultimately if you're right for something, if there's something inherent and natural within you, I'll see that—even if something isn't perfect. It's about you. Of course, all the training and being prepared is important. But I do think there is something to be said for not stressing about it too much. It's either there or it's not for that particular role, and don't be upset if it's not, because there's something else that will be right. I think most directors and casting directors know what they're looking for and they can see it.

"The Myth of the American Sleepover" opens Friday, July 29, in Los Angeles and is available on demand nationwide.