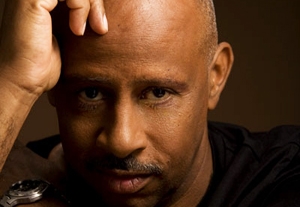 Ruben Santiago-Hudson
may be best known as the hard-nosed Captain Roy Montgomery on "Castle," or perhaps as Doc, the bodyguard of Frank Lucas (Denzel Washington), in the film, "American Gangster." But he is also a writer and director, insisting his three hats are equally "defining, satisfying, and challenging." More important, they all reflect, his "integrity, desire to tell a story, and to erase negative, stereotypical images of my people and bring them to wholeness," he asserts. "Whether I'm acting, writing, or directing, I want to tell the truth about human beings, especially my folk."
He is currently helming the revival of
Athol Fugard'
s 1989
"My Children! My Africa!"
Off-Broadway at the Pershing Square Signature Center. Set in a classroom in a small South African town in 1984, the play explores the evolving relationships among an idealistic but traditional black teacher (James A. Williams), a revolutionary black student (Stephen Tyrone Williams) and an innocent yet feisty white pupil (Allie Gallerani). Intergenerational and racial conflict mirrors the political unrest brewing outside the classroom.
When Signature's founding artistic director James Houghton invited Santiago-Hudson to come on board, it was a no brainer on several fronts, not least because it gave him the chance to work with Fugard. "I have to be invested spiritually, emotionally, and psychologically to do theater," he admits frankly. "I can't do it to make a living. I have four kids, a couple of grandkids, and two mortgages."
His major challenge was making sure all the elements worked together to serve the playwright's voice, including music composed by ten-time Grammy winner
Bobby McFerrin
. Casting posed challenges as well, especially finding the right actor to play the young woman. She had to be able to hold her own with the two powerhouse men on stage, "not waiver or play a silly white girl," Santiago-Hudson remarks. "She had to be able to say, 'I matter. I count.' She may be naive but she's also strong. And that was hard to find."
Interestingly, Santiago-Hudson does not find the play's 1984 time frame challenging. He maintains the politics of the era and the views that are voiced continue to have resonance. "Circumstances have changed in some ways, but people are still racist and denying others their rights," he notes. "Even here in America, people are fighting for civil rights 45 years after the civil rights movement. I wanted to make this play accessible to an audience in 2012, taking into consideration what we know now."
Directing as Natural Progression
Santiago-Hudson was brought up in Lackawanna, New York by "Nanny," an angelic and strong-willed woman who ran a boarding house, full of awash in colorful tenants. His solo show, "Lackawanna Blues," that ran at The Public and became an award-winning TV movie, paid tribute to Nanny and the poignantly comic denizens who surrounded her. They were a source of warmth, comfort, and support. "My biggest goal was not to disappoint those who had given up so much for me," he recalls. "I was determined not to fail or squander my opportunities. I thought I'd become a doctor because that what they expected of me."
Though not an M.D., ultimately Santiago-Hudson garnered an honorary doctorate from Buffalo State. He earned his undergraduate degree in theater from SUNY at Binghamton and his MFA in acting from Wayne State University in Michigan. While still in college he launched his acting career in regional theater and to date has not suffered a shortage of roles in any medium.
Moving into the director's chair was a natural progression. Santiago-Hudson says he was determined to share what he had learned from the good directors, while sparing actors some of the negativity he had endured at the hands of the less sensitive. "I try to create an environment where it's okay to make a mistake, though it's not okay to be unfocused or come in unprepared. I'm challenging and demanding, but very patient. I don't tell you how to get there and I don't show you what to do, though I'll ask leading questions. I have to be a guide, a supporter, a disciplinarian when needed, and make sure the actors are honest at all times. I'm a truth meter. If a performance is not ringing true or self-serving, I'll say, 'Hey.'"
Keenly aware of evolving opportunities for theater artists of color, Santiago-Hudson says he's tackled a host of roles across the racial-ethnic spectrum. But the same cannot be said when he wears his director's hat. "There are only two black directors on Broadway, George C. Wolfe and Kenny Leon," he points out. "Emily Mann-and she's a good friend of mine-gets to do 'Streetcar' with a black cast, but I wouldn't even be considered for 'The Homecoming,' Beckett, Brecht, or Chekhov. I'm attracted to all of them, but my name is not on the list. I'd love to do restoration comedy."
In the meantime, he's looking forward to directing August Wilson's "The Piano Lesson" at the Signature in January, admitting he'd love to helm the full Wilson cycle. He's also looking forward to finding a new young writer he can nurture. "The classics are great, but we need new blood."
"My Children! My Africa!" runs through June 10 at The Pershing Square Signature Center, 480 W. 42nd St., NYC. Tickets: 212-244-7529 www.signaturetheatre.org
Outtakes:
-Directed "Jitney" "Their Eyes Were Watching God," "Seven Guitars," "Things of Dry Hours," "Gem of the Ocean," "Radio Golf," and "The First Breeze of Summer" at Signature Theatre Company, The Kennedy Center, Two River Theater Company, NY Theatre Workshop, McCarter Theater, and A.C.T. San Fransisco.
-Appeared in Broadway productions, "Stick Fly," "Gem of the Ocean," "Seven Guitars, and "Jelly's Last Jam," among others.
-Featured in the films, "American Gangster," and "The Devil's Advocate," and was a series regular on "Castle," and guest starred on "Law & Order," "Person of Interest," "The West Wing," and "Third Watch," among others.
-Awards include Tony, Obie, Outer Critics Circle, AUDELCO, Clarence Derwent, Helen Hayes, and an NAACP Lifetime Achievement Award.