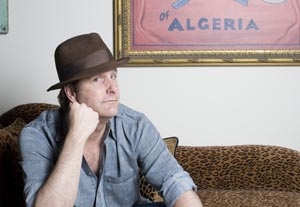 Jeff Daniels says family has always been his top priority. Indeed, when other up-and-coming actors might have relocated to Los Angeles, he and his wife, Kathleen, moved home to Southeastern Michigan to raise three children, now in their late teens and early 20s.
"I wasn't going to let the industry destroy my family," asserts the intense and thoughtful actor, who makes it clear stardom is not his ambition. "My goal is making a living in an industry that doesn't care if you're here on Tuesday. Longevity is my goal. So how do you sustain a career over decades? What can you control? The only thing you can control is how good you are as an actor, and that includes auditioning. You have to be good every time out, right away. You have to be in the right place at the right time and then be able to deliver."
Daniels has been delivering for more than 30 years in a range of projects. They include such films as
Terms of Endearment, Heartburn, Radio Days, The Hours, Dumb and Dumber, 101 Dalmatians, The Squid and the Whale, Away We Go, State of Play
, and, currently, John Hindman's 
The Answer Man
, a low-key romantic comedy about a know-it-all best-selling author (Daniels) who in reality knows nothing about anything. Among Daniels' New York theater credits: Lanford Wilson's
Fifth of July
and
Redwood Curtain
, A.R. Gurney's
The Golden Age
, and Chekhov's
Three Sisters
; he's currently starring on Broadway in Yasmina Reza's
God of Carnage
through July 27, when the Tony Award–winning play goes on hiatus for six weeks. In the wild comedy—a kind of Virginia Woolf as farce—Daniels plays a dementedly driven attorney. His co-stars are James Gandolfini, Marcia Gay Harden, and Hope Davis. Daniels is also the founder of the not-for-profit Purple Rose Theatre Company in Chelsea, Mich. And he is a playwright and a singer-songwriter who has three CDs to his credit.
What draws him to a project—whether it's film or theater—is "if I don't have a clue as to how to do it," he says. "That means I won't be repeating myself and I won't be bored. I bore easily. I've done 50 movies and been doing plays since high school, and I've never subscribed—or been brought up artistically—to repeat myself. So when I get a role like the one I have in
Carnage
, it has failure written all over it. Ralph Fiennes did it in London, and that was a creative cattle prod up the butt." As for
The Answer Man
,
the challenge was playing character-based comedy, he says. "The writing demanded and allowed you to play it straight and be twice as funny. You couldn't chicken-wing it."
Daniels' approach to his characters varies with the project, but a consistent element is listening, he says. He does not discuss his character's backstory with others, unless, of course, the characters have a shared history. When he and Davis, who plays his wife in
Carnage
, come on stage, they must be on the same page in terms of where they're coming from, literally and figuratively, he says.
Daniels makes basic choices about his character's intentions, though these are not too specific or etched in stone, he points out. But the key to a good performance is listening and reacting to fellow actors onstage, he reiterates, citing Meryl Streep in
The Hours
as an object lesson in "moment-to-moment acting." He notes, "Each take was completely different, even though her intentions were the same."
Daniels suggests studying lousy actors as a useful tool, "if you can identify why the performance is bad and then not make the same mistakes," he says. Though he never studied acting formally, he views working with the now-defunct Circle Repertory Company in New York City in the mid-1970s as his training ground. Its artistic director Marshall Mason had seen Daniels in a college play at Central Michigan University, where Daniels was majoring in English, and was so taken with Daniels' strong instincts and raw talent the A.D. invited him on board, where Daniels learned on his feet. Within short order, Wilson wrote the role of Jed Jenkins for the actor in
Fifth of July
, which brought Daniels much respect within the theater community. The play was ultimately made into a TV movie, with Daniels in the role.
Giving His All
"Jeff is a brilliant and unusual actor," says Matthew Warchus, the Tony-winning director of
God of Carnage
. "He is a meticulous perfectionist. But, paradoxically, he is also very free and instinctual—happy to dive in and try something without worrying about whether it is exactly right or wrong—and unafraid of extremes. This mixture of quiet, calm control with
wild storms beneath the surface is perfect for his character in
God of Carnage
, who stands coolly aloof from the other three for most of the play before eventually exploding spectacularly and falling into the mud with them. All in all, a director's dream."
Answer Man
director Hindman weighs in: "One of the amazing things about working with Jeff is that he gives you so many choices. He finds the full range of emotion in the character for every moment. He's an actor who wants to fully flesh out what's there as opposed to offering changes that might make him more comfortable. Jeff makes everyone elevate their game. In the movie, there is a big monologue—I mean two-pages big—that Jeff delivers to a crowd. We shot his coverage first and then needed to shoot everyone else. Jeff stayed and performed that monologue all afternoon even though he was off camera. He had to do it five or six times just so we could shoot reactions from the extras. Jeff gave it a hundred percent every time. At the end of the day I said, 'Thanks for going the extra 10 miles on that.' He said, 'Part of my job.' No complaining. No fanfare. That's Jeff."
Purple Rose of Michigan
Daniels has worked steadily as an actor, supplementing his income with commercials during the early years. Still, when an expected check was not in the mail, he took a gig toasting buns at Burger King. He recalls being so miserable and inept at it—likening his experience to a scene out of
I Love Lucy
—he left after four hours, without picking up his $8 earnings.
Landing a role in
Terms of Endearment
was a high point for him. He was still an unknown, yet writer-director James L. Brooks didn't care. "'I don't want stars; I want this actor,' " Brooks said to the producers, Daniels recalls. But when Woody Allen cast Daniels in
The Purple Rose of Cairo
and told him he was good, that was seminal. "I went home to Kathleen and said, 'I think I'm going to make a living at this,' " Daniels recalls. Allen's endorsement also mitigated the power of The New York Times, Siskel and Ebert, and all the other judges who were so important to him previously. Suddenly their opinions ceased to matter, Daniels says. Like many actors, he insists reviews are of no relevance to him anyway, and he reads only "the good ones," which his wife selects. He says reviews usually confirm what an experienced actor already knows about his performance.
Co-starring in
Dumb and Dumber
was, of course, a major steppingstone in self-reinvention. A blockbuster on that scale was new territory for the actor. But it was also a revelation in terms of just how difficult it was to do. "You're standing next to Jim Carrey, and you have to be funny or as funny as he is," Daniels says. "And how do you make guys like that believable? How do you get around just the gags?" He decided his character had the IQ of a rather limited 8-year-old, who doesn't think he's funny or dumb. Daniels enjoyed the role so much he says if
Dumb and Dumber
were turned into a musical, he'd be interested.
In 1991 he founded the Purple Rose Theatre Company because he was "creatively bored." He was between films and didn't feel free to do a play in New York because of family demands. Purple Rose's mission is manyfold, not least producing the work of local talent "that illuminates who we are in that part of the country," says Daniels, "and then show them a side of life they haven't seen." Within the parameters of familiarity, Daniels loves the unpredictable. Part of the theater's mission is play development. But unlike many other not-for-profits that do staged readings as steppingstones to play-development grants, Purple Rose is committed to "getting plays in shape and then producing them," he says.
Daniels also wants the Purple Rose to be a training ground for young actors, in the same way the Circle Repertory was for him. "I want kids to have a place to learn everything they'll need to know as actors before they get into cars and drive to New York and Los Angeles," says Daniels. The Purple Rose holds general auditions once or twice a year, and actors who are interested in auditioning should contact
the theater
for specifics. What will he look for in them? "I like actors who are fearless, who will do anything and have no problem looking stupid," he says.
Giving himself roles he might not be cast in otherwise was never part of the plan, Daniels notes. But once the theater was formed, he saw it as a possible outlet for his longtime interest in playwriting. "I could care less about camera angles, but playwriting always fascinated me," he says. He has written 12 plays, including
Guest Artist
, which the American Theatre Critics Association voted a runner-up for 2007 Best New Play. Equally important, he soon discovered that his plays brought in theatergoers.
"We were able to use that 'celebrity writes a play' to sell tickets," Daniels says. "When you open a theater in the Midwest, selling tickets is damn hard, especially if you're doing things people never heard of. So we used me and the comedy chops I have on the page to build an audience who doesn't care about theater. The joke is 'Art is someone who lives north of town.' "
He says he never saw any reason to try to get his plays produced in New York, especially since they—and others produced by Purple Rose—have been picked up by regional theaters nationwide. He doesn't know if his plays would find an audience in New York, adding that comedy is not an easy sell. "It's dismissed as being secondary," he says. "The last time I looked, the Greeks held up two masks. They will always be equal. But American theater has forgotten that."
Song of Success
Writing has informed his acting, mostly in making him "work harder to get what the writer intends," he says. "You no longer say, 'My character would never say that.' " Daniels also launched his singing-songwriting career at the Purple Rose, though he had been a hobbyist for years. "The last thing the world needs is another singer-songwriter," he says. But when the theater was dark and needed to raise money, Daniels was urged by his colleagues to go out on stage and sing. They were convinced he would sell tickets, and he did.
"I was never so terrified in my life," he recalls. "I was naked, and I didn't see that coming. I was doing my own material, and some of the songs are personal. They were not someone else's words, and there was no character to hide behind. And then there was the fact that there was no band. And if you hit the wrong chord on a guitar or if you forget a verse, it ain't pretty. But I got better, and we raised a ton of money." Indeed, it became a ritual for Daniels to perform between Christmas and New Year's Eve. Radio appearances, CDs, and a music agent followed.
Daniels wouldn't change anything in his career, including the movies he did for money, "which built my house and put my kids through college." If he had his druthers, in the not-too-distant future, "I will have finished filming the sequel to
Dumb and Dumber
, and then I can do anything I want."
Asked if there is such a sequel on the drawing boards, he says it's just a fantasy, not unlike his imagined musical of the iconic film. Is anyone with deep pockets listening?
"God of Carnage" resumes performances Sept. 8–Nov. 15 at the Jacobs Theatre, 242 W. 45th St., NYC. Tickets: (212) 239-6200 or (800) 432-7250.
www.telecharge.com.