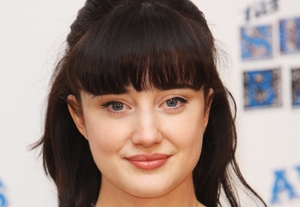 Andrea RiseboroughWhere you've seen her before:
Andrea Riseborough will quietly catch your eye in films such as "Never Let Me Go," in which she plays one of the "older," more-experienced grownups who show the main characters the ropes of that brave new world. Or you'll note how Riseborough relishes pepper-pot roles such as the perky best pal in Mike Leigh's "Happy-Go-Lucky." You shouldn't miss her this month in "Made in Dagenham," under a beehive hairdo, confidently striding through the early women's rights movement in 1960s London. And, if you're lucky, you've caught her onstage in London—including a production titled "Burn/Chatroom/Citizenship," with another of our actors to watch, Andrew Garfield. Riseborough won her first few roles while still in drama school, at the Royal Academy of Dramatic Art. So how did she feel taking a nearly background role in "Venus" after graduating from RADA and having appeared onstage at Britain's National Theatre? "It didn't feel that way," she says of being cast in the tiniest of roles. "I had a day with [director] Roger Michell and [star] Peter O'Toole. It was absolutely extraordinary."
The real deal:
Riseborough has been creating real-life characters onscreen almost since her first credit. She plays one of Prince Charles' more famous girlfriends in "Whatever Love Means"; former British Prime Minister Margaret Thatcher in "Margaret Thatcher: The Long Walk to Finchley"; and Wallis Simpson, the American divorcée who won the heart of the king of England, in "W.E.," due out in 2011. What's her method? "Joan Didion has this wonderful quote, where she says always go back to the literature," says the actor. "That's always a first port of call. You read as much as you possibly can: the crude misrepresentation that sometimes Wikipedia offers, because it's good to know what the world thinks of a person, even if it's how a person might be misperceived, and then you delve deeper and deeper. Often, the most useful things are pieces of literature that, if you find an unbiased reliable source, are more useful than an autobiography, especially if [the person is] involved in politics. And of course footage—archival footage—if they were alive when that could be recorded."

Best lesson learned:
While working on "Happy-Go-Lucky," she says, Leigh told her there are some things about their characters actors don't need to know in playing them. "That's always stayed with me," she says. "I'm a ferocious researcher. You can research until you're blue in the face, and none of that matters unless you can be receptive in the moment, unless you can actually follow through an emotional journey of the character. You must be pragmatic, artistically, minute to minute. You need to be malleable and open. The more you can approach it like a child and imagine that you don't know, and just not know, then you can be receptive to whomever you're playing opposite, and the more fulfilling and the deeper you can go inside of the person."
-Dany Margolies
Josh Hutcherson
Where you've seen him before:
In his nearly lifelong career, 18-year-old Josh Hutcherson has spent plenty of time exploring imaginary worlds: wrapped up in a high-flying, high-stakes game in 2005's "Zathura: A Space Adventure," diving down the rabbit hole with Brendan Fraser in 2008's effects-heavy "Journey to the Center of the Earth," and attempting to persuade a vampire to convert him in last year's "Cirque du Freak: The Vampire's Assistant." But his dramatic chops have kept him working. Witness his heartbreaking turn as the lead in "Bridge to Terabithia," for which he won a Young Artist Award. And this summer he garnered notice as the teenage son of two lesbians who decides to find his biological father in "The Kids Are All Right," opposite Annette Bening and Julianne Moore.

Upcoming projects:
Hutcherson is currently working on "Detention," which he describes as "if John Hughes were to make a 'Scream'-esque movie with elements of time travel." Hutcherson is also an executive producer on the film. "I love being on both sides of the camera," he says. "All my career I've had ideas but haven't been in the position to voice them. Now I can." A second "Journey to the Center of the Earth" is in the works. He'll also be seen in "Carmel," about a group of art forgers, and "Red Dawn," in which a Northwestern town is invaded by foreign armies.
Born to perform:
"I knew I wanted to be an actor since I was about 4," Hutcherson says. "I always told my family I wanted to be in movies. I loved to entertain people." The Kentucky native chuckles as he adds, "My very first job was an extra in a Bible study video for a random church in the middle of Ohio." He has never taken acting classes, professing instead a deep interest in psychology. "I really try to see things through the eyes of my character to make it real," he explains of his method. But what about that most artificial of situations: the audition? "I love to audition!" he says. "It gives me more confidence to know that I haven't been hired because of past work but because I am the right person for that specific role." And he wants as many variations as possible: "The less like me the roles are, the more fun they are to play." Although he acknowledges that each project has "opened other doors," he says his representation team and his family are the cornerstones of his success.

Making life work:
Having grown up in the entertainment industry, Hutcherson says the most important thing he has learned from his journey is about life, not work: "You have to be yourself and love yourself no matter what. In the end, that's what you have: No matter how many times you're told no, you're still yourself. And that's enough to make me happy."
—Janelle Tipton
Garrett Hedlund
Where you've seen him before:
If Garrett Hedlund has done his job right, you might not realize it's the same person playing all of his roles. This farm boy from Minnesota prides himself on portraying very different characters in each of his films: Brad Pitt's beloved, hot-headed comrade in "Troy"; a Mormon virgin in "Georgia Rule"; the youngest of four siblings avenging their mother's death in "Four Brothers"; the bald, tattooed gang leader terrorizing Kevin Bacon in "Death Sentence." Hedlund will probably lose much of his anonymity when audiences see him as Sam Flynn, opposite Jeff Bridges, in "Tron: Legacy," opening in December. But as the deep-voiced 26-year-old says, "In terms of the projects I've done, I've never worked on a project I've been offered. I've had to work for each film I've been a part of."

"Tron" challenges:
Hedlund endured two months of training in hand-to-hand combat on motorcycles to play Sam. The $60,000 light-up costume he wore took dozens of fittings and special care while on set. "Once you're in the suit, it's pretty fantastic," he says. "But it's this step-by-step process of getting a suit completely custom-fit to your body in every way. The suit's got to be a part of you, so it's very precise. It was a whole new experience for me, because my wardrobe up until that day was usually jeans and a shirt or something like that." Kneeling and other simple movements, he adds, meant being "very delicate on the suit." But the most challenging part of the job for Hedlund was acting in an elaborate environment that wasn't totally rendered on set: "You're in this computer world, so your wheels are always turning; you're always trying to figure these things out and look two steps ahead of you. You're also dealing with a lot of blue screen, dealing with things that you can't see at that point."
Other upcoming projects:
Currently, Hedlund is in New Orleans shooting his dream project, Walter Salles' film of Jack Kerouac's novel "On the Road," alongside Kristen Stewart, Viggo Mortensen, and Kirsten Dunst. He plays Dean Moriarty, a self-destructive character based on Beat figure Neal Cassady. The actor says shooting the film, which comes out next year, has been even better than he imagined. In "Country Strong," due out in January, Hedlund plays an aspiring country singer from Nashville, opposite Gwyneth Paltrow and Leighton Meester. To convince director Shana Feste that he had the pipes to play Beau Williams, he took her to a karaoke bar in Los Angeles. "We went to a place that I thought for sure was going to be packed, but we got there and the lights were on and there were only three other people in there having drinks," recalls Hedlund, who selected Pearl Jam's "Better Man" for his audition song. "I was like, 'Oh, shit.' It was a rough one." But apparently it sounded good to Feste.
Breaking in:
Hedlund has been grooming himself for acting stardom since he was 15 years old, when he began reading the trades and calling his favorite film companies, agencies, and management firms asking to be seen. Before graduating from high school early and moving to Los Angeles in 2002, he flew himself back and forth from Arizona to L.A. for "about 25 auditions," he says. "I had to do this whole mission for one shabby audition, and everybody else got to wake up and spend $5 in gas. I realized, 'Everybody else in the room sort of looks exactly the same as me; how can I set myself apart?' Well, I guess I can try and be smarter than everyone. So that whole year I just kind of read any book I could get into my hands. As soon as my mom would go to bed, I'd put some instant coffee in a cup and try and finish the book before sunrise, and then go back to high school. Novels were giving me a lot more detail than any script I was given would give, those little details. If you're wearing this hat because it fits this personality—'Oh man, I should do that in the next audition. I should wear the clothes that this character would wear and go in more prepared.' "
—Cassie Carpenter
Lucy Punch
Where you've seen her before:
Lucy Punch has been amassing credits over the past decade, including such films as "Hot Fuzz" and "Being Julia." But the blond British knockout's last two onscreen roles have launched her into a new sphere. She stole scenes as Darla, who stalks Paul Rudd's character, in "Dinner for Schmucks" and as Charmaine, a prostitute-turned-bride, in Woody Allen's "You Will Meet a Tall Dark Stranger." Punch's next challenge will be to show audiences she's capable of other kinds of roles. "I love doing comedy, but I want to change it up as much as possible," she says. In "A Little Bit of Heaven," opposite Kate Hudson, "I definitely get some serious moments…. It's a cancer comedy, so it's not that hilarious." Punch is also gearing up to play a more serious role in Nick Cassavetes' drama "Yellow," alongside Ben Foster, Sienna Miller, and Gena Rowlands. "I'm playing a character who's been in an insane asylum for 10 years and sort of compulsively self-mutilates and is pretty dark and tragic," she says, "so that'll be a challenge, but I'm excited about it."
Winning over Woody:
It took three taped auditions before Allen cast Punch as Charmaine, a role originally intended for Nicole Kidman, who dropped out due to scheduling conflicts. To prepare for the crucial callback, Punch copied down the "top-secret" sides while she was in the casting office, so she could practice all night. She donned the perfect "trashy, tacky" costume and gave the character a thick East London accent. Allen has said that Punch won the role "by sheer talent," and he even allowed her the freedom to ad-lib local expressions and jokes, which made it into the London-set movie. "Woody didn't want her to be too annoying and he didn't want the audience to hate her," Punch explains. "The challenge was to make her not the obvious archetypal gold-digging blond hooker, and that was tough because she is constantly lying. I just decided that there was something—ironically for a hooker—rather naïve and innocent about her and that these lies, it's more like when a child says, 'I didn't do that. No, no.' It's almost reinventing her truth, and it's not manipulative, devious, or calculating."
When she almost quit acting:
For Punch, the role in Allen's film not only launched her into the spotlight; it gave her the confidence to not quit acting altogether. "I suddenly was like, 'Gosh, I'm a bit older than I was when I started out,' " admits the actor, who was tempted to move to Spain and teach English. "I had a whole year of not working, and I was on hold for a pilot, and I was getting so close to stuff, like second choice. So part of me was like, 'I'm doing something right, but what am I doing wrong? Why aren't I actually getting these jobs?' It was pretty scary, and I was broke. I didn't stop believing that I could do it, but I certainly stopped believing that it was my path. So yes, I was very, very close to quitting, and I'm so glad that it came along and I didn't have to."
On finally getting to play the good girl:
Punch set aside the stalker, the hooker, and the self-mutilator to play the "good" teacher to Cameron Diaz's title character in "Bad Teacher," a new Jay Roach comedy. She transformed herself by wearing a red wig, clogs, and no makeup to play a frumpy, well-loved junior high school teacher named Amy Squirrel. "That was so much fun, and that's quite a broad comedy," she says. "It was great to do a movie that had two strong female comedy leads; most comedies are male-driven. Cameron was fantastic to work with and very funny, and the script was hilarious." Punch adds, "It was a very different part to Darla and Charmaine."

—Cassie Carpenter
de'Adre Aziza
Where you've seen her before:
The rock musical "Passing Strange" (with book and lyrics by Stew and music by Stew and Heidi Rodewald) is where de'Adre Aziza made her Off-Broadway, Broadway, and regional debuts. Playing three diverse characters—a street-smart 14-year-old, a Dutch sexual revolutionary, and a dogmatic German filmmaker—she earned a 2008 Tony Award nomination for best featured actress in a musical and also appeared in a film of the show, directed by Spike Lee. Prior to landing the plum roles, Aziza appeared in several Equity showcases with the Classical Theatre of Harlem. She has also garnered acclaim and a following in the jazz world, winning a contest sponsored by WQCD-FM and the Bermuda Department of Tourism to find New York's sexiest jazz vocalist. She later became the voice of the station's smooth-jazz jingles. Aziza recently performed for the first time at Joe's Pub in New York.
Upcoming projects:
This fall, Aziza will have a featured role in the musical version of Pedro Almodóvar's film "Women on the Verge of a Nervous Breakdown," with book by Jeffrey Lane and music and lyrics by David Yazbek. Directed by Tony winner Bartlett Sher, the Lincoln Center Theater production stars such notables as Patti LuPone, Sherie Rene Scott, Laura Benanti, and Brian Stokes Mitchell. Now in previews at Broadway's Belasco Theatre, it opens Nov. 4.
First big break:
For five years, Aziza made her living as a restaurant hostess. Though she could have earned far more as a waitress, she admits she was afraid the higher salary would make her complacent and she'd give up acting. She'd attend open calls whenever possible, getting up at 4 or 5 in the morning to wait on long lines. She didn't expect she'd ever hear from New York's Public Theater, though she had worked there as an intern seven years earlier and sent headshots to the casting department every time she had new ones taken. But one day the theater called—"it was on the basis of a black-and-white shot I had sent in four years earlier," she says—and asked her to audition for a workshop of "Passing Strange." She was told to prepare a punk rock song. Aziza was thrilled at the prospect of auditioning, but the actual experience was not joyous. "I jumped around the room like an idiot doing a punk song, and everyone was stony-faced," she recalls. "I felt Stew hated me. He didn't crack a smile. But I booked it. I was so happy to do a professional workshop—I had never done one before—it never occurred to me it would lead to anything else. The next thing I knew, we were taking the show to Berkeley Rep, back to the Public, and then on to Broadway, and I was going with it."
Maintaining sanity:
When Aziza tried out for "Women on the Verge of a Nervous Breakdown," she thought she was so bad that she went into a bathroom stall and cried. When she booked the role, she appreciated just how off the mark an actor's self-assessment can be. But "those negative feelings after an audition are legitimate," she says. "You have to go through it, have your cry, and then let it go. You have no control, no excuse, and you can't go back and do it again. So allow yourself those feelings of insecurity and doubt and then move forward. The business is so unpredictable. All you can do is give 110 percent and then let the universe take care of the rest." She adds, "I meditate a lot. I start my day as spiritually as possible."
—Simi Horwitz
Aaron Tveit
Where you've seen him before
: In theater circles, Aaron Tveit is undoubtedly best known for originating the role of the spectral son, Gabe, in the Tony Award–winning musical "Next to Normal" (book and lyrics by Brian Yorkey, music by Tom Kitt), for which he won the Clarence Derwent Award. He also won a Helen Hayes Award for his performance in the show at Arena Stage in Washington, D.C. Previously on Broadway, he played Link Larkin in "Hairspray" and Fiyero in "Wicked." His first major stage role came at the age of 19 in the national tour of "Rent." Tveit made his feature film debut in 2008 in "Ghost Town," with Ricky Gervais, and his TV debut in the recurring role of Trip van der Bilt on the popular series "Gossip Girl." He can currently be seen as Peter Orlovsky, the lover of poet Allen Ginsberg (James Franco), in the film "Howl."
Upcoming projects:
The film "Girl Walks Into a Bar," which will be released only on YouTube and Hulu, Tveit says, is "a series of 10 interconnected vignettes set in L.A. bars." He also has a featured part in David Koepp's "Premium Rush," an action thriller starring Joseph Gordon-Levitt. Tveit will continue his role on "Gossip Girl." In 2009, he starred in the musical version of "Catch Me If You Can" (with book by Terrence McNally, music by Marc Shaiman, and lyrics by Shaiman and Scott Wittman) in Seattle. He played real-life conman Frank Abagnale Jr., the role tackled by Leonardo DiCaprio in Steven Speilberg's 2002 film version. The show has just been announced for Broadway. Previews begin March 7, 2011, at the Neil Simon Theatre with an April 11 opening. At press time, Tveit's participation in the Broadway production had not been confirmed.
Getting into character:
Whatever the role or project, Tveit has a consistent approach, which starts with reading and re-reading the script. Each time, he takes away different impressions and jots them down. "At the end, it's nice to see how my perspective has changed, and that helps me find the character's point of view," he says. "I try to connect that point of view to me, which helps me get me into the character's body. From there I explore his motivations and relationships. Once I start rehearsing, I try to remain open to the writers, directors, and other actors, who also have valid takes on what's happening. And I try to meld all of it." Tveit loves coming back to a project after being away from it for a while. He says a fresh look at a role is revelatory, adding dimension to his understanding and performance.
Advice to newcomers:
Though Tveit had very little formal training and experience when he began ("Rent" was his first professional audition), he has made up for it with a vengeance, taking advantage of the wide range of classes—from scene study to on-camera acting to commercials—available in New York. Now that he has taken some of them, he feels more strongly than ever that actors should never stop studying. He warns against the dangers of complacency, especially when an actor is employed.
—Simi Horwitz
Erich Bergen
Where you've seen him before: The tall, lanky Erich Bergen may be best known to West Coast theater audiences for his portrayal of the tall, lanky Bob Gaudio in "Jersey Boys" (Los Angeles and Las Vegas companies and national tour). Bergen appeared in "White Christmas" at the Pantages Theatre in Hollywood and, in March, played the young naïf Hero in Reprise Theatre Company's "A Funny Thing Happened on the Way to the Forum." He has recurred as Paul on "Gossip Girl." A singer and songwriter, Bergen recently released his debut album, "The Vegas Sessions."
On the road to "Venice":
When Back Stage spoke with Bergen, he was beginning rehearsals for the new musical "Venice," which premiered at Kansas City Rep earlier this year and opens this weekend at the Center Theatre Group's Kirk Douglas Theatre in Los Angeles. He describes "Venice" as a "story of the rebuilding of a city and of families and relationships, set to an extremely contemporary, current score." Recalls the performer, "I sort of felt at the first audition, 'Oh, I've got this.' It's a very odd feeling. One callback, and that was it."
Best and worst auditions:
Bergen, who has been auditioning since age 9, notes, "I've had my fair share of bad auditions, even up to recently. I had a bad audition for 'Robin and the Seven Hoods,' " referring to the recent musical at San Diego's Old Globe Theatre. "I had friends in the room, behind the table. They were calling me in because there was definitely a possibility for it, and everyone was saying to me, 'Oh, you are so perfect for that.' 'Well, you're going to get this.' I go in the room; the audition song is 'Come Fly With Me,' one of the most famous songs of all time. I stand in front of the entire creative team: Rupert Holmes, John McDaniel, Casey Nicholaw. Blanked. I couldn't remember my own name. I wasn't nervous. I just couldn't remember the next lyric. We tried it three times. Finally, on the third time, everyone behind the table sang it for me. I kept saying in my mind, I've embarrassed myself plenty of times at auditions, there's been bad stuff before—in fact, when I auditioned for 'Gossip Girl' I was convinced I was so bad, and then they called the next day and said I got it—so this is fine, I thought. They knew what I could do. Yeah. I didn't even get a callback for it. So I was really out to lunch, apparently."
His best audition?:
"Always the ones where I just get up enough courage to do something different, to get up there and completely go for broke. And those are the ones where the memorization comes to me easier. 'Jersey Boys' was definitely that. I remember walking into the room, and the lines were on the tip of my tongue; I felt like I was already doing the show."
First break:
In 1997, the producers of Wendy Wasserstein's "An American Daughter" at New York's Lincoln Center were casting the role of a little boy. The play was directed by Daniel Sullivan and starred Kate Nelligan, Lynne Thigpen, Penny Fuller, and Hal Holbrook. "I ended up booking it," says Bergen. "But before rehearsals started, they had changed the play so that the boy was no longer onstage. But I did book it. That was a big thing for me personally, 'cause it was the first time I got to see my name in an official playbill." As a younger actor, Bergen did voiceovers and commercials—including one for Pizza Hut in which he plays the delivery boy opposite a man who gloats that he's cheating the company. Says Bergen, "I'd walk out of the stage door after 'Jersey Boys' and they'd say, 'You're the guy from the Pizza Hut commercial,' not even recognizing me from 'Jersey Boys.' "
His philosophy:
Saying yes. "The business side of me thinks there's something powerful in saying no, but artistically and personally you have to say yes and go for broke," Bergen advises. "I never know what I'm capable of until I say, 'Yes, I love kayaking,' and I've never been in a kayak in my life. Pick up the phone, make the call, say yes, then learn how to do it."
—Dany Margolies

Rami Malek
Where you've seen him before:
Rami Malek, who brings to mind character greats like Peter Lorre and Michael Shannon, has had only a handful of roles—including Ahkmenrah in the "Night at the Museum" films and recurring parts on "24" and "The War at Home." But his performance in HBO's "The Pacific" got him noticed. It's no easy feat to stand out in an immense cast of talented young men, but Malek did that very thing in the 10-part World War II miniseries set in the South Pacific, playing real-life Louisiana private Merriell "Snafu" Shelton. As a morally ambiguous character who tosses pebbles into a corpse's hollowed head as easily as he looks after his fellow Marines, the actor stole the show with his authentic depiction of just how lost a soldier can get when faced with the brutality of war. Malek says the biggest challenge was balancing the kind moments with the grisly ones: "How much morality do I have left with this war? Just how desensitized have I become? So I was always trying to find the line between being the guy who has given up and the guy who still has a heart left down there somewhere."
Upcoming projects:
After Malek wrapped "The Pacific," executive producer Tom Hanks cast the newcomer in the next film Hanks is directing, "Larry Crowne." The actor says that just a couple of years ago, he dressed up as Forrest Gump for Halloween, and now he's playing one of the students encountered by the middle-aged Larry Crowne (Hanks) when he decides to go back to college. In addition, director Bill Condon recently selected Malek to play Benjamin opposite Kristen Stewart and Robert Pattinson in "The Twilight Saga: Breaking Dawn."
Breaking in:
Malek credits casting director Mara Casey with giving him his first break. "I saw something online," he says, "and it was for a part in a 'Gilmore Girls' episode, and I thought I was right for it, so I sent in my picture and résumé, and she called me and said, 'I got your stuff but I can't find your agent.' And I said, 'Well, I don't have one, but maybe you could help me with that.' She starts laughing and she goes, 'Well, we'll bring you in when you get an agent. Are you SAG?' I said, 'No. Maybe you could help me out with that too.' And she said, 'We'll bring you in when you got one or the other.' And I said, 'It's a small part. It's only going to take a few minutes of your time. I'm already making you laugh.' She took a few beats and said, 'Why not?' I went in. It was my first job."
—Cassie Carpenter