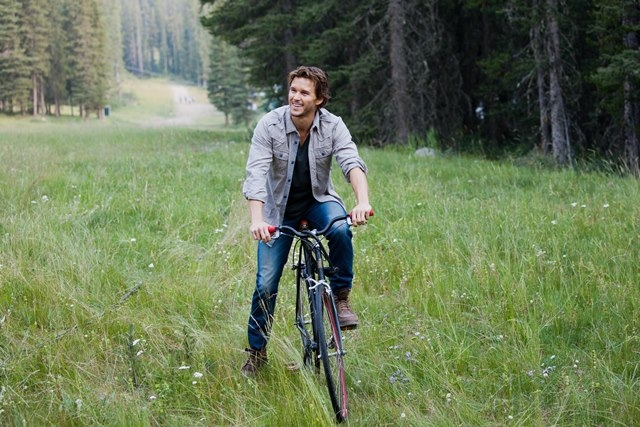 Ryan Kwanten's taking a bite out of romantic comedy starring in "The Right Kind of Wrong" with Sara Canning. He plays Leo Palamino, a failed writer whose wife leaves him after writing a blog about all his faults (which she later sells as a book). Kwanten's character has a lot of hurdles to jump in his unfailing pursuit of the married woman (Canning) he falls for in the quirky comedy.
"The Right Kind of Wrong" hit theaters today, March 14, allowing audiences to see another side of Kwanten in the departure from his ladies' man role as Jason Stackhouse on HBO's "True Blood." Kwanten is excited about the final season of "True Blood" as well. "Heads will roll, that's for certain, and some of our favorite characters will die," he teases.
The Australian actor shares some dos and don'ts about acting.
Trust the writing.
When "The Right Kind of Wrong" came along, Kwanten was intrigued by the character of Leo and by the different twist the film took on the romantic comedy genre. "I had a particular way that I wanted to play the character." Director Jeremiah Chechik liked Kwanten's take. Kwanten trusted the writing to help with his characterization. "Megan [Martin] had written such a well-crafted screenplay that I didn't feel the need to overact to get the point across that he was genuinely and quite crazily in love with this woman…and when the whole world knows pretty much every single one of his faults, how is he going to get this woman to see him? I thought it was a really interesting way to approach that genre."
Juggle the pieces.
In the film, Kwanten's character is an expert at juggling plates. He learned how to juggle plates from a Canadian juggling expert, but Kwanten is experienced at juggling the aspects of creating a character. Kwanten says he prepares all the pieces of the character and then lets it all fall away once he's on set so he can "be open to anything that might come up." When shooting in the mountains in Canada, Kwanten felt as if the location was another character in the story, and he felt like it gave him an opportunity to just be true to the character. "There are times where there isn't a need to push the dialogue out heavier than it is," he says. Because there was a sense that the mountains, and the whole world Leo was living in, were conspiring against him, Kwanten wanted to convey Leo's persistence and ability to keep getting back up.
Face your fears.
At one point in the film, Leo tries to overcome his fear of heights, but the results are somewhat disastrous. Kwanten says it was challenging doing the stunts, but not necessarily for the reasons you might think. "I love all that kind of stuff and I try to live my life with as little fear as possible, so I've done a lot of that kind of stuff, but Leo hasn't. He says in the film he's got a crippling fear of heights, so I had to put on the acting cap and imagine that I was not so [confident] in that position."
Don't be afraid to be you.
"I realized that no one could do me better than me. So if I put five percent, 20 percent, of myself into any character that I play, it stands out. It is its own beast." He didn't want to be a "cookie cutter variation" of another actor. "You can have idols and steal things from them, but just have a sense of who you are and always bring a little bit of that to it. Because even Daniel Day-Lewis doesn't 100 percent inhabit the role. There's always a little bit of Daniel that comes shining through."
Take it seriously.
Starting his career in Australia taught Kwanten the importance of preparation. "It's a smaller industry in Australia so therefore you really have to fight tooth-and-nail to get the jobs. [Here] I'm surprised when I still see actors turning up holding sides. We just don't do that in Australia. You come in knowing all the words by heart." Kwanten knows that there aren't a lot of second chances so he says, "Every time I go in, I want to make sure I'm putting everything out there and that way, I know if I don't get the job, at least I did everything in my power to try to get it." And he's always prepared. "It doesn't matter how good you are if you don't know the lines." Kwanten doesn't take his job lightly: "As a sign of respect for the people you're going in for, as a sign of respect for yourself, do your work."