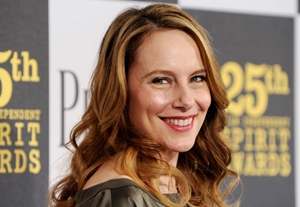 Amy Ryan had been a working actor on stage and screen for about 20 years when she became an overnight success in 2007, earning an Oscar nomination for playing the mother of a missing girl in "Gone Baby Gone." Ryan disappeared so completely into the role of the hard-living Helene McCready that many on the set assumed she was a local actor discovered by
director Ben Affleck. It was the highest compliment to Ryan, who says she prefers to "hide away in characters, rather than have them come to me."
Of course, critical raves and awards have a way of making the lauded actor more recognizable, and the attention she received for playing Helene altered
Ryan's life in several ways. "It definitely changed my career, without a doubt," she admits. "I owe a big thanks for that. But it also brought on a bigger responsibility to make important work choices, not to repeat myself." She noticed a similarity in the roles coming her way. "It was unimaginative casting," she says. "You felt they were saying, 'Look, a drug-addicted mother—let's get Amy Ryan!' "
Instead, Ryan took on a role that was the complete opposite of Helene, joining the NBC comedy "The Office" for a few episodes as Holly Flax, the new human-resources director who, in the words of John Krasinski's Jim, is also a "major dork." Whether Holly was imitating Yoda or rapping for the camera, Ryan's fearless and funny work was a stark contrast to the traditional dramatic roles that had earned her the nickname "Crying Ryan" among her friends. And Holly's romance with clueless boss Michael Scott (Steve Carell) proved there is someone for everyone. Asked if Holly was always intended to be so geeky, Ryan laughs. "I don't think so," she says. "I feel like in my first episode they were sort of testing the waters and then saw they could capitalize on my true goofy nature and just ran with it."
Though Holly was shipped off to another branch, viewers have never given up hope that she might one day reunite with Michael—and this season they'll get their wish, when Ryan returns for several episodes. This is Carell's final season with the show, but Ryan is mum on any plot lines. What she will say is that anytime "The Office" calls, she'll be there: "I could never resist; it's just too much fun. And I adore working with Steve Carell. I'll follow anywhere he goes."
Vanishing Act
Not that Ryan has abandoned the serious roles that have been her bread and butter. Recently she was seen onscreen in Philip Seymour Hoffman's debut film as a director, "Jack Goes Boating," playing a shy, damaged woman cautiously entering a relationship with an equally wary suitor (Hoffman). Ryan was handpicked for the role by Hoffman, with whom she co-starred in the films "Capote" and "Before the Devil Knows You're Dead." According to Hoffman, Ryan was his only choice for the part. "She brings a fragility yet a strength to a very unique character," he says. "You recognize this person as someone you know."
"Capote," in which Ryan played the wife of Chris Cooper's lawman, Alvin Dewey, is important to her for several reasons. First, it was one of the first times she "truly showed people what I could do, vanishing into a part," she says. In addition, the film was written by actor-writer Dan Futterman, who is now head writer (with wife Anya Epstein) on "In Treatment," the HBO drama that Ryan is joining in its third season. She will play therapist to Gabriel Byrne's therapist, a role Ryan found intriguing on several levels.
"I try to look for stuff I haven't done before," she says. "And here I am, playing a professional, sitting in one chair opposite another actor, doing 25 pages of dialogue in two days. It's a thrill." Working on the show reminds Ryan of her experiences in theater; the series is even shot like a play, with very few interruptions: "We rehearse the first three hours of the morning, really get a run at it, then shoot about 12 pages at once. Then we stop and do it again, for different camera angles. It's intense, but really exciting."
Like most of her projects lately, "In Treatment" came to her as an offer—another advantage of her raised profile. "Not having to audition as much anymore is amazing. It's one of the greatest gifts an actor can receive," she says. "But at times I do enjoy auditioning, because if you just get a job, you might find yourself wondering, 'What did they see in me? What will I bring to this? Are they asking me to repeat something?' So sometimes it can feel more substantial if I feel I've proven myself."
Ryan admits there were times she would go into an audition room anxious to prove herself: "I would get excited if my agent told me, 'They weren't going to see you, but I got you in,' or if someone told me right off the bat I wasn't right for something. I liked the healthy competition of 'I can show you.' " She recalls a time at New York City's High School of Performing Arts when her teacher told her, "I don't think this is for you." "I kept my cool and listened," she says, "but inside I was like, 'Fuck you! We'll see about that!' And maybe he did it on purpose—who knows?—but it worked for me. Sometimes no is a good thing to hear."