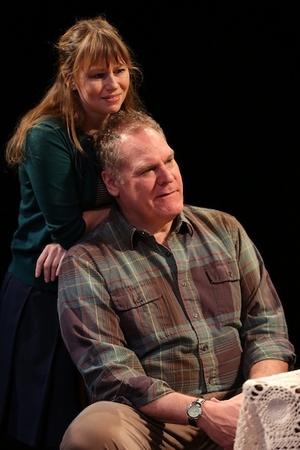 There's an acting marathon going on at The Public Theater, and Sally Murphy is running it for the first time.
Murphy is currently appearing in Richard Nelson's Apple Family Plays—"That Hopey Changey Thing," "Sweet and Sad," "Sorry," and the world premiere of "Regular Singing"—and while most of her cast mates have appeared in The Public's previous stagings of the first three, Murphy is the newbie on the field, along with Stephen Kunken. Before being offered the role in May, Murphy had never seen or read the plays before, and she had to start on all four plays at once, from scratch.
"You just have to surrender to it. It's an incredibly hard and exhausting, but exhilarating," she says, on a break from rehearsal. "A good friend of mine said to me a couple of months ago, 'When will you ever get to do something like this ever again in your life?' It's just incredible."
The plays are about the fictitious Apple family from Rhinebeck, New York. Each piece is set on the exact night it originally premiered, and "Regular Singing" will make its official premiere tonight—the 50th anniversary of John F. Kennedy's assassination.
So how does Murphy prepare to tackle weeks of simultaneous rehearsals and productions of four plays?
"On Monday nights, I'll have a filet because I feel like to start the week I need iron," says Murphy. "It feels really good to have a filet before staring the week."
Murphy chatted with Backstage about creating the character, memorizing her lines, and her tips for young actors.
Prepare in advance.
After Murphy accepted the offer to do the plays, she began working on the text immediately over the summer. "I live about five minutes from Central Park so I bought a really nice lawn chair from Crate and Barrel, and I had my favorite spot in the park, and I went every day. I would spend three or four hours every day memorizing. It was lovely. It was idyllic and beautiful."
Memorize your lines backwards and forwards.
Memorizing your lines for one play is a difficult task for any actor, but Murphy had to remember lines for all four and be ready to perform any of them at a moment's notice. What happens if she forgets which play the lines are from? "That's one of my biggest fears," she says. "It's the same set, which is basically no set. The same character. Each play basically looks the same. There are so many blackouts. How will I ever remember the next scene? And sometimes you actually start the scene and what if you get confused? But the truth is once you get into the plays, you can really stick with that play and not get too confused. So far."
Become a family.
The intimacy of the Apple family is part of what makes these productions so appealing and successful, and Murphy says she began going over lines and working with her fellow actors over the summer, which helped create the familial chemistry seen onstage. "The Public would give us a space here, and we would just run lines probably twice a week," she says. "We had to to get those lines. Oh my god."
Perform for theater's sake.
Murphy was also a part of that other famous stage family from Tracy Letts' "August: Osage County," in which she originated the role of Ivy Weston at the Steppenwolf and on Broadway. (And no, she hasn't seen the movie yet.) Murphy is an ensemble member at the Steppenwolf in Chicago, where she trained at Northwestern University—as a music major—and really planted her roots as an actor. "In a way, you're in a bubble a little bit…The industry is smaller, and there's not a big television and film industry," she said. "You're really doing theater for theater's sake. Not that you're not doing that anywhere else. The pressure isn't as high, and it continues to feel like that there and it's lovely."
Work out.
If Murphy had one piece of advice for actors it would be to stay fit. "When I was just getting out of college our acting teacher was always telling us that, and I didn't take it very seriously," she says. "But the truth is acting is incredibly physical…You want to come to each character from a neutral place so to be fit sort of helps with that. The fitter you are the more you can start from a neutral place and build a character. I do a lot of pilates and that really is invaluable."
Watch great actors work.
Murphy also encourages young actors—or any actor—to watch great performers in their process. "Any play I was in, especially when I was just starting out, I would watch the other actors as much as possible," she says, adding that she loved observing Lois Smith when they did "The Grapes of Wrath" together on Broadway. "In performance, I'd be backstage if there was someone I thought was really good. That really helped me a lot when you just observe and try to stay open and not cut yourself off. I was hiding sitting somewhere stage left—I can't tell you how many times, and I'd watch over and over because gosh they do it every time. I really did that a lot."