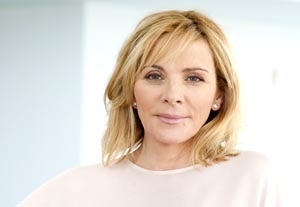 Around the world, Kim Cattrall is recognized as sizzling sexpot Samantha Jones from "Sex and the City." For the hard-working actor, however, Samantha is just another role she's thankful to have played among the many on her solid résumé. Cattrall's career has spanned decades.
In the 1970s, when there was still a contract system, she was a contract player for MCA Universal. In the '80s, she became a female comedy icon with memorable roles in "Mannequin," "Porky's," and "Police Academy."  In the '90s and early 2000s, she hit superstardom with "Sex and the City." And now Cattrall is still a leading lady on stage and screen. Most recently, she tackled the dramatic starring role of an aging porn star in the film "
Meet Monica Velour
."
Back Stage sat down to talk with Cattrall, who has the slightest British accent, a deep love for the theater, and a shockingly good memory.
Back Stage: You were born in Liverpool, England, but raised in Vancouver Island, Canada, where you started acting at a young age. What or who inspired you?
Kim Cattrall: I did a school play when I was 10 where I played a cold germ infecting a whole classroom of kids. The play was called "
Piffle It's Only a Sniffle
." I'd never had so much fun. It was a thrill. I felt the other students did it just because they had to, but, for me, I thought, "What can I do different tonight?" It was never set or finished. I liked engaging my imagination of what it could possibly be like to be a cold germ.
I remember this little passage, which for some reason has never left my mind: "Hooray. Hip. Hip. I'm postnasal drip. I'm his Highness, the headaching sinus. I woo influenza with a raspy cadenza, and I think it's so much fun to make your nose run."
Back Stage: I can't believe you remember that.
Cattrall: I can't believe I knew what "raspy cadenza" was at 10. I probably didn't.
Then I got a scholarship to go to a summer school. We did "A Midsummer Night's Dream," and I played the part of Peter Quince. Again, I found an outlet for my imagination. The director could see I was invested in a different way than the other students were. He said, "You should really do this because you have an aptitude for it and it obviously makes you really happy." My family was going back to England to visit my mother's grandmother, who was very ill. We went up to Liverpool and I met my great-aunt, who was just a force of nature. She was an elocution teacher and a huge enthusiast for theater and the classics. I took her amateur acting class, and she was really impressed with me. Eventually, my family went back to Canada, but my great-aunt had me stay and live with her for over a year so I could take the
London Academy of Music and Dramatic Art
[acting] Examinations and the Guildhall Exams. I got honors. It was really amazing.
In 1968, I went back to Canada and continued with summer schools:
Banff School of Fine Arts
, which is a great institution, Nelson School of Fine Arts, which has a summer program for young actors, and a summer theater experience on Vancouver Island.
Back Stage: How did you end up going to school in New York?
Cattrall: There were a few teachers at Banff who were from America, so I asked them what theater schools they would recommend, since there wasn't really a lot to choose from in Canada in 1972. One of them said try New York. They said write to this woman, Rosemarie Tischler, the head of casting at the Public Theater in New York, and ask her what I should do. I sent little clippings of things I'd done in school and said I had done well at these examinations in England. She wrote back, God bless her. She recommended a list of schools in New York, including the
Neighborhood Playhouse
and the
American Academy of Dramatic Arts
. I wrote to the Neighborhood Playhouse and they thought I was too young. I was just turning 16. But the American Academy didn't have an age limit. So my dad drove me down to Seattle University and I did an audition for the head of the theater department. She wrote me this glowing letter for the American Academy, and, literally within three months, I was on my way to New York. I remember my dad made me get a perm at this little Chinese hairdressing place while I was waiting for the plane. When I arrived in New York after getting through customs in Toronto, it was raining like crazy, which ruined the perm, and all the bells in New York were ringing. Ringing. It was like a scene out of a movie. I got out of the car and I was drenched and freezing and my hair smelled like terrible sulfur. I said to a woman, "I've never been to New York. What are the bells?" And she said, "They just officially declared the end of the Vietnam War." That was the night I arrived in New York City. That night, I called my parents collect in my little tiny room that I had rented for $35 a week, three meals included, 10 blocks from the school in this building owned by the Salvation Army called Parkside Evangeline. I said to my dad, "The bells were ringing." He said, "Honey they're ringing for you. This is the start of something really exciting."
Back Stage: What was your experience like at the American Academy of Dramatic Arts?
Cattrall: It was really fantastic. I remember looking through the window and thinking, "Oh, my God: Lauren Bacall, Colleen Dewhurst, Robert Redford, Kirk Douglas, and all these amazing actors have started here." I thought this was really extraordinary. It had such a rich history. The first day of school was so exciting. I could barely keep still. The classroom was not just "in" the classroom; it was being in New York and going to theater. The American Academy was a two-year program, but they have to ask you back for the second year. It's not an automatic thing. I got accepted for my second year on scholarship, but I remember thinking to myself, "If I don't get asked back, I'll just go to another theater school." A lot of my co-students didn't feel that way. They felt if they didn't get asked back, then that meant they weren't talented. But I just always believed—even at a very young age, and naively so—that this is what I wanted to do, and just not one person or one school or one opportunity was going to shut me down.
Back Stage: You got your first major film role when you were only 19. How did that come about?
Cattrall: In the second year at American Academy, you did performances of plays, and they would invite agents and casting directors to come and see you. If they were interested, they would send cards. A casting director came and he cast me in the film "Rosebud," which
Otto Preminger
directed.
Back Stage: What was it like working with Otto Preminger?
Cattrall: It was probably the worst experience a young actor could ever have. Theater school was so nurturing, and this was a director who was famously known as a tyrant. Especially with young women. He was so critical and stripping-away instead of giving and supporting. Which I was not used to and did not flourish under. I found it terrifying to be on the set. After that movie I said, "I don't want to ever do a movie again." The least important things seemed to be the actors, in his world, on his set. Luckily, in the movie, the actor who played my father was the ex-mayor of New York, John V. Lindsay. I wrote him a letter saying, "I know we didn't meet but I played your daughter, Joyce Donovan, in the film. I'm a British-Canadian and I want to live in New York. This is where I went to theater school, it's where all my friends are, and it's where I'd like my career to be." He helped me. He wrote me a letter saying he thought I should have some kind of permanent status. But it was a long process.
Back Stage: You couldn't stay in New York?
Cattrall: No, I didn't have a green card, so I had to go back to Vancouver and wait. I got cast in a play there, but I found Vancouver at that time a little frustrating because there wasn't enough work. So I went to Toronto, stayed at the YWCA, started waiting tables, and sent out some letters. I got a response from this new agency that was forming called The Great North Agency. They were the hottest theatrical rep you could get in Toronto. I was lucky to have stumbled upon them. They did "Rocky Horror Show," and I played Janet, which was great.
Brent Carver
played Frank-N-Furter. It was a really great company. After that, I got cast in a traditional Canadian play at the Toronto Free Theatre called "Me?" written by Canadian playwright Martin Kinch.
Back Stage: How did you end up back in the States?
Cattrall: I had a crossroads moment in my life. This woman, Eleanor Kilgallen, who is still alive and I love her dearly, was a top agent at MCA, which Universal Studios had bought and it became MCA Universal. I had been writing to her about all the good and positive things I was doing. She offered me a Universal contract. But at the same time, I was also offered a year contract to go to the National Theatre of Canada in Ottawa. The first play I was offered was a Feydeau farce, which was just—a farce is just like the most exciting thing to play as a young actress. I love comedy and I thought I had great timing and I had to make this decision of whether to sign up for a year with the National or go for this contract. I thought really deep and hard about it. I called my dad, and he said, "I think you can wait a year or two to do the National Theatre in Canada. You have friends and contacts in America. I think we need to see if you can work there too." So I took the contract and moved to Los Angeles. I was broke, but I started to work immediately. I booked so many jobs on and off the lot.
Back Stage: I don't think a lot of young actors know about the contract system. What was it like to be a contract player?
Cattrall: What happened under the contract system was they would pay you, 52 weeks out of the year, a weekly sum. Then they'd loan you out to other companies for twice, sometimes three times that amount. As an actor, that was better than getting one job that's a little more money but won't take you as far. They would also bring you along to try and get you better roles. But at the same time, you had to compete with other contract players and all the independents. I was under contract with Jamie Lee Curtis and Sharon Gless; these were the girls that were in the cafeteria. I did a "Quincy, M.E." episode, "Charlie's Angels," "Starsky and Hutch," TV movies—I just kept booking and booking. After six months, for working so much, I got a $5,000 bonus, which in those days was huge. I paid off my student loans and bought a little Honda Accord that was purple inside. I was so happy.
Back Stage: In the '80s, you became a major film star. After working with Otto Preminger you swore off doing films. So what changed your mind?
Cattrall: Working with Jack Lemmon. This was another crossroads moment. I got cast in a movie with him called "Tribute," and during filming I said to him, "You've had a career that's spanned decades. That, to me, is the most important thing—longevity. How do you do it? How do you survive the rejection?" He said to me, "Take challenges. Don't play it safe. If you read a script that scares you, do it."
Back Stage: Is that how you've been able to work steadily and have such a long career?
Cattrall: I think I've been so lucky to continue to work through my 20s, 30s, and 40s. It does get harder, because the older you get, the fewer roles there are. But there's also fewer actors going for them. A lot of people have said, "I've done it. I enjoyed it. I'll do it when I want to do it. But it's not going to be what defines my life anymore." For me, that moment hasn't come yet. I don't think it's going to come for a while.
Back Stage: After "Sex and the City" ended, were you worried about being typecast? Or that there wouldn't be any roles for you?
Cattrall: After the series ended, I took some time off, because it was very sad, the end of it. There were personal challenges as well. Then I thought, "If I can't work within the Hollywood system right now because I'm a woman of a certain age, then I'll go home to either Canada or England and play the great roles [on stage] I've always wanted to do."
The first play I did after the series ended was in the West End. It was my West End debut, which was a dream for me. The first Shakespeare I ever saw was "As You Like It," and Janet Suzman was the only Rosalind I ever knew. Thirty years later I'm starring in the West End with her, and then six years after that she's directing me in "Antony and Cleopatra" in a role she made her own. Playing Cleopatra in my hometown of Liverpool was truly a moment I will never forget. The curtain call was really…I'm pretty stoic and tough, I think, but it was really hard to keep it together. Now we're bringing "Private Lives" to New York. You have to come and see it. It's so much fun.
Back Stage: You've done films, as well. Tell me about your most recent role, in "Meet Monica Velour."
Cattrall: When I read "Meet Monica Velour," it scared me. That was how I knew I had to do it. I think playing Monica Velour, for me, was such a satisfying experience because it was a collaboration. Everybody, even the sound man on that movie—when the cop gets in the car and says, "I loved her in 'Frankenbooty,' " that line came from the sound mixer. Everybody was so invested to make this film better and richer and multidimensional. To play a role like Monica Velour, who has so many dimensions, and for someone to write a character for a woman at this stage in her life is very, very rare. I'm so glad [writer-director Keith Bearden] picked me.
Back Stage: What the best acting lesson you've ever learned?
Cattrall: I think acting, like any art form, is always about the basics and going back to those. Watch footage or photographs of [dancer Rudolf] Nureyev going back to the barre. That's what it's about. It's the simplicity of that. Also, trusting yourself. That's the most difficult thing. I studied with acting teacher Harold Guskin. He has a terrific book, "
How to Stop Acting
." He talks about this whole thing of being "in the moment," which just sounds, at this point, trite and cheesy, really—but it's true. He came to see an early screening of "Meet Monica Velour," and he told me, "You had the courage to just stay in the moment every single time." Along this whole journey I've had, I've never stopped studying. I've never said, "Now I know everything." At the beginning of every role I take, I have to start from basics and build it up. It's like a new construction. Yes, I know it's going to get there and I have a belief in it, but I think that's what keeps me sharp and invested. I never know how it's going to turn out. 
OUTTAKES
–  Will star on Broadway this year in Noël Coward's "Private Lives" opposite her "Any Human Heart" miniseries co-star, Matthew Macfadyen
–  Currently the spokesperson for I Can't Believe It's Not Butter
–  Has a star on Canada's Walk of Fame in Toronto
–  Holds British and Canadian citizenships; became a U.S. citizen in 2008