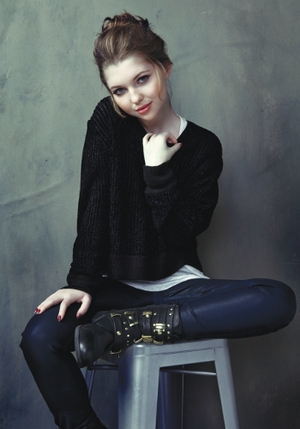 Sammi Hanratty has practically grown up onscreen, but the young actor is enjoying tackling new challenges in both the family comedy "Moms' Night Out" and on WGN's "Salem." Hanratty became hooked on the craft at her first commercial, bursting into tears when they told her it was time to go home; she's been acting ever since.
On playing Dollie on "Salem."
"She definitely has her weird quirks that you'll see coming very soon. She's just very fun to play; somebody so completely opposite of me. Actually, probably one of the most opposite roles I've ever played."
On always learning.
"On 'Salem,' Janet Montgomery is phenomenal. You just watch her and you see everything she's thinking. She doesn't have to say anything. She's stunning and amazing and it makes me want to be a better actor. [I really look up to Annabeth Gish], one of my really good friends who I've worked with twice, because not only is she a successful actress but she's a mom and she's lived a normal life."
On stretching yourself.
"I did so much research [for Lifetime's 'Zoe Gone'], which is something I don't normally do. I looked up parenting. I looked up teen moms. I looked up actually giving birth. In the last scene, I'm giving the baby up for adoption and saying goodbye to her and I had never felt so connected to a character before."
On auditioning.
"I've been in the industry so long you would think I'm pretty good at auditions by now, [but] I still have an anxiety attack every time. You're putting yourself out there to be judged and it's so difficult. Luckily, I have a very strong relationship with God and I'm really blessed to be able to have the faith that I have. I pray before I go into every audition that I just do my best…and then after an audition I just say 'Next' because it's time to focus on the next one and not relive the one that I just went in on."
On working in comedy.
"Comedy is so different than drama, and drama is usually what I do. It was definitely different doing a comedy film, but Patricia [Heaton] was already cast and it was amazing working off of her because she's like the comedy queen!"
Inspired by this post? Check out our audition listings!