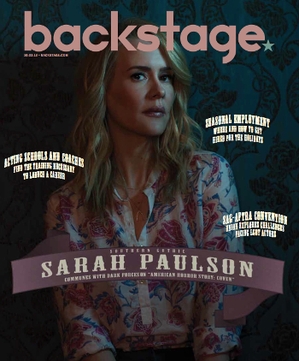 Sarah Paulson graces our cover this week, and she chats with Backstage about her roles in Steve McQueen's upcoming "12 Years a Slave" and Ryan Murphy's "American Horror Story: Coven" co-starring Jessica Lange and Kathy Bates and premiering Oct. 9 on FX. Check out a sneak peek from the feature below!
---
Sarah Paulson on the Audition Feedback That Changed Her Career
Sarah Paulson estimates that between "12 Years a Slave," "American Horror Story: Asylum," Off-Broadway play "Talley's Folly," and "American Horror Story: Coven," she's had maybe a total of two months off in the last year. "But I really can't stress enough that that's how I want it," she says with a laugh.
Paulson's been what she calls a "worker bee" from the beginning of her career. "For the first year and a half of my working life, I just didn't stop working," she says. "I went to performing arts high school, I got an agent from my school, and then I just started to work. My first job was understudying Amy Ryan in 'The Sisters Rosensweig' on Broadway. I had a little bit of that childhood naiveté: 'What's so hard about this?' " Then Paulson moved to L.A. and didn't work for a year and a half.
Back in New York City, she auditioned—"really ill prepared"—for a role in "a hard play with fancy actors." And her feedback was "What is it about Sarah Paulson? I don't get it." "That was a big wake-up call for me," she says.
Paulson has rarely slowed down since, though she's pleased that you can't scroll through her IMDb page and pinpoint any one thing she does. "All those characters just within the last two years," she starts to say before interrupting herself with a grin. "What I'll be interested to see is if I get offered any roles of supreme bitches now that I've done '12 Years a Slave'!"