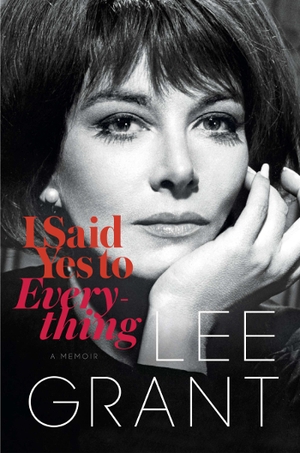 Lee Grant has had the kind of life that would make for a great movie—except it's been far too complicated and dramatic to pass as fiction. "I don't think a picture could go to the depths or the insanity of our lives," Grant says over the phone during a conversation about her recently published memoir, "I Said Yes to Everything."
The Oscar and Emmy winner has starred in everything from film classics ("Detective Story," "Shampoo") to camp classics ("Valley of the Dolls," "Airport '77"), not to mention turns on Broadway in the original productions of "A Hole in the Head" and Neil Simon's "The Prisoner of Second Avenue," and a successful second act as a director of both fiction and documentary—so it's no surprise that her memoir clocks in at 400-plus pages.
"I'd written this basically for myself to make sure I didn't have Alzheimer's," Grant says, but somewhere along the way she must have understood the importance of what she represents because "I Said Yes to Everything" is, among many things, courage-giving. Grant survived a dozen years of being blacklisted from working in film thanks to the House Un-American Activities Committee; a turbulent first marriage; the terror of forgetting her lines midperformance; and the abrupt end of her Hollywood directorial career. Throughout, she remained pragmatic about surviving. (Or, as she says about some of her less successful films, "We're pros and we have to earn a living and that's what we do. And sometimes you get it off and you get nominated, and sometimes you just take the paycheck.")
"Looking back may make it seem easier than it was," she confesses. "I had a little girl, and she was my strength. I had to raise her, I had to earn money for her. And Dinah [Manoff, Grant's daughter] was a great partner to me. She was fierce, she was funny, she needed me, she loved me, and that was a constant. Saving ourselves, that was the whole thing. And I don't think I would have had the strength without her."
A testament to how much an actor Grant is to the core is that her abrupt memory loss during a performance of "The Prisoner of Second Avenue" near the end of the show's run is as traumatizing to read about as the Kafka-esque bureaucracy that kept her blacklisted long after others were able to return to work. In the book, she recounts turning calmly to co-star Peter Falk for help in guiding them both back on track—and Falk looked at the audience and pointed at her with his thumb, bringing the audience to him and leaving Grant to fumble her way through. Grant is gracious in recounting it in the book, but she admits that wasn't the case at the time.
"Even now when I talk about it, fear clutches my chest," she says. "It was only in the later years that I realized Peter didn't have that much contact with the stage. He was not really a theater guy. And when I read later on that he had had Alzheimer's and realized how tentative his own memory was and how shaken he must have been, I realized that we were both helpless. He was not the actor who could save me. I trust actors implicitly to save each other. You can stumble drunk onstage—as one actor did, and we got through that fucking play. So my faith was shaken when he couldn't. And I say couldn't with full realization that he had no choice." (In case there's any doubt about what kind of actorly courage Grant possesses, she promptly played Madame Arkadina in "The Seagull" "just to test myself.")
But Grant remains adamant that her life is unadaptable to film or TV. "It's life. It's not a television story, it's not one of those horrible reality shows that's taking the place of all the great actors who should be on television instead. It's what happens to all of us. And in my search of making sure I have my memory, it was just such a pleasure to accept myself. To meet myself and say, 'Oh. OK!' "
Inspired by this post? Check out our audition listings!