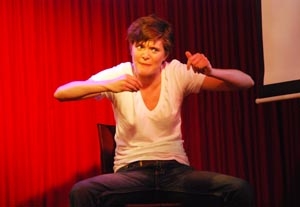 If anyone has proved the Woody Allen maxim that "80 percent of success is showing up," it's actor-producer Dan Griffin. In 1995, he went to the set of the TV series "Central Park West" for three days straight, hoping to land a background role. Griffin needed money and found out about the shoot through friends, so he decided to give it a try.
"The first day, they didn't film our section, so they asked us to come back," he recalls. "The next day they still didn't film us and told us to come back. I was the only one who came back, and I got into the show as a waiter."
Though it was a minor role, it got Griffin his Screen Actors Guild card. Afterward he moved to Hollywood, signed with the Agency, and worked at the original Coffee Bean on Sunset Boulevard, where a lot of noted actors would stop. By chatting them up, he got featured background roles in movies such as "Gattaca" and "Jingle All the Way."
To Allen's 80 percent, Griffin has added at least another 10: networking. "As an actor or producer," he says, "the way you make it in the industry is the size of your Rolodex."
Though he now concentrates on producing, Griffin continues to use the schmoozing skills that first got him work as an actor. At a networking party, he met writer-director Beth Lauren and is now executive producer of her film "Three Days in Dublin," starring Heather Graham, Ray Winstone, and Bono. It begins shooting in September. And last spring he was invited to the Asbury Park Film Festival, where he started work on two more projects: producing one film and soliciting investors for another.
As a networking veteran, Griffin has found it important to be honest, humble, unafraid, and open to work. "Experience is what's really important," he says. "Don't think that you know so much that you chase away those who may actually know more than you but are too humble to say so." Even now he sometimes works as an extra, including a week on the 2007 movie "I Am Legend." There he met an investor whose daughter happened to be involved with the film. The investor ended up financing "Cabin Fever 2," which led to Griffin getting a small role and an assistant director credit on "Twists of Fate," scheduled to be released this month.
Griffin has always gone out of his way to attend every industry event he can. "A lot of times, actors see film-financing forums and think they don't have to go to them. That's crazy," he says. "If you go to film-financing things, you're probably the only actor there and you're in a room full of directors and producers. At the end, when everyone is networking and they ask you what film you're working on and you say, 'I'm actually an actor,' you may get on a project."
Host With the Most
Actors must constantly look for work and stay in touch with their contacts, Griffin says, and he belongs to several social networking sites, including MySpace, Twitter, and the New York Film Exposure Network, a group started by Amore Leighton Black.
While Griffin demonstrates what actors can do for themselves, Black has helped herself by assisting others. The actor and event organizer started her network last year "to bring exposure to myself, as well as to help other actors and to collaborate with them and create new projects," she says. The free site already has more than 750 members, and Black has discovered she is potentially building a business.
In addition to sending out emails about industry events and opportunities, Black sets up meetings around the city for members, where they talk about upcoming projects: Actors show their reels, directors screen clips, composers play their music. "We try to bring actual exposure to everyone in the group at some point," she says.
Though she has created her own networking apparatus, Black continues to take advantage of other opportunities. This summer she attended a fundraiser for the nonprofit organization GenArts. Actors such as Oscar winner Adrien Brody attended, and Black met director Ian J. Keeney, who decided to cast her in his upcoming film, "Cold Blue Eternal." Black will earn her first credit on IMDb.com and be eligible to join SAG.
In addition to hosting and attending events, taking classes has helped her make connections, Black says. In a screenwriting class at a filmmaking center, she wrote a short script called "The Waiting Room," which the center has decided to help her produce; filming starts this month. Black will be the line producer and receive her first credit as a writer and producer.
Connections Made and Missed
Actor Kerreu Soares joined Black's network to gain more control over her career. Recently she attended a screening of the movie "Wings and Beers," where she met a producer named Dave Sullivan. As a result, "I got into a Web series called 'Jerk Court,' " she says. "The best advice in building a network is to always be prepared. Keep your focus and treat your career like a business: Get up in the morning and open your business. What have you done today to help your business?"
Acting and vocal coach Lynn Singer stresses the importance of commitment and self-esteem. "As an actor, you have to constantly audition and put yourself out there," she says. "Get to know event coordinators, meet people who are running things, because at a certain level everybody knows everybody."
Singer also emphasizes the need to make the most of every opportunity. Early in her acting career, she had a role in an Off-Off-Broadway play, and one evening a man was waiting for her after a performance. "He said he used to produce on Broadway and that if he was still producing he would do anything to help my career," she recalls. "I looked at him and thanked him, and that was it. I didn't have a networking brain. I should have asked him to lunch and gotten some contacts from him."
Even familiar territory, such as your school, can be a valuable resource, Singer says. "Go to the database at your college. There has to be somebody who has been in the business, and even if they're not famous, they may have done a lot of work. Ask them if they can mentor you or if you could work for them."
Friends of Friends
Lauren LoGiudice, an actor and model who works as Singer's assistant, has taken a creative approach to networking by creating a multimedia, autobiographical solo show titled "Queens Girl," about "how to fit in with family while standing out in the crowd," she says. "At first 'Queens Girl' was a way for me to practice my craft. Along the way I realized that it was a golden opportunity to learn how to market myself. Because I was my own producer, I identified locations and festivals where I was interested in performing."
LoGiudice met with friends who worked in public relations and learned how to create a media packet, which she sent to festivals and theaters. After many emails and phone calls, "Queens Girl" was booked at Stage Left Studio and the Hot! Festival in New York; the Climate Theater in San Francisco; New Orleans' Marigny Theatre; the Someday Lounge in Portland, Ore.; and the Stockholm Pride Festival in Sweden.
"Through performing 'Queens Girl,' I met agents and casting directors who otherwise wouldn't be familiar with my work," she says. "I was compelled to create something that would allow them to get to know me beyond the audition process and cause me to stand out."
LoGiudice also finds parties helpful in building her network. Because she's interested in film and wants to get to know filmmakers, she organized a monthly performance party and gets the word out through Facebook. "Before the party, I organized a film screening and invited filmmakers to show their films," she says. "That was the way I met my collaborator on some of the short films that I work on now."
As an actor, LoGiudice says, it's important to know what you want in your career and to listen to others who have experience: "I've built a community of artists who I really respect, who are really supportive, and who are very positive. Fifty percent of the work I've gotten has been from knowing friends of friends."