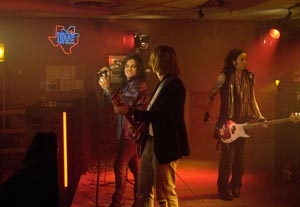 For moviegoers, two topics that seem to never lose their magnetism are fraught relationships between two men as close as brothers and rock 'n' roll. Love and betrayal between the best of friends is high-stakes emotional drama that satisfies human fascination, and rock 'n' roll offers just the right mix of glamour, sex, and danger to grab audiences in concert halls and movie theaters. Director
Scott Rosenbaum
's debut feature,
"The Perfect Age of Rock 'n' Roll,"
combines these potent threads into a richly entertaining and multidimensional film.
"It's something I've known I wanted to do my entire life," Rosenbaum says about the film he wrote, directed, and produced—a project he started nearly 10 years ago. A writer and journalism major in college, Rosenbaum had made films at home and in school as much as he could. But after graduating, "I went for the respectable day job and thought that I would be able to write screenplays at night," he explains.
Struggling to balance his pragmatic and creative impulses, Rosenbaum was compelled to action by an event that shook the nation. "Being down on Wall Street on September 11 really was a life-changing experience," he says, "as it was for many people, and it kind of was that moment where I thought, 'If I never finish a screenplay in my entire life, I will be extremely disappointed in myself.' And that's when I started writing what ultimately became 'The Perfect Age of Rock 'n' Roll.' "
The film does justice to its lengthy gestation, as it offers a stirringly watchable drama about megastar rock frontman Spyder (Kevin Zegers) and his humble music-teacher best friend, Eric (Jason Ritter). The ups and downs of their relationship—on the brink of Spyder's most important album release, an event that requires Eric's assistance after a bitter estrangement and a Route 66 road trip—are volatile and honest.
The film hits timeless chords central to the history of rock 'n' roll, an attribute that was key for Rosenbaum. He notes that the point where character and rock meet was pivotal: "The archetypal acrimonious relationship between lead singer and guitar player—you see it time and again, for all my favorite bands. The conflict between Mick and Keith, Steven Tyler and Joe Perry, Axl and Flash—it just goes on and on. That's where the genesis of the story started to come together."
Zegers and Ritter capture the dynamic that Rosenbaum sought, due not only to their estimable acting but also their real-life friendship, which Rosenbaum learned of during his casting session with the two. "They had been friends in and around Hollywood," he says, "and a lot of similar dynamics that take place between Eric and Spyder sort of had occurred between those two guys over the years. And for me, it was just a confirmation that they were the right guys for the role, and I really think it played out in their performances. It was definitely a fortuitous reality that those two guys had a prior relationship. It wasn't something I thought I would be able to achieve in casting; it was a lucky break for sure. This was definitely the thing that I wanted to say, the story that I wanted to tell."