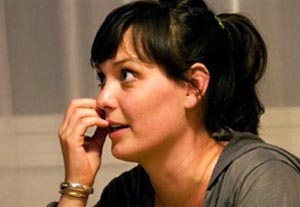 In the offbeat indie comedy
Humpday
, Alycia Delmore plays one corner of a very strange triangle. The film focuses on happily settled Ben (Mark Duplass) and nomadic Andrew (Joshua Leonard), longtime buddies who decide to make a porn film wherein they sleep together—even though they're both straight. Delmore is Anna, Ben's beleaguered wife. Though the men drive the plot, Delmore's performance is the glue holding the piece together: She invests the character with such humanity and texture, we can't help but feel for her.
After breaking out as a bona fide crowd pleaser at Sundance,
Humpday
was acquired by Magnolia Pictures and is set to be released in select theaters throughout the month of July. For Washington-based stage actor Delmore, the whole thing is a little surreal. "I work a day job in Seattle," she says, laughing. "This is awesome; I love this film and I'm really proud of it, but my life hasn't changed much."
Recently, Delmore chatted with Back Stage about improv, career plans, and why she's not ready to leave Seattle just yet.
Back Stage
: What was the
Humpday
audition process like?
Alycia Delmore
: I didn't audition for it, actually. I did a really small part in [director] Lynn [Shelton]'s first feature,
We Go Way Back
. Then she did a podcast series,
What the Funny
?, for this small company in Seattle called Caution Zero, and I played a role she likes to call a thankless role: I basically played a dumb slut. I think Lynn felt like I fleshed out the character a lot more than what was on paper, and there was an improvisational aspect to the whole process. So she called me and asked me if I would be interested in doing
Humpday
. I wasn't doing anything else at the time, so I said, "Heck yeah." [Laughs.]
Back Stage
: How much did you know about the premise when you signed on?
Delmore
: By the time I came on board, it was pretty fleshed out. Mark, Josh, and Lynn had talked for quite a while. The thing that was really nice about coming in to the process was that we had a lot of room to fail. It was really low-budget, so we didn't have investors to worry about and there was nobody to answer to as far as choices we were making for the film.
Back Stage
: The shoot had a heavily improvisational aspect. How did you get into that mindset?
Delmore
: The characters are pretty close to home. We were drawing on a lot of either our personal past experiences or close friends' personal experiences. It was pretty organic. We also shot the entire thing chronologically, which makes a huge difference and is probably the best gift an actor can have on set. That helped quite a bit with the improvisation, because you weren't trying to match up to something that happens later but was previously shot. You were really able to draw on what you had done the day before.
Back Stage
: You've been acting for a long time. What was your inspiration to start performing?
Delmore
: I think it was just for attention. I've been doing it since I was a kid. I think when my folks figured out that they could put me in acting classes, they were like, "Oh, thank God, now we know what to do with her." I was a showoff and a smart-ass when I was a kid, and I found an outlet for it pretty early on in theater. My motives really changed as I figured out that, "Oh, you really don't do this for the money." [Laughs.] You start doing it just for the love of doing it.
Back Stage
: And did you study acting in college?
Delmore
: I did. I went to a state college: Western Washington University in Bellingham, a couple hours north of Seattle. I got my B.A. there, and then I moved down to Seattle and started auditioning. It wasn't a BFA program, so I basically moved down to Seattle with five monologues and a group of friends who had a similar five monologues and we just kind of pieced work together. I don't know that the college prepared us for the business side of acting in any way, but I do think it gave us a pretty good understanding of the craft. I guess every actor has to do that: You forge your own path.
Back Stage
: Now that
Humpday
is getting some attention, do you have any desire to relocate to New York or Los Angeles?
Delmore
: No. Seattle's my home. My whole family's there. My husband and I have a life there that I really like. I actually have stopped auditioning for theater lately, because it got to a point for me that I was putting so much of my heart into just being able to say that I was a professional actor, and it was beginning to hurt me in other ways, personally. I was spending so much time just trying to find roles—any role, things that I wasn't particularly artistically satisfied by, work that I wasn't really proud of. I was realizing that I wasn't investing any of that energy into the other things in my life that I really care about. So I'm pulling back and trying to figure out how to keep acting as a part of my life without making it the only part of life.
Back Stage
: Once the movie opens, you may have more opportunities coming your way. Do you have a plan for moving forward?
Delmore
: A plan. [Laughs.] No. I've thought a lot about it; my husband and I have talked a lot about it. His folks live in Los Angeles, so I know I always have a place to stay down there if the opportunity arises to do other work. But I'm so happy with where this movie is going and for the direction that Lynn's able to go in now because of it. I feel like she's going to blow up and become some kind of crazy super megastar director. Whether or not work comes to me because of it—I mean, God, it would be so great to meet other directors and other people who like to make movies like this.  But I guess I'm not holding my breath for it. If stuff comes of it, I'm absolutely excited to roll with it.