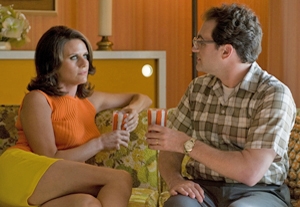 "Burn After Reading," the previous movie from filmmaking siblings Joel and Ethan Coen, featured a stellar ensemble, including George Clooney, Brad Pitt, John Malkovich, and Tilda Swinton.
For their new movie, "A Serious Man," the brothers put together an equally impressive group of actors, even if most of them aren't household names. The casting of Michael Stuhlbarg in the lead role of put-upon physics professor Larry Gopnik is a stroke of genius—not only because the Tony Award nominee (for "The Pillowman") is pitch-perfect in the part but also because, as he is relatively unknown in the film world, the audience sees the character more than the actor.
The plot of "A Serious Man" is fairly straightforward, yet the film is one of the Coens' most inscrutable yet. It opens with a parable told in Yiddish before jumping to 1967 Minnesota and focusing on Larry's existential struggle.  His wife, Judith, is leaving him for another man. His son is a pothead; his daughter is a thief. A student might be trying to bribe him. And his brother Arthur, who won't move out of the house, seems on the verge of a mental breakdown. To get answers, Larry meets with a series of people, from rabbis to his sympathetic divorce lawyer, to ask the big questions.
Credit is due casting directors Ellen Chenoweth and Rachel Tenner for finding a fresh range of talent to populate the Coens' new world. Back Stage recently spoke with several members of the flawless ensemble. Some are familiar faces: Richard Kind has logged countless hours in film and television, most notably on "Spin City" and "Curb Your Enthusiasm," and brings a sweet innocence to the role of hopeless Uncle Arthur. Adam Arkin ("Chicago Hope," "Northern Exposure") offers rare glimpses of stability as Larry's sympathetic lawyer. And some actors were cast out of Minnesota, including Sari Lennix, making her feature-film debut as Judith.
And then there's Stuhlbarg, standing alone on the poster, arms akimbo, as Larry surveys his world from the top of his suburban home. Though well-known in the New York theater world and from many TV appearances (most recently and memorably as a flamboyant fashion designer on "Ugly Betty"), Stuhlbarg can't believe he's headlining a Coen brothers film. "This is absurd," he says simply. "But wonderfully so."
On landing the role
Michael Stuhlbarg: I came in to audition for the part of the husband in the Yiddish parable at the beginning of the movie. So I had to learn that whole scene in Yiddish. I worked with a tutor and I did my best. I came in and did it for the Coens, and they laughed a lot, and that was fantastic. But they weren't sure at that time if they wanted to hire an actor who could speak it phonetically or someone who spoke it fluently. They ended up going with someone who spoke it fluently, rightfully so. Five, six months passed by, and I put it out of my head, when I got a call saying, "They want you to come in and read for Larry and Uncle Arthur." I hadn't even read the script at that point, so I took a look and was like, "Wow. Oh my gosh. He's the lead." I did three scenes of each, they laughed again, and that alone was worth it. I would ask periodically if I was still in the running for it and would hear back that I was. Eventually I got a call saying, "You're going to get one of these parts; they just don't know which one." So I started working on both of them. Six to seven weeks before shooting was to start, I got a call from Joel just as I was coming back from a theater retreat in Vermont. He said, "We'll put you out of your misery. You're playing Larry."
Adam Arkin: My being cast in the role came through a series of auditions, first with Rachel Tenner—one of the amazing casting directors on the film—and then later with the Coens. I read for several roles, and the divorce attorney was the one that clicked. The whole process went on over a couple of months.
Richard Kind: I auditioned for roles in "Burn After Reading" and "Serious Man" at the same time; both parts were lawyers. I really wanted the role of the lawyer in "Burn After Reading." I wanted it so bad I could taste it. And I read for the part that Adam Arkin played in "A Serious Man." Then comes March, and I read for Rabbi Nachtner, the part George Wyner played. And I did a great job on that but never heard from them. Then I was about to go to Fort Worth, Texas, and they asked me to read for Uncle Arthur when I got there. I had forgotten the script, I couldn't remember who Uncle Arthur was, and all I wanted was this part in "Burn After Reading," which was about to be released. But I read the part on tape, and I never, ever get work on tape. I always say, "Auditioning on tape is like trying to get a date with a passport picture. It just never works." But this one did. I guess I didn't have to look so good.
Sari Lennix: I quit acting a little more than three years ago. I decided it was too hard. I was in L.A. auditioning but we were living in New York City, and I had had two Bloody Marys at LAX, and I called my husband drunk and said, "That's it. I'm done being an actor. Put out feelers for work elsewhere." He's originally from Minneapolis, and by the time my flight touched down in LaGuardia, he'd gotten an offer to move here. One day I happened to run into my agent, and a week later I was auditioning for the casting director, Rachel Tenner, and I went on tape with her. She called me back, and I walked into what I thought was a callback with her, and it was actually a work session. Which is incredible for an actor. I got to have a work session with Rachel, and she said, "You're meeting with the Coens on Monday." From the time I got the script, I knew I'd be reading for Judith, but I thought it likely they were using Judith sides to cast some of the other roles. I thought maybe I'd be third Jew from the left in the temple scene, if I were lucky. I really didn't think it was possible at all. I felt for sure there was no way they'd be able to see me as her: I walked in with long blond hair, and I knew Judith didn't look like that. Lucky for me, the Coens have incredible imagination.
On working with the Coens
Arkin: It was a fantasy of mine to get a chance to work with the Coens. Fantasies coming true can risk being disillusioning, but in this case reality surpassed fantasy. They are very supportive, very encouraging—a great combination of knowing what they want, knowing how to communicate that in very specific ways, and somehow also being completely open to exploring and being surprised at the same time. I found it to be one of the safest-feeling environments I've ever gotten to work in. Doubly amazing considering how intimidating it could be to work with people you respect that much.
Stuhlbarg: They're so well-prepared, and the mechanism of how they make their movies—they've been working with the same people since "Blood Simple" in some cases—it's like a family. I had heard that they were notorious about being hands off with their actors. They spend a lot of time choosing who they want to play their roles, and once they choose them, they let them do their thing. Which is wonderfully respectful and at the same time kind of nerve-racking, because I wanted to please them; I wanted to give them what they wanted.
Kind: I used to come down and go, "Is that what you want?" They'd cross their arms and bow their heads and go, "Yeah. That was good. Yeah. Let's do it again." That was their direction. There's an old story about John Ford: He never gave direction; he did it with his casting.
Lennix: I had an acting teacher at USC that said, "You have a right to know why your director hired you, and if you're sort of losing track of the role and struggling, always ask, 'What was it about me that you saw in the person?' " And they're kind of clear about that. So I was clear about what they saw and their vision. They're also incredibly open and generous and easy to be around. They're mensches. And you get two for the price of one, so if you have questions, there's two people you can ask. One day Joel was busy, so I pulled Ethan aside and said, "What am I doing here?" He said, "Well…. Yeah, just don't do anything distracting." And he kind of laughed and said, "And they call us actors' directors!" But it was actually all I needed to know.
On casting an 'unknown' in the lead role
Lennix: He had a lot of pressure. I mean, this is all him. So he had a singular focus about him, but he was also incredibly prepared. So I won't say he was nervous; I will say he had worked his ass off before he got to Minnesota.
Arkin: I had not known Michael before we met working on the film. There was a brief rehearsal period before I came back to Minnesota to shoot those scenes, and we met during that. But there was an immediate rapport, and it was clear that we were going to have a good time. We struggled a bit, actually, having almost too good a time. We were cracking each other up a bit in the first scene we had to shoot, but we settled down eventually. He was an absolute joy.
Kind: I knew he was a great actor, and I wasn't that surprised, because it's sort of a singular type of role. Like the movie "Joe" with Peter Boyle: Nobody knew who he was, and I think that's part of the reason he was so fantastic in that role. He's a great actor but he was so unknown, and I think that's often a wonderful place to be. I don't think Leonardo DiCaprio could do "What's Eating Gilbert Grape" today, but boy, when he did it that first time, he shocked us. I don't think we would buy it today.
On what it all means
Stuhlbarg: When people ask, I don't explain it at all. I think it's the Coens' intention to let everybody sort of carry their own experiences into the movie and let how it's going to affect them affect them. Some people have very strong ideas about what it's about, and I think that's great. I just don't want to tell anybody what it's about.
Kind: If you really think about it, I don't know whether or not the Coens wanted you to "understand" it. I think they want you to feel it.