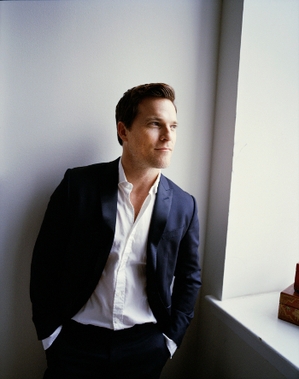 "This is such a long-distance race," says Mike Doyle. "And I've been running this race for a long time, but the past few months I've been really fortunate in getting some nice jobs and working with some fantastic people." That's an understatement.
Doyle could easily be That Guy who shows up in a million things if he didn't look like a real-life Clark Kent. Too handsome to be generic, he's made a career out of stealing scenes in indies such as "Gayby" and "Union Square"—not to mention a memorable turn in the Off-Broadway play "The New Century"—and now he's on movie screens around the country as the Four Seasons' manager, Bob Crewe, in Clint Eastwood's adaptation of the Tony-winning Broadway musical "Jersey Boys."
The grizzled Eastwood isn't as odd a choice to direct a musical as he might first appear. "He got his start in music and a little [movie musical] called 'Paint Your Wagon,' " Doyle says. "And he's composed music for many of the films he's directed. We primarily shot in Los Angeles; they reconstructed a lot of the places and each of the sets had pianos on them, and in between takes and setups and scenes you'd be hanging out and then you'd hear this beautiful piano music and you'd say, 'Who is that? Oh, it's Clint! Just tickling the ivories.' "
That same sense of approachability permeated the rest of the shoot, which Doyle calls a "well-oiled machine." "It's a very safe, quiet—which is unusual for a movie set—place to work. And you feel very entrusted to do what he hired you to do. And it truly is one of the professional highlights for me. I never felt so free to explore and do my thing than with him."
While "Jersey Boys" may be Doyle's highest-profile project, it's not his only film coming to theaters soon. In addition to Bob Crewe, Doyle also has roles in "You're Not You" (directed by George C. Wolfe), "Bereave" (with Malcolm McDowell and Jane Seymour), the film adaptation of Mattel's Max Steel character, and "The Last Word," a paranormal thriller set in Texas in which the jurors cursed by a man they sentenced to death begin dying. "I play the 12th angry man on the jury who realizes shit's going down," Doyle says with a laugh. "It was a lot of fun! It was Texas, so I got to pull out all my Juilliard dialect work."
None of which means that Doyle is resting on his current successes. "You go through these periods where it doesn't feel like you can get arrested and you question your choices and think, I'm never going to work again," he says. "It ebbs and flows and I'm very grateful and don't take anything for granted, having really struggled for a good number of years. I take any sort of success very seriously, and I'm very grateful to be doing what I do!"
Inspired by this post? Check out our musical theater auditions!