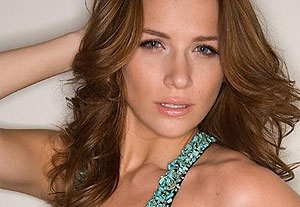 "I'm like super-clumsy and weird and funny and dorky," says the outstandingly named Shantel VanSanten. While she attended an all-girls Catholic high school, there are no nunneries in this young woman's future.
She's starring in Warner Brothers' "
The Final Destination
" opening this Friday, and on the CW's "
One Tree Hill
" this fall. She was discovered at the mall in a story that is pure Hollywood fable, but in spite of all this early success, Shantel emanates a genuine kindness and humility that immediately wins you over.  Looks like all those Hail Marys didn't go to waste.
Chosen as this week's Girl2Watch, Shantel will be featured in a series or articles, fun facts and social media tweets through this week for subscribers of
Girl2Watch.com
.
In this BackStage "Actor2Watch" exclusive, Shantel shares her thoughts on acting and getting roles.
Back Stage: 
What was your first break as an actor? 
Shantel VanSanten:
My first break was a movie on the USA Network around Christmas time called "Three Wiseguys" and I had like 6 lines in it.
BS:
How did you get your SAG card? 
SVS:
Geez what did I do?  I did a Clean & Clear commercial.  I did a series of them.  I used to be the Clean & Clear girl!


BS: 
How did you make the transition from model to actress?
SVS: 
I signed with the Page Parks Modeling Agency, and within like a month I had booked my first job, and I was working just doing like catalog stuff.  And it's kind of what opened the door for me into the acting world too because they were so supportive about it. They were the ones who put me in acting classes and I was like, "I don't know. I've always done theater, but I don't know how I feel about acting." And they really pushed for me.
This is completely what my passion is, but I never understood I could make it into a career. They're the people that opened up a lot of the doors and I guess who founded me.  I'm really grateful for them because if I hadn't have been for like their influence and pushing me and opening doors and showing me opportunities, I don't know if I'd be here.
BS:
Is there anything that you wish you could tell someone who is just starting out in acting? 
SVS:
Just believe in yourself, honestly.  Because that's all that it takes.  If you believe in yourself somebody will find you that believes in you just as much, if not more.