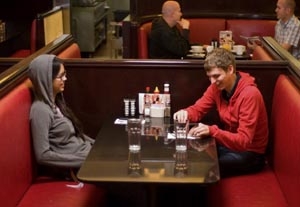 Charlyne Yi has a knack for attracting lovelorn strangers. People she has never met before have a bizarre tendency to open up to her, pouring out their tales of romantic woe while she lends a sympathetic ear.
 "It's kinda creepy," Yi admits. "But I'm still intrigued, and I'm invested in this love story because it's true—or at least I think it's true, because I don't really know the person."
But if you speak to her for more than five seconds, you'll see why people feel they can be thoroughly, inappropriately honest with Yi. With her haphazard ponytail, thick glasses, and explosive cackle of a laugh, she comes off as the embodiment of a certain kind of approachable earnestness we rarely see in young comedians. She will freely discuss everything from subsisting on "cheese and tortillas and soup" when she's low on cash to being fired from a guest turn on a certain high-profile sitcom. She will do all of this with sweeping arm gestures, unabashed grins, and a refreshing lack of pretension.
This absence of artifice also informs Yi's bracingly unaffected stage presence—but the resulting comedy is about as far from mainstream as you can get. Though she's perhaps best known to audiences as loopy stoner Jodi in "Knocked Up," she's also an established performer at such venues as Los Angeles' Upright Citizens Brigade Theatre, where her act has used elements like bad-on-purpose magic, a faux "Dating Game," and a bit wherein she tries to get an audience member to punch her in the face. "She's original," says friend and frequent collaborator Nick Jasenovec. "She has a unique voice, and she doesn't have all the influences that everyone else has. Like, she's never seen Monty Python; I don't think she knew who Andy Kaufman was until people compared her to him. She's one of those rare people who isn't necessarily informed by the things that everyone else is."
'Paper' Trail
One fairly universal topic that has always intrigued Yi, however, is love. Those random stories people share with her inspired her to make "Paper Heart," a clever, reality-twisting mix of documentary and scripted feature about all things romantic. The film, co-written and directed by Jasenovec, focuses on a skeptical young woman named Charlyne Yi (played by Yi) who traverses the country interviewing a variety of people, from tattooed bikers to rowdy schoolchildren, about matters of the heart. Along the way, she meets and falls for Michael Cera, a charming actor who is, of course, played by Cera.
After mapping out the film's unconventional blend of reality and fiction—the portions where Yi interviews people are pure documentary; the story line with Yi and Cera is, she says, "fabricated"—Yi and Jasenovec embarked on the rocky path of raising funding. "We got rejected by, like, everyone," Yi says bluntly. "No one knows who I am. Like, 'Oh, from "Knocked Up." You had two lines. Cool.' I think people were wary to spend money on someone they didn't know."
The duo finally sparked interest at upstart studio Overture Films, which set Yi and Jasenovec up with the production company Anchor Bay Entertainment. After a crowd-pleasing Sundance bow, Yi and Jasenovec were honored with the Waldo Salt Screenwriting Award, and "Paper Heart" enjoyed a buzz-generating festival run before landing in theaters this month. Still, despite the film's success, Yi can still vividly recall the uncertain first few days of shooting. There was one moment, for example, when she and Jasenovec were filming a scene in a van and she was supposed to look melancholy. "Nick's like, 'Okay, so you're nervous, you're sad,' " she remembers. "I don't really have acting experience. I perform onstage, but you can be as silly as you want. So I was like…" She pauses, affecting an over-the-top expression of utter distress. "And I genuinely thought that was good," she says, cracking up. "In my head I was like, 'People gave us money to do this movie. Oh my God, I don't know how to act. I don't know how to talk to people. This is gonna be the scariest thing ever.' "
Over the course of the film, she felt she grew into the acting parts, realizing what worked and what didn't. "It was easy to put myself in that situation: 'How would I react if these cameras were following me and I was trying to start a relationship?' Also, when I am myself, I'm big—like I'm doing right now," she says, gesturing expansively. "I thought, 'Oh, I can't do that.' Even though that is real, I have to tone the real Charlyne down and make it more suitable to the audience, so they don't think I'm some broad, hacky, old-timey vaudeville actor."
Jasenovec says the "Paper Heart" version of Yi is, in many ways, as close to the real thing as audiences have ever seen. Though she's always a distinctive screen and stage presence, here we get to witness the full range of her offbeat yet guileless appeal: When she attentively hangs on every word of an interviewee's story, we know it's not an act. "Generally, when she's onstage or performing or on camera, there's sort of a Charlyne Yi persona that comes out," says Jasenovec. "But for this movie, she had to feel real, and she had to be genuine and honest."
Among Yi's concerns about the film, she notes, "I find the real me kind of annoying. If people don't like the character Charlyne, that's kinda close to the real me. But I don't really have range; it's pretty much gonna be me all the time. So no matter what, I'll probably be me and people will be annoyed with me. Just like I am with me."
Comedy Conundrums
Yi has always been drawn to performing; her initial acting aspirations were, she says, along the lines of "cowboy" and "gun-shooting badass." "Then I realized I was this scrawny little girl—probably can't do that," she says, laughing. While in college at University of California, Riverside, she was looking for a job to support herself and happened across a flier advertising a standup comedy contest. "I was like, 'Wow, I didn't know people still did standup,' " she says. "I thought it was some fad from the '80s where Billy Crystal and all the Comic Relief guys did it. I saw the flier and—I'm so cheesy—it said, 'You can do standup comedy, too! Join this contest!' In my head, I go, 'My life is gonna change!' "
Yi placed second in the contest despite being "horrible" and won comedy classes. But the instructors weren't exactly taken by her unconventional style. "I did, like, bad magic, but on purpose," she says. "They said, 'What are you doing? That's not standup comedy. That's weird shit.' I was kind of heartbroken. But then also it made me want to fight harder for what I was doing."
Indeed, Yi pressed on, even though her earliest bookings were in rather unlikely venues in her tiny hometown of Fontana, Calif.: veterans homes, Alcoholics Anonymous meetings. She was only 18 when she accepted a gig at a biker bar—and technically wasn't even allowed to be there. "They were like, 'Oh, here are some Snapples, honey,' " she says. "There was no stage. You were performing right by the door, and people would just walk out while you were performing. It was very intimidating, but I realized, just because it's a biker bar doesn't mean it's any different. I think an audience is an audience; if they want to laugh, great."
Eventually, Yi found herself juggling college, a survival job at Walmart, and one- to two-hour treks to Los Angeles to perform on bigger stages. "I was not getting booked in Fontana, so I drove out to L.A. in my car that would always break down," she recalls. "One day, I was performing for six male comics. There were no audience members. When they announced my name, 'cause I was a girl, [the comics] walked out. And I'm, like, talking to the light-booth guy. I could see his silhouette, and I thought, 'I hope he's listening, 'cause I drove two hours to come here.' "
While driving back home that night in her rickety car, sad music wafting from the radio, Yi suddenly realized tears were streaming down her cheeks. Here she was, commuting for hours to perform for an audience of one and sneaking into college classes because she could no longer afford school. "There was music [playing], and I was like, 'Oh, this music score's my life!' " she recalls, grinning. " 'Wow, I am a loser.' "
A series of wise words from several disparate sources set her back on track. First, her father lost his job and urged her to pursue what she wanted in life, to not have any regrets. Then, one of her college acting professors matter-of-factly told the class, "No one cares if you ever perform again." "You have to care," says Yi firmly. "No one's gonna keep pushing you. You have to believe in yourself and know that there's something out there for you."
On a more random note, a homeless man chatted Yi up and delivered the final blow. "He said, 'Every second's another chance to change your life around,' " she says. "So many things helped me realize that I should just go and perform and get a crappy job—because as long as I'm doing this, I'll be happy."
'Up,' Up, and Away
Yi relocated to Los Angeles and couch-surfed for a year, occasionally sleeping in her car. All the while, she kept performing, landing on bigger stages and eventually signing with manager Christie Smith of Mosaic Media Group. "I saw [Yi] at the UCB Theatre," recalls Smith. "She was doing something entirely unique, in her own way and in her own voice. She has a very wide-eyed, almost romantic, approach to comedy. It's not mean-spirited; it's incredibly pure. The thought of not representing her made me want to cut my arms off."
Smith asked Yi if she wanted to pursue acting, which led to an audition with casting director Allison Jones ("The Office," "Superbad"). It didn't go particularly well. "I memorized five pages, and when I got in there I forgot it and I was just reading like this," says Yi, miming holding a script directly in front of her face. "She said, 'Honey, put your head up.' "
Still, Jones kept bringing Yi in and eventually summoned her to audition for Judd Apatow's feature "Knocked Up." Her first read was for a "mall girl" role, and then she was called back in to audition for the role of Jodi. Apatow, Jones, and executive producer–star Seth Rogen were in the room. Yi was incredibly nervous and glossed over one crucial element of the character: her stonedness. "I'm reading with Seth Rogen: 'Hi, I'm Jodi!' " she says, grinning animatedly.  "Really alive and there and not at all stoned. Judd goes, 'Actually, Charlyne, she's stoned. Act stupid and stoned.' I'm thinking, 'I've never been high. I know I've been accused of being high, and I've seen my friends high, but I don't know how to be high.' I didn't say that out loud, because I didn't want them to know, in case they thought I was good or something."
After a round of improvising with Rogen, Yi managed to get a laugh out of the room and felt like she was ending the audition on a high note—until she decided to wave goodbye and accidentally hit Jones in the head. "I'm like, 'Oh my God, I'm an idiot. There's no way I'm going to get this part,' " Yi says.
Months later, she got the call that she had indeed gotten the part. "When I was there [filming], they actually kept me for a week, and we improvised a bunch of scenes that weren't supposed to be in there," she marvels. "I kept improvising the stupidest things, which got in the film."
Even though the movie gave Yi's profile a nice lift, it hasn't necessarily been smooth sailing since. She booked and was fired from a sitcom gig, and unlike some of the Apatow crew, she's not a household name just yet. But, slowly, things are starting to take off. "Paper Heart" has received glowing reviews, and Jasenovec thinks audiences will be surprised by and taken with her performance. "It's a much different role for her," he says. "And the next thing she does that everyone gets to see will be so totally different and really, really exciting."
Yi is also working on a pilot for HBO with Jasenovec and "Paper Heart" co-star Jake Johnson, wherein she would get to play a variety of roles—including, possibly, the gun-slinging badass of her childhood dreams. And she's writing a movie with fellow comedian Paul Rust that Apatow will produce.
But if mainstream fame and fortune don't come knocking, well, that doesn't bother her much. She's more concerned with continuing to do what she wants to do, using her comedic voice to tell stories the way she wants to tell them. "I don't think I need to be mainstream," she says, that appealing earnestness on full display. "I think there are definitely people who are going to hate what I do. And it's fine. Good for them. It's just not that their cup of tea. There are certain people who are going to like it, hopefully.
I
like it."
To read Back Stage's review of
"Paper Heart
,"
go to www
.
backstage
.
com/filmreviews
.