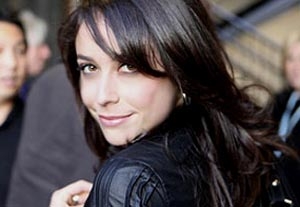 "I love people, and the Internet happens to have the most people," says
Shira Lazar
.
An early adopter to the web, Shira brings old-school journalistic chops to covering the world of new media. She's already got an extensive and impressive resume of work for Court TV, NBC, and dozens of websites, and was recently nominated for a
Streamy Award
for best Vlogger (that is, videoblogger).
Her current gig is a show for
CBSnews.com
called "On the Scene with Shira Lazar," in which she covers the latest in social trends and pop culture. A natural interviewer, Shira has a gift for making people—especially the "geeks" of the tech world—feel comfortable.
Chosen as this week's Actor2Watch, Shira will be featured in a series or articles, fun facts and social media tweets through this week for subscribers of
Girl2Watch.com
.
ACTOR2WATCH
: You started as an actress, didn't you?
SHIRA LAZAR
: Wikipedia says I'm an actress, but I'm not an actress necessarily. I used to act when I was younger. 
I was a theater nerd growing up. I literally prayed to God every day that I would be an actress. Then I started going on auditions.  I hated the way they judged me.
I got into behind-the-scenes staff and production. I found that middle way where that performance side of me could be expressed in broadcasting and hosting.
A2W
:What kind of training did you get?
SL
: I went to Emerson College in Boston and studied communications and production. I wanted to produce magazines and talk shows, then I also started creating shows that I was hosting. Emerson is very much a training school. Instead of going out to keggers and frat parties, we were creating TV shows.
I also have a vocal coach I go to. When I started out, my voice was really high and I would run out of breath sometimes. I started going to a vocal awareness coach and it was all about being able to control it, and your presence in certain situations.
So when people say things like, "Oh, your voice is really cool," I always attribute it to that help.
A2W
: What the worst or most humiliating thing you've had to do on the job?
SL
: I did one hosting job recently where it was sponsored and I was having to ask Oscar Award nominees to vacuum sand off a carpet after I interviewed them, every single one.
It was awkward and the worst brand integration ever—to the point where the audience ended up thinking I was a vacuum lady hired by the company to sell the product. It was embarrassing.  People felt bad for me. Now you go online and there's all these pictures of celebrities holding this vacuum.
A2W
:  Do you use Facebook and Twitter to advance your career?
SL
: I definitely do. I couldn't live without them. A lot of how I built my career was online. On Facebook, I have
my fan page
. I post a lot of my pictures, links to my stories. I'll crowdsource ideas and questions.
So if I have a story coming up, I'll use Facebook and Twitter to ask the people following me what they think. It creates a conversation.
A2W
: Is there anything you wish someone had told you when you first started out?
SL
: Love what you do. Be passionate because that authenticity goes a long way and people see that. Work on your craft and keep on challenging yourself and being curious.  That's what will continue to allow you to move to different levels and move further in your career because if you don't have that, then it's like you can strategize as much as you want, but it doesn't really matter.
I definitely think as I was starting out, I was always doing what I thought people wanted me to do. And the more I found my voice, the more I realized people accepted me.
Because the more you believe in what you're doing, the more people understand what you are. And it's not a sell. It's an offer.