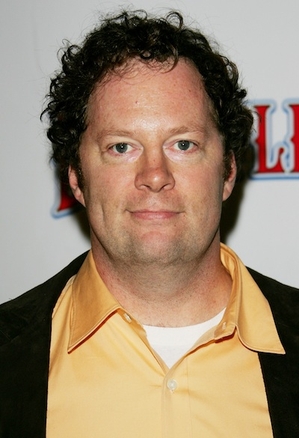 Shuler Hensley enjoys playing the "bad" guy. The Tony-winning actor, who won mass acclaim and every award for his portrayal of Jud Fry in the 2002 Broadway revival of "Oklahoma!" is returning to Rodgers and Hammerstein as "bad" guy Jigger Craigin in the New York Philharmonic's concert staging of the composing duo's classic "Carousel," which plays Feb. 27–March 2.
"There's just a taste to their musicals," Hensley says of Rodgers and Hammerstein. "It's like apple pie almost. It's just something that's very satisfying and filling and wonderful. "
Before rehearsal, Hensley sat down with Backstage to talk about musical theater, classical training, and handling perceptions as an actor.
What had been your experience with "Carousel" before joining this production?
Shuler Hensley: I don't have a really personal relationship with this show like I did with, say, "Oklahoma!". I sort of know some of the Billy Bigelow music. So in a good way, it's a good thing because I play Jigger Craigin, and I didn't even know he sang. He's got two really fun songs. It's sort of coming into this as a new show for me, if you can do that with Rodgers and Hammerstein.
This is a concert staging with the New York Philharmonic. As an actor, is preparing for this show different than getting ready for a full-scale production?
Hensley: We're going to have costumes, and you know the relationships you have with each character. It's really about presenting the piece to an audience who knows the piece and is there because they love the piece and the music. So we're not overcomplicating anything in terms of the staging. It's very simple. You're not under the impression that it's going to be a full-scale production number. I think it's even more special because it's the union of the Philharmonic and us on the stage together.
What are the joys of performing Rodgers and Hammerstein?
Hensley: As you go through your career and you do different composers and different styles of music, different time periods of music, you come back and it just sort of makes you appreciate it even more. There's just a sound to their music and to the lyrics and just a way it fits together that is so classically American and just special. I can listen to a song and within three measures know that's Rodgers and Hammerstein. It's just a sound that they have. It's really a crossover type of music. We have [Metropolitan Opera] singers and musical theater singers. The combination is beautiful because it sort of fits for everyone. That's what makes it really unique.
You have done some opera as well, right?
Hensley: I went to Manhattan School [of Music] and Curtis Institute and did "Don Giovanni," "La Bohème." I was an actor who knew I wanted to act and do mainly musical theater but wanted to train classically. Any time I get back in Lincoln Center it's like, "Oh, I remember this place!"
When was the last time you were at Lincoln Center?
Hensley: I believe the last thing I did was a Frank Loesser tribute with the American Songbook, which is in Avery Fisher. But I also did "Wozzeck" in Philadelphia, which is one of the hardest operas you can learn. I sort of tried to stay in the world, a toe at least in the classical world. It's fun to go from one to another. It increases your connections and it increases your appreciation for all of the music.
Is it difficult to get back into it after being away?
Hensley: It isn't, because I trained that way. It's sort of like—it sounds cliché—like riding a bike. Classical music and that style sort of fits in your voice, and it takes a while to maybe sort of relearn that area of your voice but it does come back. So far, knock on wood. Ask me in five years and it will be like, nothing fits!
Rodgers and Hammerstein is such a beloved composing duo. Do you feel any pressure bringing their works to stage?
Hensley: I don't because, in terms of an actor, they are like the classic stories, but what's great about them is you can create your role in a unique way and the music and everything they've done still supports that. When I did Jud, I purposely didn't see another Jud. But in the story, there are the characters and they're very vivid and they're very easy to mine with your own experience. It's great that I didn't know who Jigger was. I mean I knew he was the "bad" guy, but there's some incredible humor in this and some scenes that are really more than just the dark scenes. By not always playing what the label is, it makes the character deeper. And it makes it new for people who think they know it.
Do you enjoy playing characters that are perceived as the "bad guy"?
Hensley: I do. If there's a very strong perception, it's always great for an actor to know, well, that's the perception and now let's see what's underneath that. If I know I'm the villain and everyone sees me as the villain, that's the part I don't really need to focus on too much. Maybe add a little bit of humor or even humanity sometimes, and then it makes it much more of a tragic figure or a deeper figure.
What do you enjoy about coming back to musical theater?
Hensley: I teach a lot and I talk about the music is your soundtrack if you do a film. It just adds another layer to the story; you can't duplicate it. It's always nice to come back and have that extra layer underneath a story because the colors and the levels that it brings to it are just amazing. And it also keeps it fresh. If you're in one area for too long you tend to lose perspective, so it's nice to be in a musical and then go be in a play or an opera or this or that and then when you come back, you're coming from the outside again. I like that.
What advice do you have for actors?
Hensley: This might be awful advice, but never say no. Never say, 'I can't do something.' Just try to say yes to as many different things as you can and that gives you more options. It also keeps you fresher and it doesn't keep it safe. Because once I feel like you're safe as an artist, nothing exciting happens.