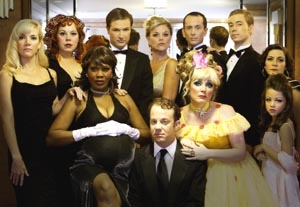 If pretty, like its haughty cousin beauty, is in the eye of the beholder, then plenty of eyes are beholden to the Web series "
Pretty
" for some entertaining comedy. That is just how series creator
Steve Silverman
likes it. Says Silverman of his process, "I write things. I call people up I like to be around, and I say, 'Come play with us.' "
"Pretty" is the ongoing saga of Michael Champagne and his young daughter Annette. The series follows the duo—and their family and friends—as they do their best to win over pageant judges and each other. The twist—well, one of them—is that Annette, a precocious 6-year-old, is played by actor Stacy McQueen, who is in her mid-40s. Writer-director Silverman says, "The greatest compliment I've gotten from a few people is that you forget she's a grownup." Indeed, despite its innumerable over-the-top moments, what sets "Pretty" apart from the Web series crowd is the way it balances extreme moments with a down-to-earth earnestness. This combination makes the show believable and hilarious. "I just like to take concepts and ideas and put a twist on them," Silverman says.
A TV producer currently working with "American Idol," Silverman has industry experience that runs the gamut. He began as an intern at "General Hospital" and went on to write more than 20 plays and musicals that have been produced across the nation. After 12 years as an on-air producer, he now writes and directs episodes of  "Pretty."
As for how he chose to take on the added duties, he says, "I knew what I wanted." He realized that during the writing process he had already visualized the show, so the added responsibility made sense. He even considered taking the starring role of the pageant dad, but admits he did not have the right look, so he cast the hilarious
Sam Pancake
. While many of the actors in the show are friends of Silverman's, he held auditions for Michael. "[He] is the star of the show," Silverman says. "This is Michael's journey, and he's just going to drag that poor little girl along on this journey."
Plan for Auditioning
In describing the process of casting Pancake, Michael explains what he looks for when auditioning actors: "When you walk in to audition with me, have a plan. You can walk in with the wrong plan completely, but at least have a plan. With all due respect to the 11 other guys I saw, every one of them sat down with questions: How do I see it? How should they do it? Sam sat down and said, 'Are you ready? Should we go?' And he nailed it from the very beginning. I've worked with other actors who have come in and went the wrong way completely. But I applaud them that they made a commitment; they made a choice."
The acting seems so natural, Silverman is often asked if the show is mostly improvised. "It's all scripted," he says. "And that's how brilliant they all are—they make it look like it's real people saying this stuff. A lot of the time I don't say cut. They finish the dialogue, and they just keep going."
The believability of the characters in "Pretty" is surprising, considering how outlandish they can be. As for what inspired the show and the characters, they were all very much based in shows that already air. "The first season of 'Pretty' is literally beat for beat [inspired by the reality show] '
Toddlers and Tiaras
,' " Silverman says. "I watched 'Toddlers and Tiaras.' I love it. And I just took all those characters that are real people and turned them into characters. But so many of the jokes are right out of 'Toddlers and Tiaras.' So much of the dialogue is right out of 'Toddlers and Tiaras.' It's just what they say. But then in Season Two, I wanted to show people that we can do more." To that end, the show went from five to seven episodes and the cast went from six to 21 actors.
"And we pulled it off," Silverman says. "We stayed with the pageant, but we told stories for all the characters to revolve in their own worlds. It's kind of fun. It's an evolution of the process." Silverman explains further, "It's literally 'Toddlers and Tiaras' meets 'The Office.' I wanted to take 'Toddlers and Tiaras' as your background, but I wanted to do what 'The Office' does—it's about the characters."
For all the silliness and frivolity (example: Annette's mother is a "professional smoker"), there are some very serious roots grounding the project. Silverman begins his directing process by meeting his actors first individually, then in groups, to establish their characters and relationships long before the cameras start rolling.
"We're never going to say this; it's never going to come up," Silverman says of one backstory fact he refuses to reveal: the real story behind the demise of Michael Champagne's first marriage. The audience never needs to know the whole story, but the fact that the characters have that story to back them up gives the series unexpected depth. Silverman says his mantra for the cast and crew is: "Keep it real. Play it real. It has always been my fascination to take an environment you know, turn it 20 degrees the wrong direction, and to play everything dead serious. Because it's hysterical."
One example of this in the series is the theme of pet tanning salons, of which Silverman says, "Now, realistically, that's insane. But when you map it out and you believe and you sell it as an actor, it's completely believable." That statement sums up why "Pretty," as a whole, works. It is insane; it is illogical; it is ridiculous. And it works. Silverman agrees. "It works if you keep it grounded. That's what it comes down to," he says. Furthermore, Silver notes, "You know these people."
Serious Elements
Silverman is very much aware of the important and serious themes that run through "Pretty." He says the show addresses "the mentality in this country, in this time right now, that it's more important to be the next 'America's Next Top Model' or be the next 'American Idol' than it is to get an education. That's the point I'm trying to make. That's why [the characters] are so gloriously self-involved and racist and don't even know that they are, because this is just the reality, I feel, in our country. That whole thing too of 'You're 16 years old and you haven't made it?!'"
Judging by the way the series has resonated with viewers, he is not the only one to feel this way. "Pretty" is the first Web series to be invited to hold its own Emmy panel. It won the Best of the Best at the L.A. Comedy Festival and has garnered accolades from numerous entertainment blogs and independent-film media outlets.
When asked for creative advice, Silverman says, "Be unique. If I see one more female or male buddy comedy about two 20-somethings who want their moms to leave them alone because they're struggling actors who want to get laid in the city, I'm going to throw up." For anyone behind the camera, he advises, "Shoot as much stuff as humanly possible outside in the sun." And for actors, Silverman reiterates, "Have a plan going in, and know what character you're playing. And you can tell right away when an actor or a company of actors has done that kind of work."
Silverman's planning seems to be paying off. The show's popularity is increasing, from its various accolades to a nod on "Saturday Night Live." Silverman says he hopes to present the show's third season in the fall, though he is also looking for airtime on television. "I do this project because it's fun," he says.