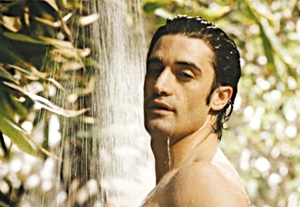 You may have gone to last year's "Sex and the City" movie to see the further adventures of Carrie Bradshaw and friends in their search for love and fulfillment, but what most filmgoers remember is Gilles Marini as Dante, the hottie neighbor of Samantha, who entices her, and the audience, in a steamy shower scene. That relatively small role had a huge impact on the French-born actor's career, leading to a gig on "Dancing With the Stars" and a recurring part this season on "Brothers & Sisters," as Rachel Griffiths' love interest. It should come as no surprise that Marini began his career as a model, but he soon moved beyond merely looking pretty to expressing complex emotions in numerous roles. Back Stage recently spoke with the hunky actor about shower scenes, acting with an Oscar winner, and achieving his own American dream.
Back Stage:
How did you get into acting?
Gilles Marini
: I started work at 7 years old as a baker with my father in France. All my life I just worked doing this. School was just an obligation. Then I went to the army at 18. I became a firefighter—it's kind of an elite group of the army in France. They're very intense and it's hard to get in there. I was in Paris then. But I had to go back to my home in Cannes when my father died and do the pastry again, until I was fed up. Personally, back in the day, I was very frustrated with the way the government was handling the people and the enormous amount of tax. Whoever works or owns his own business in France, if you declare everything on your taxes, you cannot survive. So I was, "I cannot live in this place." My dream was to be in America. I had a couple of pictures of myself which a friend of mine, a famous photographer, took. I went to America just to see what is going on. And the next thing you know, I got my papers to do modeling in Miami. I moved from Miami to New York. Then I had a chance to go to L.A. From there I started doing acting class with Vincent Chase. I started reading Back Stage every day when I moved to L.A.
Back Stage:
So how did you make the transition from modeling to acting?
Marini:
I was doing restaurant jobs in Miami and doing modeling jobs, and I realized, "I work three times a month modeling and I make as much money as I do working three restaurant shifts a day for a month." I concentrated on modeling as a job and making a living, so this is where commercial acting came up. While I was waiting on tables, I met Will Smith. I made a protein shake for him, because he was in training for "Ali," and I told him I wanted to get into acting. He said pretty much everything happens in L.A. So that's where I went.
Back Stage:
Was the role in the "Sex and the City" movie your breakthrough? How did that come about?
Marini:
I got a phone call from my manager saying they were having a hard time casting that part. I went to the audition, and a week later I got another phone call saying they wanted to fly me to New York to read for the role. I figured no matter what happened, it would be awesome. I did the audition in New York, a little bit more edgy this time. Michael Patrick King liked it and decided to hire me. It was one of the most exciting moments of my life.
Back Stage:
Did the role open a lot of doors for you?
Marini:
I went to the premiere in New York, and when it was over I knew something was going on, because I was swarmed by people. It took an hour and a half to get out of the theater. Michael told me, "You're going to hate me." I said, "Why is that?" and he said, "Because your phone is never going to stop ringing." And he was right. He had this vision, and he knew what this part would do for me.
Back Stage:
Was there any trepidation in doing the shower scene?

Marini:
I think it was all in my mind. But I remembered my acting training and the idea that when you become that person, you commit to it. No matter what that person says in the script, you are this person. You're not going to be shy, or if you're playing a murderer, you don't hold back. I'm about to take off a towel and be naked in front of a hundred people. But I decided to be this person who has no problem showing his body to anyone. That's the way he is. After the first towel drop, it became easier.
Back Stage:
Did "Sex and the City" lead to "Dancing With the Stars" and your recurring role on "Brothers & Sisters"?
Marini:
I did get the offer to do "Dancing With the Stars" after the movie. At that time, my daughter was all about dancing and twirling around the house, so I thought, "Oh, cool." But I wasn't sure. I asked a friend of mine, one of the most brilliant minds in Hollywood, Donal Logue—he was on "Grounded for Life." He said, "Dude, absolutely." I was like, "Will it hurt my career, because I'm just starting?" He told me, "Mark Wahlberg was the Calvin Klein poster guy and was nominated for an Oscar. Hollywood is different. It's not like a VH1, 'Rock of Love' thing; it's a talent show." I'm saying yes, and it was an amazing experience. After we did the Argentine tango on the show, ABC approached me and said, "We'd like to take a meeting with you, because we want to create a character for you for 'Brothers & Sisters.' " For me, that show has the most talented cast on TV right now. Brilliant actors, and the story line is very emotional. We have the meeting and we talk for an hour or two. They understand who I am and where I am coming from. The writers were there. As we are speaking, I see how they will make my character. Imagine the honor: They are saying, "Right you are; we are writing something for you." For me, it was a tremendous honor. So I am going to play the love interest of Rachel Griffiths. It was just overwhelming.

Back Stage:
You'll also be on "Nip/Tuck" this season, as Vanessa Redgrave's husband. What was that like?
Marini:
I was thinking, "You're going to be opposite one of the most famous, brilliant actresses of all time. No matter what the role, it's amazing." I just had to realize she is human just like everybody else, and you do the best job you can. That comes with being prepared when you come to the set. You can prepare yourself and be ready for the feelings that are occurring at the moment. It always changes a bit from what you thought. We had this intense scene, when she realizes how evil my character is. I think it went well. There's no doubt Vanessa has these very strong opinions and likes to collaborate with the writer and director. So I had to sort of ride the wave with her as the script was changing. The intensity was up to the roof.

Back Stage:
When you first came to America, how did you get a manager?
Marini:
Well, I was in Miami, walking on the street, and someone said, "You look so different and exotic; where are you from?" I told him, and he said, "I am a casting director for models," and he wanted to cast me. The next thing you know, I am shooting this worldwide campaign for Häagen-Dazs, and I never got paid. This is why Back Stage takes a very special place in my life. I started reading the paper and finding out I had to get an agent. I got one in Miami, which led to a commercial and then Los Angeles and so forth. I find that in America, if you work at it, you get it. It's not a gimmick: If you really work at something, most of the time you succeed.
Back Stage:
Well, it helps if you look like you do.
Marini:
That opens doors, sure. But if you stay this beautiful shell, it's not very deep. If you only use your beauty, you go nowhere. I want people to understand me, not the way I look. Michael booked me for the "Sex and the City" job because he liked my personality, not my look.
Outtakes
-- On rejection: "As soon as you understand that rejection is a part of your training you need to accept, you live better with yourself. Don't give yourself an option to fail. Don't say, 'If acting doesn't work, what will I do?' I didn't give myself an option to give up, so the world didn't have one."
-- On friends: "You have to be surrounded by people who believe in you. If you are surrounded by people who doubt you, it means they doubt themselves."
-- On success: "I didn't know a word of English when I got here. I'm talking about zero. I knew 'yes' and 'no'; that's it. If a guy from the end of the world that never spoke English and came here like a friggin' tourist can make it, no American can come to me and say it's not possible. And buy Back Stage, because there are so many amazing tips I got from you guys, it's insane."