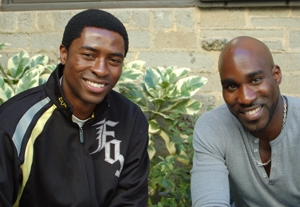 A virtual united nations of actors has come together in the latest production of Lynn Nottage's "Ruined." The co-production with Seattle's Intiman Theatre, directed by Kate Whoriskey, is currently at the Geffen Playhouse in Los Angeles. The play is set in a small-town brothel in the Democratic Republic of the Congo (formerly the Belgian Congo). To cast two of the soldiers, Geffen casting director Phyllis Schuringa made sure to include African-born actors in her search. (See related story.) She found Tongayi Chirisa to play rebel leader Jerome Kisembe. Chirisa was a well-known star in his native Zimbabwe (formerly part of a British colony) but now lives in Los Angeles. To play Jerome's enemy Commander Osembenga, however, Schuringa selected David St. Louis, an all-American actor with solid Broadway and regional theater credits.
The two actors spoke with Back Stage about winning their roles, fleshing them out, and taking them on the road.
Back Stage:
How did each of you get cast?

Tongayi Chirisa
: I auditioned for Osembenga. And I think it does help being African and playing something similar to the Commander's role previously. It was pretty much a natural fit.

Back Stage:
At what point did they ask you to come back and audition as Jerome Kisembe?
Chirisa
: They didn't tell me I was coming in for another role; they just offered Kisembe to me. This was a month later.
David St. Louis:
I was going to New York to do a workshop of "Porgy and Bess," so I had to come in [early]. I had to look at the sides really quickly and figure out how I was going to get this accent. I came in for Kisembe. [At the later auditions] they only had one set of sides, and whatever you were coming in for, you were reading the Osembenga sides.
Back Stage:
You had the sides for how long?
St. Louis:
A day or two, trying to figure out how to put the words in my mouth, and I actually ended up giving my agent a call and saying, "I can't do both of these scenes and have the accent that I want and have it sound the way it needs to sound. If I'm going to do any justice to anything, I need to concentrate on one, so let them know that all I can do is this one, and I'll do the best I can do with it, and get on a plane." I went in, did the one, and got the call about a month later.
Back Stage:
All the play says about the character is, "A pompous peacock of a man in dark sunglasses, a gold chain, and a jogging suit, struts into the bar." What did you add to make him a real person? It's a great description but not enough to show up at an audition with.
St. Louis:
No, but that's pretty much all you're used to getting for any audition. You've got to find out how this character lives in you. By the time I auditioned, I brought me to the role, instead of the role to me.
Chirisa:
The way I approached it, "pompous" from an African perspective, as a rebel or a government leader, I wouldn't exactly say he's pompous but a very prideful individual, one that looks to himself as some sort of a demigod because of the power that is bestowed on him. So I think my approach to him was a little more heavyset than a pompous, frivolous individual. Prideful but at the same time extremely dangerous. The African setting, and understanding what rebel leaders are, and having experienced somewhat the power of dictatorship, that's what I brought to the table.
St. Louis
: It always, for me, goes back to Acting 1. I need to know what my objective is. Once I know what I want, it's colored by what my obstacles are and what my position is. I'm the head of the government, the military. Anything I say goes, because I'm going to make it go. Anything past that, "pompous" seeps in. It's a byproduct of the objective and my circumstance.
Back Stage
: Tongayi, after you're cast and working on Jerome, what else do you build into him?
Chirisa:
Wow. I had an understanding of who Jerome is, understanding the psyche of rebel soldiers and how they behave. It's this whole concept of believing what the right thing is in terms of coming against opposition, the government, believing what we stand for and executing that. And having no moral disposition to know what is right and what is wrong, but as long as my objective is obtained, I will do everything to get there. For Jerome's character, he was more a proactivist in terms of, "The government is wrong. I'm more for the people. So I will do whatever it takes to stomp out the life of the government's feeding off people to show them who's right in this situation." And I think the same is for the government for Osembenga; it's the same.
St. Louis
: We parrot each other's lines. I'm listening backstage, and I'm going, "I just said what he's saying." We're accusing each other of the same things.
Back Stage
: How did you study acting in Africa? Do you have Meisner and Method?
Chirisa:
Well, I went to film school, so I was given the opportunity to learn different techniques. Growing up, when I started acting, it was more a fun thing to do that eventually, the more-established actors in the industry would just bring us in: "Here's a script, let's do this." So technically there wasn't a right or wrong. It was just like, let's experiment and see what's going on, so it was pretty much, I was thrown in at the deep end, and that's how I learned. It was only after some sort of success that I had in my country that I was finally introduced to proper techniques of acting and film school and the business side of it. This was maybe four or five years after I was already established in my country. There is a format; it's like street theater that I grew up doing, and it shaped me in terms of the spontaneous method of acting and just being good at improvising. That's my background. Eventually with the acting in film school, when they start telling you the techniques and, "This is this Method," you're like, "Oh, okay." I've been doing it, but I didn't know the technical terms for it.
Back Stage:
David, you went to school for theater?
St. Louis:
I went to Howard University, theater major. Before I went to Howard, I was at Oberlin Conservatory; I was a classical voice major. I decided I didn't want to sing anymore. It's a different world of people. So I left and went to Howard for theater. And to keep most of my credits, my music credits, I decided, let me concentrate on musical theater. It's been a money bet for me. I got out of school and did a lot of musical theater in New York. But while I was at Howard, I concentrated on acting. I went to Oxford for a summer to do British Academy of Dramatic Arts, had no idea what I was going to get when I was going there. Classical program? Okay, sure, I'll go. Trapper Keeper, Mead binders, they sponsored me to go over. I was doing theater in the [Washington] D.C. area, and they're big patrons of theater in D.C. They were very good to me. So I said, "Okay, this will be a good experience." I had no love for Shakespeare yet or classical theater. I said let me just see what happens. I fell in love with Jacobean drama, with Shakespeare, with everything about classical theater.
Back Stage:
What are you working on in "Ruined" these evenings? What's changing, what's deepening, what have you discarded?
Chirisa:
With this character, every night it evolves. You find something new. There are certain principles we have established around our characters, these are certain points our characters live in, but every day it's a different experience, the way we deliver our lives is different. But as long as we maintain the same intensity, and our point is coming across, whether that be in a very subtle but emotional way, that's great, but we still embody that heaviness of the Congo. And what we represent is the very thing that these women are trying to rise up out of.
St. Louis:
You have your landmarks and you hit your landmarks. They're needed, so that other people can do what they need to do. But at the same time, I learned earlier on that it's a trap to try to repeat yesterday's show. I'm a different person. I woke up on a different side of the bed, I've got different experiences, and it's impossible. You take yourself out of the moment, out of everything, trying to do what you did yesterday. And it will never work. It's a great show for that, and every time you can still get to where you need to go and feed what you need to feed. The only thing I concentrate that much on is the accent. Sometimes your mouth will try to get lazy, and I go home and say, "Let me get these words in my mouth one more time, make sure they're going out right."
And we're still re-blocking everything.
Chirisa:
'Cause it's a new space. Much tighter. So [Kate] needs to make sure everything is clear as day. Certain moments and certain movements we had had in Seattle—
St. Louis:
—will not be here at all. Some things are being completely re-blocked for me. One of my monologues in the first act, I used to take all of it to the people onstage with me. Now, because of the space, I can't turn around. I've got to take more of it [to the audience], sort of an aside. I prefer to work with people who are going to give me back what I need. But I get it, so I can make it happen.
Back Stage
: Both of you are making plans to take the show to South Africa for three weeks.
St. Louis:
If there's one thing an actor knows how to do, it's pack bags.
Back Stage
: A lucky working actor.
St. Louis:
Yeah. You live the life of a gypsy. I enjoy going and getting to sit down in a place long enough to feel what it really is, and not just go to the tourist spots, and to really live the life there.
Chirisa:
Its pulse.
St. Louis:
Know the people, experience the culture. So I'm always excited, whether it's internationally or inside the U.S., to go to a different place and sit down and live, the same things you do with your characters. You get a chance to sit down and live in a new character with a new set of situations and a new set of problems. You get it doubly when you get to travel.

Chirisa:
I was in South Africa two and a half years, in film school, so it's home. It will be a good thing to come back and show my friends and my arts community at large what we're doing in America. And I know that they'll always support it.
"Ruined," presented by Intiman Theatre Company and the Geffen Playhouse, runs through Oct. 17 at the Geffen, 10886 Le Conte Ave., L.A. Tickets: (310) 208-5454. www.geffenplayhouse.com.
David St. Louis
-Broadway credits include "Harlem Song," "Rent," "Jesus Christ Superstar," and "The Scarlet Pimpernel"; regional credits include "Parade" (Mark Taper Forum), "Cousin Bette" (The Antaeus Company), "Ragtime" (PCPA Theatre), "Golden Boy" (Long Wharf Theatre), "Henry V" (Shakespeare Theatre), "Candide" (Arena Stage), and "Bessie's Blues" (Studio Theatre), for which he received the Helen Hayes Award for outstanding supporting actor
- Television credits include "NCIS," "Third Watch," "Law & Order," "Law & Order: SVU," "A Royal Birthday," "The Jury," "One Life to Live," "Homicide: Life on the Street," "America's Most Wanted," and "The Secret Path"
Tongayi Chirisa
-Played Detective Trevor Davies in the Zimbabwean soap "Studio 263"; portrayed Friday on the NBC series "Crusoe"
- International film credits include "Skin," co-starring Sam Neill and Sophie Okonedo
- Has been nominated for an African Movie Academy Award