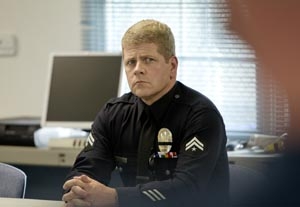 Michael Cudlitz usually plays Officer John Cooper on TNT's "
Southland
," which returns with new episodes Jan. 17, 2012. But he's changing sides of the law in the TNT Original Mystery Movie "
Silent Witness
," premiering Dec. 7. In the telefilm he plays Sam Robb, a teacher accused of murder. When it comes to good guys versus villains, the actor says he doesn't really have a preference, as long as the role is exciting.
Below, five things you might not know about the "Southland" star.
1. He starts with research.
"Everybody works in a different way, and I've worked with actors that have no training whatsoever who are phenomenal," Cudlitz says. But he believes that research is always a good starting point. "Just know the people that you are portraying and the work that they do, because everybody's a person first and people react to things the way people react," he says. For "Silent Witness," Cudlitz read Richard North Patterson's novel (http://www.richardnorthpattersonbooks.com/silent-witness.html) to get more of the subtext going on between the characters. He says that enabled him to bring more depth to the relationship between his character and two others—Sue Robb (Anne Heche) and Tony Lord (Dermot Mulroney)—whose history dates to their years together in high school. "There are certain colors or certain relationships that you can play that you can hint at that are in the book that might not necessarily be in the screenplay. There was a lot that we could add into it that was just played contextually and not actually on the written page," he says.
2. He got his start in construction.
Cudlitz always wanted to be an actor, but initially he went to school to be an engineer. While he was working on an engineering project, his dad noted his misery and encouraged him to follow his dream first and then find a backup if it didn't work out. Cudlitz left school that night and shortly after applied to Cal Arts, where he trained to be an actor. After graduating and working at a rep company in New Mexico, he realized he needed to be in L.A., but he didn't want to be a waiter. "I learned construction and carpentry from my father at a young age, so I felt very comfortable and I felt very satisfied when I worked in that field." He worked in the film and television industry doing construction until about nine years ago, when he fully transitioned to being able to support himself and his family with acting. "Which is a pretty huge thing," he says. "The fact that I am able to live a life and act and to do all of those things and support myself and my family is a gift."
3. He thinks actors need to use the power they have.
When Cudlitz went in to audition for "Southland," it wasn't for the role of John Cooper but for Detective Russell Clarke. It was early in the casting process, and the casting director and producers were reading a lot of people. "Even if they don't think they're going to cast you in that role, they just want to get a flavor and a sense of who you are," he notes. After hearing him read, executive producers Ann Biderman and Christopher Chulack asked him to come back and read for Cooper. Cudlitz was surprised and excited because this was the main character in the pilot. But they wanted to see him the next day, and Cudlitz says the role had 24 pages of dialogue and a huge monologue. He knew he couldn't be prepared in a day. "A lot of times, actors give so much power to the producers and the producing companies because, quite frankly, they have it," he says. "But we don't take the limited power that we have, which the power you initially have is to say no. But no in a positive way." So Cudlitz took his power and asked if there was a way he could come in later, because he felt the material deserved more than just a day of preparation. "If they would have said, 'No, we need to see you tomorrow,' I would have said fine," Cudlitz notes, but they gave him a couple more days, which allowed him to come in well-prepared and comfortable. "You're never going to do as good a job as you can if you're rushed," he says.
4. He was hired in the casting room for "Southland."
After reading for Cooper, Cudlitz was brought back to meet with executive producer John Wells. The process hit a bump when the studio became concerned that he and Ben McKenzie, whom it had in mind for another role, were too similar. So casting director John Frank Levey worked with them together and told the two actors that instead of just reading the scenes as if in a casting session, they should actually play the scenes for the studio. Cudlitz says both performers knew it went well, so they weren't too nervous as they waited for notes. They got one note: "Welcome to Southland." Cudlitz says, "It was one of those rare moments we got hired in the room. That's the first time it's ever happened to me in 20 years. Sometimes you walk out of an audition and you kind of know you nailed it and you're probably going to book it, but you very rarely are told in the room by the people who are hiring you."
5. He believes in building your own path.
"Don't listen to anybody. Nobody knows the magic bullet. If they did, they'd sell it and make a fortune. Follow your gut. Follow your instincts. Every once in a while, take a chance," Cudlitz says. It's important to know the rules and listen to advice, he says, but filter it and use what works best for you. For example, one thing actors hear all the time is to never pay a manager. But Cudlitz was paying his manager $30 a month for postage when he started out. "I got a lot out of it at the time that I was doing it. I was being submitted for everything under the sun, and this person got my name out there, got my face out there. For a small portion of my career that was very important," he explains. Cudlitz adds it's important to do what works for you and not to try to copy the way someone else did it. "There's no answer to how things are supposed to be done or how they shouldn't be done."