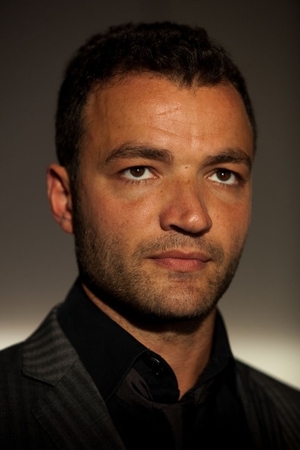 Nick Tarabay is continuing his track as an on-screen badass. Best known for playing Ashur in "Spartacus," and appearing in "Crash" and "The Sopranos," the Lebanese actor is taking his talents to NBC for new show "Believe," premiering tonight. After making his feature film debut in J.J. Abram's "Star Trek Into Darkness," he's continuing his habit of working with phenomenal directors with "Believe"— the pilot was helmed and penned by Academy Award winner Alfonso Cuarón.
For NBC, Tarabay plays a former black ops officer on the hunt for a young girl with special powers.
On knowing your character.
Tarabay makes it a point to understand his characters on a level deeper than what the audience perceives; for him, it's the key to truly playing.
"Whenever I read a script or I try to get into a character's mind and body, I try to understand what moves them, what makes them go, what makes them tick, but above all I always try to find their heart," he explains. "What's the thing that they long for and what's the thing that gets them?...I'm still new to him [Zepeda] and he's new to me, so I'm trying to find someone who's very driven and may come across one way—I try to find out what's beneath that."
On remaining neutral when reading a script.
Because "Believe" centers on groups of people fighting to capture a child with supernatural powers, it's easy to see the characters as either black or white, but Tarabay feels doing so would hinder his acting.
"I just try to see their point of view and what drives them," he says. "There's a lot of stuff that's about to unfold in the series so...you really have to watch the show to know who's the villain and who's the hero. Everybody in the show, they all have great motives—they believe in what they do, so it's up to the audience to think who's right and who's wrong."
On drawing from your personal experience.
Growing up in Lebanon and moving to the States at the age of 17, Tarabay has a singular view on his characters and his approach to acting.
"I always say that having been raised in Lebanon, having seen the wars, the fights, and all the lovely things also—the family, the closeness, the social life—I feel like there's a lot that I draw from," he says of building his characters. "A great teacher of mine, Larry Moss, said, 'At some point, Nick, your pain will become your joy. All these bad memories or some of the horrific stuff you've seen, whether through war or personal experience, all these things in acting will be your joy.' Sometimes when I have to go into a certain role, I feel like in a way I have a place to draw from because I've seen a lot growing up."
On working with J.J. Abrams in New York City.
Working with Abrams on the set of "Star Trek" clearly worked out well, as the prolific director-producer decided to hire Tarabay yet again, this time for television.
"I think every actor should work with J.J. Abrams or someone like him," says Tarabay. "He's super talented and knows what he's doing, but above that he's just a guy who's living his dream and is just happy every day he's doing it. On 'Star Trek' he was more excited than the actors!"
Something Tarabay's excited about? Shooting on site in New York City. "It's just beautiful, I always wanted to work in New York," he says. "Coming from 'Spartacus' where we shot everything in the studio and now we shoot on location, it gives you that extra thrill to run in the streets or to drive and have people watch you; it's awesome, I love that."