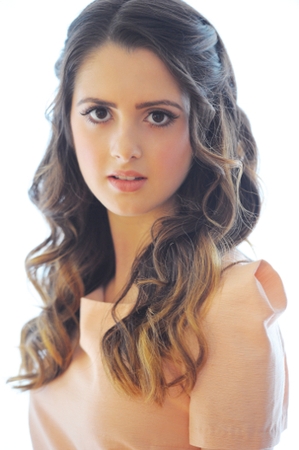 Laura Marano, star of Disney's "Austin & Ally," virtually grew up in her mother's theater. The grounded young star embraces her fans and gives back by teaching young actors at that same theater, and volunteering with UNICEF and the Humane Society.
On playing Ally.
"I honestly had never seen a character so much like me. My mom and I were reading the breakdown and I remember thinking, Oh my God, are there cameras around me? This is so me. I love music. I'm a complete goody two-shoes. I'm really quirky."
On writing music.
"I started when I was quite a young girl, so they weren't the best of songs. The subjects ranged from talking about candy that I liked to horrible breakups that I hadn't experienced. But as I've grown as a person, I've definitely grown as a songwriter tremendously. You're always growing with art and with anything in life."
On finding balance.
"When you're an entertainer, you are a product and you are putting yourself out there for people to enjoy and feel emotions for, and that's always just kind of a weird mind trip. For me, it was so important to stay in school and to go to an actual high school. It can be a little weird to transition from doing red carpets and publicity stuff to all of a sudden being in school talking about the book that we read for homework, but it's so important and it's helped me tremendously to find my balance.
On starting in the theater.
"Whenever I have little kids come up to me and say they want to be an actor, the first thing I say is, 'You should do theater, you should do plays.' You learn to memorize lines quickly; you learn the essentials of staging; you learn the essentials of acting, basically. But another reason why I love theater is the idea of teamwork. Everybody plays a very important role and you gain this respect for everybody involved, which I have definitely carried around with me my whole acting career."
On rejection.
"Know from the get-go that it's a very tough business and you're going to face a lot of rejection no matter what. It's everywhere and you can't escape it. But if entertaining, if music, if acting, is something you really want to do and something that you live and breathe for and you work hard at and you keep at it for years and years and years, there's no way you can't succeed. It might take a long time—like, undeniably it will take a long time—but there is no way you will not succeed if you keep going for it."
On being starstruck.
"I've been doing meet-and-greets [and it's] awesome to meet with the little kids and the not-so-little kids who enjoy 'Austin & Ally.' I get really starstruck, so I completely identify with them. It's actually a weird experience when I think they get starstruck of me."