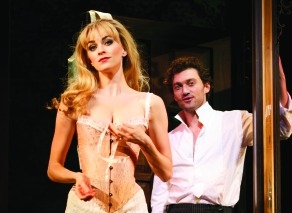 The hilarious Lisa O'Hare, who made a name for herself in the West End in "Mary Poppins" and "My Fair Lady," is one of the highlights of the swift, funny "A Gentleman's Guide to Love and Murder" as Sibella, the singing, scheming mistress of the murderous heir to the D'Ysquith fortune—and it's her Broadway debut!
On her first Broadway performance.
"It was a blur! It's surreal; you work your entire life to get to this moment and it is just another theater and just another job in so many ways, but there's so much prestige about it. It's hard to not think about how you've dreamt of that moment."
On being cast for the regional production.
They did some auditions in Los Angeles, and I'd just moved and got married and I read the piece and thought, This is so perfect. And funny enough, they gave me a choice between [ingénue] Phoebe and Sibella. And I said, "Well, I normally play the Phoebe role." And [casting director] Jay Binder said, "No, you're definitely more Sibella." So I went in for the audition, which was more of a workshop than an audition actually. I think they had somebody who was a very, very different choice in mind so they said, "We want to bring you in to New York for a final audition." And the night before my final audition, I went to see "A Little Night Music" at the Walter Kerr Theater! And I got the role and then it all fell through, but it was so worth it because it came back again a couple years down the line.
On traveling with the show from its previous run at the Old Globe in San Diego.
"To be honest, I was really thrilled and honored that they asked me to come. You never know if you'll go to the next stage or not, but I would never have presumed that they would take me to Broadway. It's very important to be a realist in this business. You can't take anything for granted."
On being bold for Broadway.
"With it being Broadway and my debut, I just knew I had to be really brave and bold. I was shying away from certain aspects of [the role] that were a little dark or unpleasant, but I made a pact with myself to be bolder and give her a really strong point of view. I discovered my inner narcissist and embraced her, and I'm having so much fun doing it! You don't get anywhere being safe."