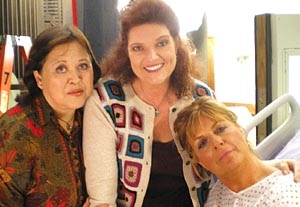 Debra Christofferson has a problem: She sees famous people. It shouldn't be a surprise, as she lives in Los Angeles. Last year 25.6 million people visited L.A. County, and most of them probably would have counted spotting an Oscar or Emmy winner as something worth updating their Facebook status over. But these days, when Christofferson has a celebrity sighting, it most often comes near the audition room. The actor—best known for playing Lila, the bearded lady, on the defunct HBO series "Carnivàle"—tells a story about going to read for a guest-star role on a cable-TV series.
"You wouldn't believe the people that were there," she says. "I looked around the room and said, 'Okay, that person was on a series, that person was on two series, I thought that person was still on a series, that person had a cable show,' and they're all reading for a three-line part." As Christofferson notes, that part was formerly called an under-five. Now, because of the quality of the actors doing them, they're being called guest stars. Given what Christofferson was up against, she was grateful to land the job. Then, just before the contract was signed, word came that the role had been eliminated. "It frankly didn't surprise me, because it was superfluous," she says. "But that's how it's changed for the middle-class actor. We're doing parts that can easily be written out. That's scary."
Call it the Salma Hayek effect. Last season, a six-part story arc was written into NBC's flagship comedy "30 Rock," calling for Alec Baldwin's character to fall for and date his mother's nurse. The part demanded an attractive actor in her 30s or early 40s who could trade jabs with Baldwin. Back in the 1980s, such roles went to veteran character actors—think Kelsey Grammer taking a short-term gig on "Cheers," crushing it, and turning it into two decades of work. On "30 Rock," it went to a movie star.
"I may be cute, but Salma Hayek's got a name and she's got a career and she's got to keep her career going," says Monica Trombetta, an actor who lives in New Jersey. "She might not be getting that $10 million contract for '30 Rock.' It might be double day rate, or it might be more than that."
Christofferson and Trombetta are from different generations and different coasts, but they paint the same picture. It goes something like this: TV is where the middle-class actor eats. But in the past decade, A-list stars' paydays have skyrocketed, leaving less money in the pot for their co-stars. Career film actors have thus trickled into television, where they are squeezing out the performers who used to dominate that landscape. Throw in declining television ad rates, the ascendance of unscripted programming, and the industry's failure to wrap its arms around the Internet—which looks like an opportunity engine from far away but resembles nothing so much as a doomsday device when it's bearing down on you—and you have a scenario in which a way of life for an entire class of actors could be endangered.
But actors are quixotic. Ask them about the state of the business and they'll describe the ground shifting beneath their feet. But give them long enough, and they'll eventually tell you about how deliverance will come in the form of new media, or a merged union, or the death of the star system. It might sound like the Glad Game at first, but eventually you realize that it's more like social Darwinism: The world will change, the weak will fall away, and only the strongest will survive.
"I'm starting to see many of my peers choosing to leave the business completely, because they can no longer make a living on one-day guest-star roles at scale-plus-10," Christofferson says. "I'm very fortunate that I'm still able to make a living as an actor right now."
Trickle-Down Trap
Trombetta earns the bulk of her living in commercials and voiceover, commuting from New Jersey to Manhattan for jobs and auditions. She has been the primary breadwinner for her husband and two children at several times in her life. Right now is one of those times. Trombetta's husband was laid off in January from his finance job, which means the actor can't afford to miss any auditions. It's the middle of August, and while her family hits the beach in Delaware, she has stayed behind to work.
"I forfeited my summer vacation in order to maintain my health insurance and my family's income," she says. "It's okay. I have supported my family through union jobs, through SAG jobs and AFTRA jobs, for 18 years." But lately those jobs are harder to come by. Trombetta finds that major advertisers aren't signing on to union contracts, instead going through third-party paymasters when they want to go union, going it alone and for cheap when they don't. For a loyal unionist like Trombetta, this means work is scarce and getting scarcer.
And then there's that trickle-down effect. Heather Kenzie is a member of AFTRA's New York board who recently finished a Broadway run in "Irena's Vow." But, like Trombetta, most of her work comes from commercials. And like Christofferson, she tells her own tale of audition shock and awe.
"I went in for a car commercial, and there was a gentleman there who has done so many movies, I couldn't even comprehend why he was standing there with me," Kenzie says. "He looked at me and the guy who was playing my boyfriend and said, 'I haven't done a commercial since 1978.' That was the moment when I thought, 'This is getting rough.' " Kenzie describes the man as "a true upper-middle-class actor." She says she will know that the economic forces weighing on those higher up on the food chain are truly affecting her and her friends—the middle of the middle class—"if fall comes and we're all sitting around watching 'All My Children' instead of working."
As with most American workers, times are measurably tough for actors. SAG and AFTRA reported declines in total dues and agency fees collected from fiscal 2007 to 2008 (down roughly $2.3 million for SAG, $4.3 million for AFTRA). But neither union publicly releases information on its members' earnings. If they did, those numbers might bear an ugly resemblance to the annual report recently issued by the Writers Guild of America West, which claimed that its members' total income fell from $976.3 million in 2007 to $801.4 million last year. (The guild said the 2007–08 writers strike was "a major factor" in the dramatic decline but also acknowledged the impact of the recession on the entertainment industry, especially television.)
Hollywood's habit of delivering outsize paydays to huge stars would likely obscure any total-earnings report for actors. Middle-class performers working in film describe a system that has seen the gap between rich and nonrich widen over the years. David Rasche, the star of the '80s TV series "Sledge Hammer!" who recently appeared with James Gandolfini in the indie political farce "In the Loop," remembers when the gap was narrower. "It used to be that the star made, say, $5 million, the next person down made $1 million, the next person made $500,000, and so on," Rasche says. "Now the star gets everything, maybe the next two guys get $200,000, and nobody else gets anything."
Amy Hill experienced that disparity firsthand. The veteran L.A. character actor has made a career of playing supporting roles in television and movies. In 2003 she appeared in "The Cat in the Hat." "I remember that Mike Myers was getting, I think, $25 million, and I was getting pretty much scale-plus-10," she says. "I was co-starring with him, but they offered me a contract that was really like somebody who had never worked before."
Hill doesn't blame Myers and other stars for going after big paydays. It's the producers, she says, who fail to recognize the contributions that supporting players make. She believes that mindset has also taken hold in television and traces its origins in that medium back to the eye-popping salaries commanded by the casts of "Friends" and "Seinfeld" in the '90s.
There are signs, however, that the days of stars—or at least so many stars—commanding upward of $20 million per picture may be ending. Variety reported in July that Denzel Washington gave up millions of dollars in up-front payment from Fox to keep the Tony Scott film "Unstoppable" on track. That month Sony put the brakes on "Moneyball," a baseball film slated to star Brad Pitt, over questions regarding the film's commercial viability. Such news comes in a summer that has seen disappointing box-office results from movies starring the likes of Julia Roberts, Johnny Depp, Will Ferrell, and Tom Hanks. But if the top-tier actors are forced to take a pay cut, does it follow that cash will flow down to the middle class, or does it just mean that things have gotten that bad?
The World Wide Woes
Though pundits as varied as the International Monetary Fund and Newsweek have declared the recession over, national unemployment still hovers just below 10 percent. The broad economic downturn, which began in December 2007, has taken a hammer to American workers everywhere. No one should have expected actors would be spared, and few likely did. But the field is one of many that, even before the economic collapse, were already looking into the lights of an oncoming train—a train with the word "Internet" painted on its side.
"We're constantly talking about the Internet," says Kenzie, who was on the negotiating team for AFTRA's primetime television contract. "That's what happened last year with the primetime agreement. That was the hot topic for about a year." Indeed it was. Differences over payments for new media were at the heart of the rift between SAG's so-called moderate and progressive factions over the television and film contract passed in June. While Web-ad spending was only $1 billion in 2008 (compared with $70 billion in television), networks are now airing fewer reruns of scripted programs and moving their libraries to streaming Web outlets such as Hulu. Under the current contracts, actors' Web residuals are insignificant compared with what they would make from network rebroadcasts.
"One of our hugest problems is new media and the Internet, and I don't know what you can equate that to outside the film and television industry," Christofferson says. For a better Web deal to be made in the next round of contract talks, she believes, SAG and AFTRA must join forces. But, for the middle class, greater negotiating leverage isn't the only appealing product of a merger. Several actors pointed out that a united SAG and AFTRA would make it easier for members of both organizations to meet their insurance requirements. Christofferson agrees: "The divisiveness is not serving us in any way shape or form."
After the Deluge
But with SAG still bitterly divided while going into national elections, merger with AFTRA and a breakthrough in next year's contract negotiations cannot be banked on. In the new-media world, the middle-class actor who survives may be the one who looks beyond acting. Kenzie talks about taking inspiration from her boyfriend—a comedian, part of a class of entertainers who realized long ago that developing their own content and using the Web to promote and distribute it would be essential to their survival. Trombetta describes a pilot she has written for a television project and emphasizes how it would employ a large cast of actors, thereby spreading the wealth in a way few projects do.
Justin Barrett happily wears the mantle of middle-class actor. Like Trombetta, he lives in New Jersey with a spouse and two children, and he commutes to the city for work, mostly commercials. In his position, it would be easy to focus only on landing enough gigs to make his insurance and support his family. But in 2007 he produced and starred in a feature film, "Montclair," that found good reception on the festival circuit. It won't be his last production. "You have to get to do the things that you want to do," he says, "things where you're not just hitting your mark, standing there, passing the evidence through the window."
But to Barrett and the up-and-coming generation of middle-class actors, such projects aren't just about the care and feeding of their inner artists. They're about creating a new, sustainable model for the middle-class actor's life, one that relies less on vanishing residuals and three-line TV parts, and more on merging the creative with the pragmatic.
"We need to be more entrepreneurial as actors, and the reason is relevance," Barrett says, "because if you're sitting there and saying, 'Oh, it's so shitty out there, but I've got my pension,' that's the danger point. We can't stop the crushing wave that's coming. But what we can do is start to guide it and redirect it."