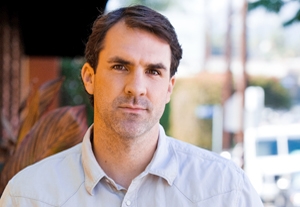 A friend of Paul Schneider's recently referred to him as "the reluctant actor," a label Schneider disputes. "I'm not reluctant," he explains, choosing his words carefully.
"When I do a job, I do it 100 percent. I am so grateful for the chance to do what I do. But I also feel differently from the guy who wanted to be an actor since he was 5 years old. I didn't grow up wanting to be an actor, and I didn't go to acting school." Schneider, currently seen as the object of Amy Poehler's obsession on the NBC comedy "Parks and Recreation," takes a moment to clarify, lest he sound ungrateful for the opportunities he has been given. "I'm so happy to be able to do these jobs. But I'm not desperate to act. I don't know what I'm desperate to do—I don't know what I'm going to do when I grow up!"
Schneider has opted to stick with the acting thing for the time being—which is fortunate, considering he elevates any project with his particular kind of charisma. Simultaneously intense and laid-back on camera, Schneider is equally at home in lyrical dramas and outright comedies. He is currently earning raves for his turn as Scottish poet Charles Armitage Brown in Jane Campion's "Bright Star." The film focuses on the love story of impoverished poet John Keats (Ben Whishaw) and his muse, Fanny Brawne (Abbie Cornish). Virtually unrecognizable with a beard as thick as his accent, Schneider plays Brown as an endearing cad, a man whose actions are questionable but whose affection for his poet friend is not.
If Schneider seems at home in a Campion piece, it might be because he owes his career to the filmmaker. Growing up in Asheville, N.C., a 17-year-old Schneider was thinking of studying psychology when he went to see Campion's Oscar-winning film "The Piano." Says Schneider, "That's what sent me to film school in the first place. Had I not seen 'The Piano,' I wouldn't be doing this at all." Asked what about the period drama spoke to him, Schneider takes a moment to ponder. "I don't know, really," he finally says. "It just hit me at the right time. The music and cinematography are really astounding to me, and it reminded me a lot of how an album hits you at the right time and that's your album for the year. I think it was accessible enough for a kid in western North Carolina to be let in on it, but it was also a piece of art. Up to that point, I had seen entertainment but not art."
Admitting Acting
Schneider enrolled at the North Carolina School of the Arts, where he was classmates with David Gordon Green and Danny McBride. The students would help out on one another's films in various capacities, including acting. "I got asked by a few people to be in their films, and it was fun," Schneider says. "I enjoyed it, and I think I got just enough encouragement to keep taking the next step." But even a role in Green's acclaimed feature debut "George Washington" in 2000 wasn't enough to convince Schneider his career lay in front of the camera. "I still hadn't decided to pursue acting," he admits. "I went to New York and was a P.A. on 'Third Watch' for a couple of seasons." A lead role as a womanizer who falls for a sweet virgin (Zooey Deschanel) in Green's 2003 indie hit "All the Real Girls" also didn't change his life: Schneider returned to New York to wait tables after its release.
Although he was auditioning, Schneider says, he still hadn't decided on acting as a career. "There was just never any decision to pursue it," he maintains. "It all just sort of came about naturally." Even now, Schneider seems to balk at the term "full-time actor." He downplays his ambition to a frustratingly modest degree. For example, point out he was going on auditions, and he shrugs and replies, "Sure, I went on auditions, but I was legal temping, too. I was taking whatever would come along." Okay, but he had to get headshots to audition, right? "I took my own headshots!" he exclaims. "I used a camera on a timer. And when I got to New York, I made a trade with a woman. I painted her kids' bedroom, and she took my headshots."
But he relents: "Obviously I'm here and I'm reading scripts and trying to get involved in things I think are interesting. I guess that equals a decision to act. But it wasn't like deciding to quit smoking: I'm going to do this thing right now."
Lady Jane
Now that that's settled and Schneider will cop to being a working actor (for now), it's appropriate his career has come full circle to Campion. A longtime fan of her work, he was surprised to discover she was also a fan of his after catching his supporting turn in "The Assassination of Jesse James by the Coward Robert Ford." The Australia-based Campion called Schneider's agent and set up a phone meeting with the actor. "We talked for a while, and she told me about the film and then sent the script," Schneider recalls. "Since I couldn't go and read for her in person, she asked me to put some thoughts down on video." The audition was unusual in that he didn't read any scenes from the script. "My friend filmed me as we had a conversation about what I would try to do with the character. I was just talking as myself." Also, Campion wanted him to attempt a Scottish accent on camera. "She said, 'I just wanted to see if you had even a facility.' I ended up renting 'Trainspotting' and listening to this great monologue by Kelly Macdonald over and over. I did that monologue on tape for Jane. I just gave it a whirl. I didn't know if it would be good or not."
After landing the role, he went to work on the accent, enlisting a coach and using a book on tape by Scottish author Ian Rankin. "That was tricky because I had to make sure the guy reading it had an accent, too," Schneider admits. Once in England, he worked closely with the film's accent coach, Gerry Grennell. "I felt an obligation to Jane, who flew me out there and gave me the part," says Schneider. "There's loads of great Scottish actors right up the street. I didn't want to be the American weak link and foul-ball the whole thing."
Schneider can rest easy knowing he's done his country proud. The arrogant but charming Brown is the closest thing the film has to a villain, disapproving of the relationship between Keats and Brawne. "I was actually surprised at how accidentally malicious my guy turned out to be," Schneider admits. "I think he was misguided and didn't have a very clear sense of the consequences of his actions. When people talk about the actions you take in life, it's never a tough decision between right and wrong. You just choose right. That's not a fucking decision at all. The tough decisions are the ones between mostly right and a little bit wrong."
Note that he is virtually unrecognizable in the role, and Schneider is pleased with the compliment. "I don't want to be that instantly recognizable person," he asserts. "I think some people can really make that their industry, but they are stuck being the same person all the time. They market themselves like a logo for a brand. Which means they probably get super-famous and super-rich, but I don't know if they can melt into a character when they're playing somebody."
Wait a minute: Does that mean Schneider is in this acting game for the long haul after all? "I do want to make acting my long-term goal," he concedes. "I feel strongly about showing up and being prepared and not taking the opportunity for granted and being conscientious about my fellow co-workers. I don't know how long I'm going to be able to do this, but I would like to make the decision to stop. I don't want that decision to be made for me. And I don't want it to be made because of something stupid like me not showing up on time or me turning into an asshole or me feeling too good to audition. If I ever stop acting, I'd like to be the author of that decision."    
Outtakes
-Film roles include "Lars and the Real Girl" and this year's "Away We Go," for which he originally auditioned for the role Chris Messina played; it conflicted with shooting "Bright Star," so when the role of brother to John Krasinski's character opened up, Schneider jumped at the chance
-Initially wasn't interested in doing TV but was encouraged to meet the people behind "Parks and Recreation" and found himself really wanting the job: "I'm new to TV, but I'm learning from the best. And because I'm not the lead guy, I can't wreck the show."
-Says one of his worst auditions was for the upcoming Johnny Depp–starrer "The Rum Diary": "I knew they were looking for a type that was different than me, but through the persistence of my agent, I got a chance to audition for it. And I went in there and crashed. I did what I set out to do, but I think what I set out to do was just bad. I remember leaving and seeing that look of embarrassed disappointment on the casting director's face and feeling like, 'Yeah, you guys should just go with your original idea.' "