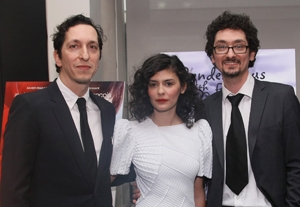 Within the first five minutes of "Delicacy," a new romantic comedy from France that is in theaters now, lead character Nathalie (Audrey Tautou) is asked if she ever considered acting. "Act?," she replies. "Never! Actresses are such a drag."

"When I wrote this, I didn't think that it would be Audrey Tautou at all," says French author David Foenkinos, who penned the screenplay and the best-selling novel on which it is based. "But we got a huge actress, and she said this, and it's funny for us. She's making fun of herself."

Tautou stars as a young Parisian woman whose happy life is turned upside down by her husband's sudden death. She runs from her friends and her emotions, coping with her loss by burying herself in her work, but eventually succumbs to the unlikely charms of an awkward colleague (François Damiens).

In addition to adapting his own work for the screen, David co-directed the film with his brother, Stéphane, whose primary gig is as a casting director. After a brief stint living in New York and teaching at Bard College, Stéphane was hired for his first casting job by director Jacques Doillon in 1997. He has since worked with renowned French filmmakers such as Jean-Luc Godard, Claude Chabrol, and Francois Ozon, and also casts films for American directors like Woody Allen, Terrence Malick, and Tom McCarthy.

"I was lucky enough to work with amazing directors, and to work with really bad directors," Stéphane says, then laughs. "You learn from both, it's true."

Stéphane was one of the founders of ARDA, the French casting organization that is similar to the Casting Society of America in the U.S. The group held annual meetings during the Berlin International Film Festival, and he met more English and European casting directors as a result. Prior to "Delicacy," Stéphane had cast Tautou in the 2001 film "God is Great and I'm Not," her follow-up to "Amélie."

Back Stage spoke to the Foenkinos brothers when they were in New York for a screening of "Delicacy" at the 17th annual Rendez-Vous with French Cinema. Read our Q&A below.

Back Stage: Stéphane, did your time in New York impact your career as a casting director?

Stéphane Foenkinos: I always loved Broadway shows. That's one of the reasons I like to be in this business.

Back Stage: That's funny, because one line of dialogue in "Delicacy" is, "Plays are for couples. Why live through one otherwise?"

David Foenkinos: That's me! I hate plays! (laughs)

Stéphane: It is said by one of the greatest thespians, Bruno Todeschini, and to hear him talking about theater like that is funny.

Back Stage: How did you begin casting films by American directors?

David: He was always saying, for the past 15 years, that his dream was to work for Woody Allen.

Stéphane: That's true.

David: And if one day he would work with Woody Allen, after that he will stop this job. Everyone's hoping that he would stop doing his job, so they offered him to work with Woody Allen! (laughs)

Stéphane: What happened is that I started working on co-productions, casting the French actors for international movies. I did the James Bond movie ["Die Another Day"], and I met Debbie McWilliams, who was doing the casting. That's how it started, and then a lot of films would come to Paris. We are few who can speak English, and that's how it happened.

I did the film ["Midnight in Paris"] with Juliet Taylor. To me, it was as amazing to work with Woody [Allen] as it was with Juliet.

Back Stage: And as a casting director, you probably worked more closely with Woody than the actors did.

Stéphane: I warned everybody about that, and I kept telling them that. I said, "If he doesn't talk to you, if he doesn't come up to you, or if he asks for a second take, it's normal." The thing is, he was very happy during shooting in Paris. The actors would be surprised: "Oh my god, he's talking to me!" He was more outspoken in this way.

Back Stage: Are you meeting more American filmmakers while you're in New York promoting "Delicacy?"

Stéphane: We actually have a little cameo in the film. We didn't advertise it, and we barely talk about it.

David: We have in the movie the daughter of maybe the most famous American movie director.

Back Stage: Steven Spielberg's daughter is in the film?

Stéphane: Yes, Sasha Spielberg!

David: She was studying in France.

Stéphane: Her agent called me and said, "Oh, if you could do something for Sasha..." She plays a tourist. That's Sasha Spielberg! So now we say that Steven wants to watch the film and he's going to do the remake, with Natalie Portman and Will Ferrell. (laughs)

Read more about Audrey Tautou and 'Delicacy' on BackStage.com.