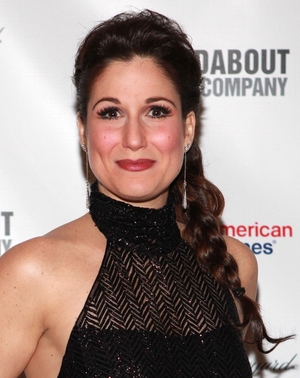 Stephanie J. Block looked dazzling in a glittery dress on Monday night, but that's not what she wears 8 shows a week at Studio 54, where she's playing the title role in Broadway's "The Mystery of Edwin Drood." Block has also appeared in "Wicked," "Anything Goes," "The Boy from Oz," "The Pirate Queen," and "9 to 5."
You're playing the title role in "The Mystery of Edwin Drood" right now. How did you get ready for a britches role?
Stephanie Block: It was thrilling, actually. It's so super fun. I knew what I was stepping into – I'd done a little homework of course beforehand, and was able to speak with Rupert Holmes, who wrote the entire musical. He said of course you're going to play a man, but it's like Mary Martin or Cathy Rigby playing Peter Pan—we absolutely know it's a woman playing a man's role, so it's not going be any big reveal at the end. [The audience] just knows right away, and they go along with the whole idea of it and fall in love with you throughout, because you're in slacks. So I found great comfort in that.
As we've been running a little longer, I found that my walk has changed a bit, and I am becoming much more of a boy, which is so fun. And all the female counterparts and other costars are complaining about their bad back with the corsets and the bustles, and I get to wear slacks and flat shoes. I'm the luckiest!
What was the experience of playing Elphaba in "Wicked" like?
Block: It was wonderful, but long. I started back in February of 2000 when Stephen Schwartz and Winnie Holzman were creating it out in Los Angeles. When it transferred here to New York, they asked me to be Idina (Menzel)'s understudy. I did get to play the role one time out of town in San Francisco, in our out-of-town try out. It was thrilling because after two years of working on the project, it really just felt like I was able to cross the finish line, to be in the costume, to hear the orchestra, the lights.
Since then I did the tour for a year and I did Broadway for almost a year, so "Wicked" was a part of my life for eight years on and off. I think Elphaba will always be in my skin and in my blood. I love her. I'm probably getting a little too long in the tooth to play her ever again, but I'm telling you, if they picked up the phone and said we need you to play the role in two days, I think I could pop in. She's just in me.
Do you have a favorite song from the show?
Block: "I'm Not That Girl," believe it or not. It's not the showiest one, it's not the anthem of the musical, but to me, it speaks exactly to what Elphaba's heart is, and I think it really touches a lot of audience members that listen to those lyrics [and] can connect with everything she's saying. The sentiment of that song is really universal.
Do you have an audition horror story?
Block: This goes back to when I was living in California. I was auditioning for "Gypsy" for Louise, and it was my birthday the night before, and I stayed out a little too long. So as I'm trying to hit the high notes for "Little Lamb," nothing came out. So I would just sing "Little ---- ," "Little ----" for every verse. Every time I had to go up to that top note, nothing came out. Needless to say, I did not book the job. That'll teach you – you better stay home the night before your audition, and warm up, and be ready!
Do you have any other advice?
Block: My best advice to all actors and performers out there is that I think we have a tendency to give the people behind the table - whether that be the director, the producer, the casting agent - what we think they want. And when we continue to do that, we continually morph, and we lose who we are. So I say, "Walk into the room, be who you are." Of course take direction. Of course apply what the characteristics of that role are to you. But stop morphing and second guessing what you think they want, because you will lose your footing, and you won't book a damn job.