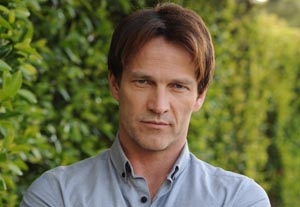 You don't expect the genteel vampire Bill Compton to roll into dinner on a neon green longboard on wheels, but that's what Stephen Moyer, the actor who plays him, did when Back Stage met him near his Venice, Calif., home. "I go everywhere with this," the British actor says about his eco-friendly mode of transportation. The down-to-earth Moyer, it turns out, is full of surprises, as is the case with his HBO series, which kicks off its fourth season this weekend. As the song "I'm on Fire" coincidentally played overhead (Bill is highly combustible in daylight), Moyer revealed to Back Stage his real-life story, which has more parallels to Billy Elliot than to Bill Compton.
Moyer landed his delicious "True Blood" gig thanks to being unceremoniously dumped from another L.A. pilot he was hired on but never got to shoot. "We did the table read, and I'd been offered the part, and me and a bunch of other actors from that show got let go at the table read. It was incredibly depressing," confesses Moyer, who flew back to his London home defeated and vowed not return to pilot season, at least for that year. The casting directors of that pilot, however, had something else in mind.
"The casting directors had leaked my casting tape, and so, suddenly, I was getting all these offers left, right, and center to come back. They said, 'This is a travesty. Look at this tape,' and they started sending it to other friends of theirs who were casting directors," recalls Moyer, who admits it was a really strong audition tape and "I'm not somebody who says something like that."
Libby Goldstein and Junie Lowry-Johnson, who were casting the pilot for "True Blood" (and continue to cast the series), got hold of that tape and persuaded Moyer to put himself on video again in London. He says he was initially hesitant to jump back into the pilot season game, but "the thing was, once I'd read the script [for 'True Blood'], I was just like, 'This is amazing.' Got myself on tape the next day, and [series creator Alan Ball] saw it that afternoon, and I flew back the next day."
A fascinating aspect of playing a 173-year-old vampire is that there are endless possibilities as to what he has been up to during his post-human days. Before shooting began, Moyer read the novels "True Blood" is based on. So he knew that Bill was a Civil War soldier reluctantly turned into a creature of the night. He knew that he later falls in love with small-town girl Sookie Stackhouse (played by Anna Paquin, whom Moyer would marry). But what happened in between is anyone's guess, and that's what keeps things fresh for Moyer, who gets to act in flashback sequences that he never saw coming.
"I could have been on the Titanic. I could have been at Woodstock," he imagines of Bill's varied history. "There's this extraordinary scope of what he could have done. But what I can't tell you is that I might have been a nightclub pianist in the '20s and suddenly you're a nightclub pianist in the '20s, or you're in Chicago in the '30s playing cards [as were both written into 'True Blood']. Endless, endless things. There's a great flashback this season, which I won't spoil. It's funny and different. They have a lot of fun, I think, dreaming up this stuff. It's like Pandora's box. It's like the magician's trick of pulling a piece of [silk] out of your mouth and suddenly you've got all the flags of the nations. It can go on and on and on, and because the characters are all so endearing, I think that it has a lot of scope."
"True Blood" has meant more to him than just a fun, well-paying job. It is also where he met and fell in love with Paquin. He describes their relationship from the get-go as being akin to Shakespeare's battling lovers Beatrice and Benedick. He explains, "There was a very, very acerbic, dark, sarcastic humor against each other from day one, and you wouldn't have needed to be even an amateur psychologist to look and go, 'That's an interesting relationship,' because it was. It was like that from day one and it hasn't changed. And especially when we're on set together, we give each other shit and it works really well."
Nowadays, Moyer relishes those days when he gets to work with Paquin, as those opportunities are few and far between compared with the first two seasons, when their characters were courting and "f---ing," as he bluntly puts it with a laugh. "We're not working together as much now," he says. "Invariably, I'm at home when she's at work, or she's at work when I'm at home, and we miss it. We just had a scene this week, and we were like excited little schoolchildren being naughty and whispering in the corners, because I love working with her."
'Reject' Actor
Moyer discovered his love for acting as a schoolboy in Brentwood, Essex. At 10 years old, he took the leap from singing in his church choir to performing a role in a school musical. The headmaster of the secondary school that he would go to next happened to see that play, and when Moyer arrived at his new school, the headmaster pulled him aside and asked him to be the lead in the school's production of "Tom Sawyer," which Moyer did. He considers that headmaster to be one of his early mentors. "He made me not feel stupid for wanting to do it, and I can't tell you how amazing it was to have somebody saying, 'It's all right, you know, if you want to do this.' Because there was no one in my school [like me]. And it immediately meant that I was gay because I wanted to do acting," says the actor, who further fueled that perception by taking dance classes, something unheard of for boys in his town.
"I did every show that we did at school from then on," continues Moyer, whose name then was Stephen Emery, which he later changed because his birth name was already taken by someone else in Equity. "Within  months, I'd joined local amateur societies in Brentwood, and then in Chelmsford, 10 miles away, and then Colchester, 20 miles away. My poor parents literally every night after school were taking me to different rehearsals, and by the time I was 14 or 15, I was doing it probably four days a week in different societies and school plays. I was just obsessed."
At 17, Moyer tired of doing musical theater, which he says was the bulk of the work offered in his hometown and neighboring areas. So he founded his own theater company, The Reject Society, to put on straight plays. "The first play we did was 'The Long and the Short and the Tall,' a war play. I was the youngest [actor]. In fact, the next play we did was '12 Angry Men,' and I directed that when I was 18. I directed them all. And we had a 75-year-old in that. And again I was the youngest."
Anna Paquin and Stephen Moyer in "True Blood"


Something Funny Happened on the Way to the Theater
Moyer went on to attend the London Academy of Music and Dramatic Art. Immediately after graduation he got an agent and began working professionally. "I did 62 musicals by the time I went to drama school. I was desperate to get away from them, and the first thing I did was f---ing 'Oliver!' the musical, at the National Theatre of Wales."
He next worked for the Royal Shakespeare Company for two years, followed by the Oxford Stage Company, for which he played the lead in a touring production of "Romeo and Juliet." Moyer says his goal was to solely be a stage actor, but he quickly learned that was easier said than done. "At that time, you're so idealistic, which is how it should be. You start off going, 'Well, I don't need much to live.' Then you go, 'Well, I've got to get to that audition over there in Coventry. How am I going to get there? I've got to pay for it.' So, realistically, then what happens is your agent goes, 'Oh, there's a commercial shooting in Switzerland. Nobody will ever see it.' 'OK.' It's the first step over the line to selling your soul. And it didn't take long. It took me about a year, and I was suddenly the Swedish Coffee Man, and I was doing Doritos adverts in Luxembourg, because you've got to pay your way, but it meant I could carry on doing theater and doing what I wanted to do."
Though he did not see himself doing television and film, he soon landed a job on a British sitcom that co-starred Michael Williams (Judi Dench's late husband) and Alan MacNaughton, as Moyer's father and grandfather, respectively. Both men became close friends of Moyer's. "I've sort of collected a bunch of old fellows along the way," he says of his mentors. Numerous TV and film gigs followed, most recognizably to U.S. audiences the film "Quills" and miniseries "The Starter Wife," starring Debra Messing.
'I'm an Actor'
Moyer was shocked by one aspect of L.A. culture when he first moved to Southern California: "I was amazed that you could basically turn up in L.A. and say, 'I want to be an actor.' Or not even say, 'I want to be an actor,' but say, 'I'm an actor,' having never done it before. That was amazing to me, because there's no way in London you could go and just say that, because nobody would care. Not only would nobody care, there's no way to do it. What would you do? You wouldn't be able to get an agent like that. You wouldn't be able to get a casting director to even [look at you]. It's hard now for people getting out of drama schools to get an agent. So I'm always impressed when people just go, 'I've come to L.A. and I'm working in a bar and I'm going to be an actor.' "
What impresses him more about American actors is that so many are committed to training throughout their careers. He says, "One thing that is different and I find really impressive about the way it works here is that people do class all the time. People finish a job, and when they're not working they do class. That doesn't exist in England. Once you've done your training in England, you think, 'I'm not f---ing going to class.' Once you've done your work, you've done it. And I'm not saying it's right; I'm actually really impressed by people who do it. A number of our cast will go off in their hiatus and will [study]."
Moyer did, however, work with a dialect coach to come up with Bill Compton's accent. Though he had performed in drama school the obligatory Tennessee Williams play, for which he had to come up with a Southern twang, Bill's accent and speech cadence needed to be specific to the time he was from, Moyer says. He worked with coach Elizabeth Himelstein to create Bill's antiquated Southern drawl.
"I love doing it," Moyer says of Bill's accent. "It's like putting on an extra costume. Once you've got that accent down, it's another part of who you are. And as soon as I got to Louisiana, it changed. We'd shot a bunch of stuff [in L.A.], and then I got to Louisiana. I'd never been there before. I got off the plane, and I walked into this mountain of heat, and I noticed everything just slowed down, even the people working on the runway. Literally everybody just moves at a different pace. That was a really great time for me because I suddenly realized that if I slowed down [Moyer slips into Bill's voice], I could just completely luxuriate. It was like pulling dough. It was really enjoyable for me.
"Also," he adds, "Liz and I spent lots of time working on a way of making me sound different than the rest of the cast, because I'm from a different time. So instead of saying 'war' as Sookie would, I'd say 'war' [dropping the 'r']. And Bill doesn't speak in contractions; he speaks in these long, old-fashioned sentences."
And what about working with all that fake blood? Moyer considers himself a pro now, though he admits he doesn't care for the taste of the bottled "Tru Blood" that Bill drinks.
"But you do get really good at it," he says. "I did ADR today, and you get these moments where you're drinking blood, and without even being asked to do it you're sort of picking up a cup and [Moyer makes a chugging sound] you're doing it for them without even thinking about it. There's different blood gurgles, you know? You put it into your mouth [he demonstrates gurgling noises] and you're being strangled. It just becomes part of your job."
As for the campy nature of "True Blood," the secret to pulling off a performance rooted in a frothy soap opera is to play it with conviction, says Moyer. "The only way you can get away with it is by playing it absolutely straight down the line. You know, serious."
And with that said, the gentleman vampire of Bon Temps politely excuses himself to go meet his 9-year-old daughter. "I promised. I've got a date to watch 'Mrs. Doubtfire.' "
Outtakes
- Appeared in the world premiere of Pete Townshend's rock opera "The Iron Man"
- Misses the prop master from the first two seasons of "True Blood," who made it his mission to create a delicious concoction of crushed raspberries and pomegranate juice. Now he has to drink "crappy, goopy, strawberry shit-syrup."
- British TV credits include "NY-LON," with Rashida Jones, the BBC's "The Grand," and guest-starring roles on "Cold Feet" and "Waking the Dead." His most recent film was "Priest," with Paul Bettany.
- Paid his way as a teenager by delivering newspapers and flipping burgers. As a young actor in London, he had a leather stall at Portobello Market and Camden Market and made leather accessories for the Royal Shakespeare Company's costumes while he worked there as an actor.