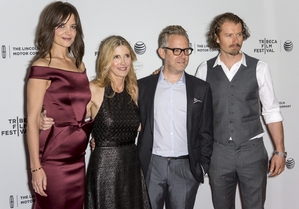 Karen Leigh Hopkins—whose writing credits include "Stepmom" and "Because I Said So"—says there's one key thing to remember when making a film, television show, writing a script, or with any artistic venture, really: "Have it matter."
"It's so hard, anyway, to get anything done or to do it right," she says. "Give yourself the opportunity to succeed by having it be something that's got meaning."
Hopkins offers this advice out of experience. Her latest film, "Miss Meadows," which she wrote and directed, took her 14 years to make. And had it not mattered, she might not have worked that long or that hard.
"Miss Meadows," starring Katie Holmes, premiered on April 21 at the 2014 Tribeca Film Festival. It tells the story of the titular character, who, with excellent manners, rids the community of the people law enforcement cannot—think of her as a "'Pulp Fiction' Mary Poppins."
In a statement included in the press kit, Hopkins writes, "I wrote Miss Meadows over 14 years ago as I contemplated motherhood, and the beautiful responsibility of bringing a child into this sometimes wonderful, often horrifying, world."
Hopkins was, in part, inspired by the 1993 kidnapping and murder of Polly Klaas, an element of the film "that's just so deep to my heart," she says. Klaas was just 12 years old, Hopkins says, and the killer was painted to evoke empathy. This caused Hopkins to question the blurred line between good and evil in the world.
"This grey area really offended me," she says, noting that there are elements of her killer protagonist, Miss Meadows, in herself.
When the character popped into Hopkins' head over a decade ago, she didn't hesitate to get her down on paper. "If I'm very excited, I write it down really fast," she says.
But "Miss Meadows" went through several rewrites and work throughs, as you would imagine any 14-year-old project would. "There were certain pieces of core dialogue that I knew needed to be there, but there were also times when Katie would say, 'She wouldn't say that. Why would she say that?'
"I wanted to give them, as actors, the same freedom I had to take as a writer and a director to go, 'OK, this scene is going to change now,' " Hopkins adds.
And change it did, but the final product still preserves Hopkins' original intent. Holmes tap dances and sings her way through this fantastical film, making the audience realize… there's a little Miss Meadows in all of us.
Hopkins is passionate when she discusses the film, her first project after a seven-year hiatus since the Mandy Moore-Diane Keaton starring "Because I Said So."
"Have it matter," she says. "Because it matters to me… I'll do anything to write it, rewrite it, to get it made, to get it done right as best as I can. I think that will propel you."
And don't forget to check out our Tribeca Film Festival coverage, coming to you all week!