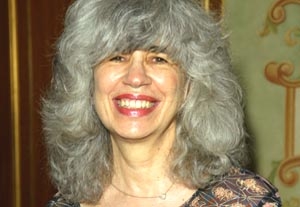 Writer-producer Eleanor Bergstein prefers to be introduced by her trials rather than her triumphs. At conferences for aspiring filmmakers, she gets frustrated when fellow panelists attribute their success to mere luck. "We should be introduced by all the things that went wrong in our lives instead of the things that went right. We're here because we've picked ourselves up off the floor so many times," Bergstein says. A former teenage mambo queen from Brooklyn whose first successes were on the dance floor, not in the pitch room, Bergstein has a flair for creating opportunities from disappointments. Her penchant for perseverance might best be summed up by a famous quote by Hillel: "I get up. I walk. I fall down. Meanwhile, I keep dancing."
Bergstein wrote a titillating dance scene into her first produced screenplay, 1980's
It's My Turn
, starring Michael Douglas and Jill Clayburgh. Devastated when the scene was ultimately cut out, Bergstein thought, "Next time I do this, they can't cut out the dirty dancing, because it'll be all about that." Bergstein shopped her script for 1987's
Dirty Dancing
—about Frances "Baby" Houseman, a young woman who discovers her potential through a summer romance with a dance instructor at family camp—around Hollywood for 10 years, swiveling her hips on tables to demonstrate the moves to male executives. Finally, a little production company in Connecticut called Vestron Pictures agreed to make the film for $5 million. "It wasn't supposed to be in theatres very long, and audiences picketed theatres to have it stay open," she says. The word-of-mouth enthusiasm and repeat viewership for the film fueled its $63 million box-office returns, making it one of the highest-grossing films of that year. Clearly, when it comes to Bergstein—who was called Baby until she was 22—
Dirty
Dancing's classic line rings true: "Nobody puts Baby in a corner."
More than 20 years later, the New Yorker is returning to Hollywood, this time with the film's story re-imagined for the stage. For years, Bergstein resisted translating the popular film into live theatre out of consideration for her vast and loyal audiences. "The last thing in the world I ever wanted to do was make them think I had taken advantage of them, that I had urged them to come in and spend money on something when they could have it at home. It didn't seem necessary, so I just turned down every entreaty to do it." But as time went on and she realized that people continued to watch the film over and over, her thinking changed. "I began to think that they saw it over and over again because they wanted to be there while it was happening, because something happened to them while they watched it. And if that was the case, what they wanted to do was step through the flat screen and be in a dimension where it was happening to them and around them and with them. And that of course would mean live theatre—but not live theatre in the traditional musical way, where suddenly you break out of story and sing to each other."
In writing the book for the stage show—which opened in Australia in 2004 and has since made stops in London, Berlin, and Chicago—Bergstein wanted to maintain more realism than is typical of musical theatre, because of the story's central theme about the possibilities of ordinary people. "The whole point of this story is, it can be you," she says. "It can be anybody. If your heart is high enough, you can dance in a way that transforms your life. It's not really a story about dancers. It's about people who find the power of dance to connect them to the world and their hearts." As a result, in the stage show, "every move has a meaning that comes from everyday life. We have no unison dancing except at the very end."
The story's message also influenced casting for the role of Baby. Bergstein hesitated to cast a musical theatre professional because she didn't want viewers to sit in their seats and say, "Isn't that wonderful. I could never do that." Though she auditioned dancers for Baby, Bergstein says, "There were ways in which you could never quite believe her transformation in front of you from nondancer to dancer." Amanda Leigh Cobb, a graduate of Yale Drama School who will play Baby in the Los Angeles production, had limited dance experience before accepting the part. The role of dance teacher Johnny, on the other hand, has been filled by top dancers in all the cities where the show has opened. Josef Brown, who originated the role of Johnny in Australia and will reprise the role in Los Angeles, was a lead dancer in the Sydney Dance Company and the Australian Ballet.
Yet for Bergstein, such technical proficiency is only part of the equation in an individual's suitability for a role. "It has been said that I cast for soul," she says. If the eyes are indeed the window to the soul, that's what clinched the role for Patrick Swayze, who played Johnny in the film. "When I saw Patrick I said, 'Oh, those are exactly the eyes I want,' " she says. "I just know what I want when I see it in terms of casting." However, throughout the process, she has to maintain "nerves of steel. Because sometimes they don't show up until real late. Everyone around you is saying, 'Well, this is fine, isn't it?' It's hard, and then when you know, it's just like love, and you say, 'Oh, that's it. That's the one.' "
Bergstein, who's long had a fascination with actors—her first novel was titled
Advancing Paul Newman
—doesn't often write with specific actors in mind. But she regards finding the right actor for a role as crucial in realizing her creative vision. As she told Swayze, "I didn't know you existed when I wrote this, but I can't imagine doing it without you now."
Given the chance, Bergstein might say something similar to President Barack Obama, whom she campaigned for with passion ("I was covered in Obama buttons head to toe," she says). His election has given deeper resonance to the political context woven through
Dirty Dancing
, which is explored in more detail in the stage show—40 percent of the material is new—than in the film. The story takes place during 10 days in summer 1963, when police dogs were used in Birmingham and Martin Luther King Jr. delivered his "I Have a Dream" speech. Songs like "We Shall Overcome" and "This Land Is Your Land," which Bergstein taught to her casts in Australia and Europe to help them understand the political momentum of the times, were played over and over during the 2009 inauguration, lending them renewed significance. "This is what everything was like in '63, and suddenly here we are again," she says.
Up next, she's exploring the mid-1960s through a different prism with another stage musical set in London, and she has several other films and books waiting in the wings for when she feels
Dirty Dancing
is set. "You're going to see things in California that nobody's seen before because with each show. We get bolder and more inventive." Once the tinkering is over, she says, "I [will] just come flying to premieres in my evening gown. That's my future. Not yet. I'll be in California in my jeans first."