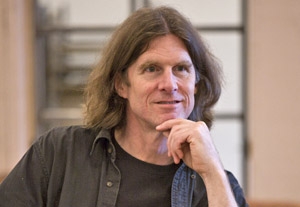 In addition to his skills building relationships onstage, Wilson Milam seems to particularly enjoy reconnecting with artists and meeting new ones. As director of Martin McDonagh's "The Lieutenant of Inishmore," which opened at the Mark Taper Forum in Los Angeles this week, Milam has gathered an international cast and recruited other artists from both sides of the pond for this production, even though he helmed versions of it in Stratford, London, and New York prior to this incarnation.
Nominated for a Tony Award for his direction of "Inishmore," Milam, a former actor, also directed "Poor Beast in the Rain" at the Matrix Theatre in Los Angeles, as well as plays at Berkeley Rep, Woolly Mammoth, and Steppenwolf in the U.S., and the Royal Court, the Abbey, Shakespeare's Globe, and Donmar Warehouse in the U.K and Ireland.
Back Stage met with him during previews of the Taper production of "Inishmore."
Back Stage:
What was the process of getting your cast together?

Wilson Milam:
I met Andrew Connolly in New York. He's playing one-eyed Christy [the father]. He played Christy in New York. And then when I did a production of a British play here, "Poor Beast in the Rain," I cast him in that. Lovely actor. Irish. We have three Irish actors in this. Kevin Kearns had also been in "Poor Beast in the Rain," and Seán Griffin had been in a production of "The Seafarer" at Seattle Rep.
Back Stage:
Why did you cast them the first time?
Milam:
Andrew got called in, and he was instantly cast [in "Inishmore"]. He was dead-right for the role. He's the leader for the [Irish National Liberation Army] group, he's a bit older, he's a bit of a hard man—and the dialect. It's lovely to have people that other people can key off of. Kevin is Donegal. Seán is Limerick. So there's slight differences all the way through that I can kind of hear nowadays. I'm terrible at dialects myself, but I can hear the rhythms, I can hear the vowels. Andrew came in for a smaller role, and I ended up casting him in the lead role. And he was ready for that. He was brilliant.
Back Stage:
What was he doing so right that you brought him back?
Milam:
He kept working. We had our tiffs about interpretation, but we worked our way through. It's all about the script. The script is the objective thing you have. I'm not a big concept director, although the special effects in ["Inishmore"] kind of push the envelope further. He's a lovely actor. He brought Kevin in when we did "Poor Beast in the Rain." Seán was a Seattle actor they brought in. I kept trying to describe how Irish men of a certain age dressed, and all of a sudden this guy came in dressed like that, and then he opened his mouth, and you go, "That's a real accent."
Back Stage:
What did you like in Brett Ryback?
Milam:
Brett auditioned and was able to handle the language and was a good person. In a show like this, you want good people in the room—good actors and good people. We have a wonderful cast. They stick together, they have dinner together, they'll have a drink together. It doesn't always happen. Across the board, everybody stays together. Brett was wonderful. Ian [Alda], the same thing. He had a facility with the language. This is more rhetorical speaking and learning the rules of classic speech, which is a disappearing art. Andrew had seen Chris [Pine] in a show at the Geffen [Playhouse], "Farragut North." It's a small world. Andrew called me up and said, "There's this guy." And I said, "I know him; I saw 'Bottle Shock.' " I loved that. I hadn't seen the "Star Trek" yet, but I saw it and said, "There's our man: dangerous, conflicted." In "Bottle Shock," he's lovely.
Back Stage:
Did you audition Chris?
Milam:
No, I just met him for coffee. I knew from these two performances [he could be] different enough, and I heard people knew him and liked him.
Back Stage:
So, I've been hearing for years about these coffees. What do people talk about?
Milam
: A lot of it is you talk about the script and then you talk things around the script. I talked about the play we've done and various things that happened and what we're trying to establish here. The exterior landscape of the play, we were trying a very different tack with, trying to get something more aggressive, bolder, more barren, like Inishmore itself. And when you have a rounded thrust [stage], it tends to soften. I wanted to attack that. We came in with hard angles of this glaciated rock. We talked about that a bit. Things like the music, we talked about, and I was mentioning at the RSC plays, generally, you use live music, and I knew I didn't want to use live music on this. Martin [McDonagh] had given me a tape that his mother had made. He'd grown up in England, but the family had come back to Ireland, and she had taped a lot of probably priceless 78s, terrible quality, so we used those to begin and end the two acts. And I was talking to the musical director that I'd like to speed it up, do an up-tempo the way the Pogues do it. He said, "I know the drummer." We met; turns out, the drummer does all the arrangements. So the drummer and three of the Pogues and some other musicians did the final song you'll hear [at "Inishmore"]. And we also used the drummer's—for the scene changes—his percussion.
Back Stage
: How did you cast Zoe Perry?
Milam:
Zoe, I'd done a play with when she was 14, in Chicago, a Steppenwolf Studio show, and she was just honest. She took time off, went to college. We brought her in, and she and Chris looked like a feral couple, gun-crazy. They were lovely together.

Back Stage:
When you meet new actors or see them, what common errors do you notice?
Milam:
Language facility was a big one. We auditioned a lot of people for [the young boy] Davey's role. We saw lot of very good actors, but you want an innocent quality. Coby Getzug did a very good audition. I looked at his résumé; he'd understudied the Neil Simon [plays] that David Cromer had done; I think David Cromer is about as good as it gets as a director. So you go, "Okay, Cromer hired him, that's good." And then we brought [Getzug] back in. He made bold choices, and he took notes. Taking notes, if somebody asks you to change something, change it. If it's a tiny bit, you go, "That's their safety area." Make a bold choice. If it's too big, they'll pull you back. They'll be happy you made a bold choice.
Back Stage:
What about casting Ian Alda?
Milam
: Auditioned for this. I didn't know him. He made big choices, had language, had an innocence, because [the character] has an innocence. There are people that are appalled at the violence. We have to empathize with them. [Ian] had that. [The character] was clearly the odd man out in the INLA. He was the one that protests about the killing of the cat. He's appalled at that.
Back Stage:
Did you notice if the actors who'd been experienced with you were trying to help out the newcomers in any way?
Milam:
Yes, and they also could explain the difficulties of the language, the precision you have to have. Everything changes a little bit. [The new actors are] taller, smaller, different timbres of the voice. Just exploring it, accepting that it's process. The hard thing on this one is the language. You have to be precise: You're learning a dialect, which isn't Irish; it's Irish-sounding, but if you do Irish rhythms, you'll keep killing the lines. Again, it's more classic, like Irish literature. The thoughts build, they modify, they qualify, they build to a point.

Back Stage:
How much direction will you try to give at auditions, to see how well an actor will work with you?
Milam:
[Center Theatre Group casting director] Erika Sellin is brilliant. She's a really top casting director. She's lovely to work with. She knows that different directors want different qualities. Having been an actor, I try to at least give everybody a piece of direction, just one. If that works out, then you go deeper into it. I remember too many auditions when you walk in and they say, "Next." You want to see how they can wiggle. And then sometimes you call them back the next day to see if they can maintain what they did and go further. Sometimes you find out that what they did that day is what it's going to be, or they might have gone down a wrong tack. Can they come back from what they worked on all night? So I try to give a little bit of direction for everybody. And sometimes you throw in a cold reading of a section of the play just to see what happens. There's no right or wrong. You know it's a cold reading, so just see what happens. It's fun.

Back Stage:
During rehearsals, how far do you let actors go down a blind alley?
Milam:
Well, this is a very short rehearsal period [three weeks]. Sometimes you suggest there might be another way that we're going to find more riches if you take this way. So you just try to steer in another direction.
Back Stage:
So you pull them back. Now, not with this cast but in other plays you might have done where it's a week before, a night before, opening and the cast just isn't fulfilling your vision. What do you do?
Milam:
There was one actor who shall remain nameless, gorgeous actor. I reiterated a note one night, pretty much right before he went on, during previews. He got mad at me, stormed around a bit. I said, "I'm sorry I'm giving you a note right before the show." But something clicked; he was brilliant. So afterwards we went out and had a drink, and it was good stuff. Everybody's different, and you just push to see if you can unlock that extra thing that they're going to have.

"The Lieutenant of Inishmore," presented by Center Theatre Group, runs through Aug. 8 at the Mark Taper Forum, 135 N. Grand Ave., L.A. Tickets: (213) 628-2772. www.centertheatregroup.org.