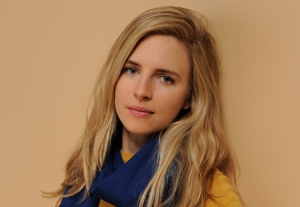 Brit Marling is pulling double duty at this year's Sundance Film Festival. The actor is being billed—in press notes, anyway—as "the first female multi-hyphenate to have two films premiere side by side" at Sundance. Awkward a noun as "multi-hyphenate" is, it does the job.
Marling is here with "Another Earth" and "Sound of My Voice," both of which she stars in, co-wrote, and co-produced. In the humanist science-fiction film "Another Earth," the actor plays Rhoda, a promising high school student whose life is altered by a tragic mistake and further complicated by an extraordinary discovery. In "Sound of My Voice," Marling plays a far different character—Maggie, a ruthless cult leader who becomes the object of two documentary filmmakers' curiosity. "Earth" was directed and co-written by Marling's Georgetown classmate Mike Cahill. Another college pal, Zal Batmanglij, directed and co-wrote "Voice."
"We all used to make short films in school together," Marling says. "It was kind of an astounding thing that both films could get in. We've all been best friends for years, and it's amazing to come to the festival with your tribe and share the movies with people."
Besides making short films, Marling spent her Georgetown years studying economics and working her way up to class valedictorian. After graduation, she took a job as an investment-banking analyst at Goldman Sachs. But her tour of duty aboard the Death Star was short. Marling found herself pulling long hours at Goldman during the week, then spending her weekends working on film projects with Cahill and Batmanglij. She soon gave up banking to throw herself full time into acting and filmmaking.
"I had this sense when I was working at the bank that I could measure out my life in coffee spoons," Marling says. "I knew exactly where I was going to be in two years, three years, what would happen, how my salary would change—and it wasn't me."
Marling left Goldman and dropped out of graduate school. She and Cahill then went to Cuba, where they spent a year making "Boxers and Ballerinas," a documentary about the U.S.-Cuba relationship.
Most of Marling's professional acting work has come in projects that she has helped create. She says that she'll continue writing and producing—she'll begin production this summer on a feature she co-wrote with Batmanglij—but that she loves acting "first and foremost." She just completed shooting a guest appearance on the NBC comedy "Community."
"It was the first time I worked on something that I didn't write," she says. "You come to set, you do your job for a couple days, and then you go home. As I was leaving, I thought, 'This is amazing. I don't have to find the money for the sound mix.' It's liberating."