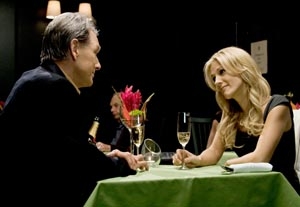 In the offbeat indie romantic comedy
Weather Girl
, Tricia O'Kelley stars as Sylvia, a "sassy" morning show personality who must re-evaluate her life after an on-air meltdown. Luckily, O'Kelley didn't need to do much in the way of research—she was already all too familiar with the surreal world of local television. "I focused on broadcast journalism for a while in college, and I had internships at two news station in Madison, Wis.—the ABC and NBC affiliates," she recalls, chuckling. "They weren't morning shows, but the personalities were very similar. It's a whole different world. You've got to be happy and cheery at 6 a.m. You need a lot of coffee."
O'Kelley, who has appeared on
Gilmore Girls
and currently has a regular gig on the sitcom
The New Adventures of Old Christine
, also served as a producer on the film.
Weather Girl
is playing at the Los Angeles Film Festival and will be released in L.A. on July 10.
Back Stage
: How did you end up producing as well as starring in the film?
Tricia O'Kelley
: [Director Blayne Weaver] and I have known each other for about seven years. I had starred in his first feature,
Outside Sales
, and it was one of the best work experiences I've ever had. He had completed this script,
Weather Girl
, and he had passed it along to me just to get my thoughts on it. I was a few pages in, and I called him and said, "I'm loving this. If I still love it on Page 90, I think we need to make it." I finished it, and I called him, and I said, "I'll come on as a producer and let's do it." He tried to talk me out of it for like an hour, and I won. I have not regretted it for a single second since.
Back Stage
: Why was he trying to talk you out of it?
O'Kelley
: Because he sold his house to make
Outside Sales
. He went into huge debt to do it. He doesn't regret it—it's a great movie; he's really proud of it. But he was afraid to see that happen to me. He didn't want me to regret it, but I haven't at all.
Back Stage
: What did your producing duties encompass?
O'Kelley
: Everything from the casting to scouting out locations to raising the money to doing the distribution deals with everybody. I liked some parts of the process more than others. I did not care for the raising money part at all, but the thing that made it a little easier was that I never believed I was asking investors for a favor. I always believed they would make their money back and we'd make a really good movie they'd be proud of.
Back Stage
: As an actor, what was it like to be on the other side of the casting process?
O'Kelley
: The coolest thing ever. I had actually sat in on a few casting sessions years ago, so I knew a little bit about what it was like. I think we were a very warm and welcoming room, because I definitely know what it's like to walk into rooms that are not. We like to give the actors a lot so they're not reading with a brick wall. But it was so cool, and I have a new appreciation for actors, especially for the actors that we hired. We saw a lot of fantastic people, but there was just something extra special about the people we ended up casting.
Back Stage
: You have such great, well-known talent in this movie, like Jane Lynch and Mark Harmon. How did you get them to come on board?
O'Kelley
: We knew, because I'm not a star, that we were going to have to surround me with some recognizable people. I had worked with Jane Lynch before. J.D., the part that she played, was originally written for a man. I thought of asking Jane to play J.D. and making [the character] a woman, and I sent her the script, and she loved it and said yes. She was the first person we cast in the movie. And she actually helped get us a lot of submissions, because people knew who she was and that she was attached.
We wanted somebody great to play [Sylvia's cheating boyfriend] Dale. Our casting director, Lauren Bass, brought in a wish list of actors, and Blayne and I both zeroed in on Mark Harmon. I think he's fantastic and ridiculously dreamy. Lauren called his agent, sent the script, and he took a liking to the script and wanted to meet with me and Blayne. After we struggled over what to wear, we went for coffee. He's like, "Look, I love the script, and I'd love to do this; I just don't know if it's going to fit into my schedule. But if it doesn't, I'd love to do a smaller role." We were blown away by that. Thankfully, he was able to do it, and he made our movie even better.
Back Stage
: Why is it so important for actors to be proactive in creating their own work, like you were with this film?
O'Kelley
: I owned a company in Chicago that catered to the acting community. Our motto was "Take control." It dawned on me in my 20s, as a struggling actress, that there is so little that is in our control as actors. We're at the mercy of everybody else. So what I created there was a place where you could feel productive and proactive in your career and do something every day that made you feel like you were moving forward in some way, even if it was something as little as networking with another actor or checking audition notices. I think once you start working, you're making a living, that's great; but you're still sort of at the mercy of other people. You're working when they want you to work, and you're doing the part you get hired for and not necessarily the parts that you want. I think it's really important to always be finding ways you can take control of your career and constantly be moving forward.
"Weather Girl"
plays at the L.A. Film Festival Fri
.,
June 19, 7:30 p.m
.,
at the Majestic Crest and Wed
.,
June 24, 9:30 p.m
.,
at Landmark 4. www.lafilmfest.com
.