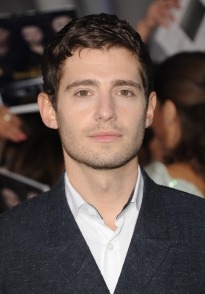 Julian Morris, the British heartthrob currently on ABC Family's "Pretty Little Liars," needed a new challenge when he started looking for a project to do in the U.K. He found one in the feature film "Kelly + Victor," written and directed by Kieran Evans. In it, the two titular characters meet at a club and fall into a boundary-pushing love affair that is alternately steamy and tender—and ultimately tragic. We sat down with Evans and Morris (who had just returned from his first ever trip to Cracker Barrel, dragged there by "Pretty Little Liars" co-star Ashley Benson and Selena Gomez) to talk about auditioning for the project from both sides of the table.
What did you think after you first read the script?
Julian Morris: It was one of those things where it was like, "Shit, I really want this." I read for it, met Kieran and the other people, and then the next thing I knew, I was in Liverpool.
Kieran, what sold you on Julian?
Kieran Evans: One of the crazy things about auditioning people is you see a lot of faces very quickly. And what was interesting about Julian is he is kind of the quintessential pretty boy. [To Julian] No disrespect, but you are. And in that kind of mischievous way, I thought, "Oh, hello." Because everyone else came in and played it very rough and raw and gritty. And Julian read it tenderly. There was a shyness to it, and when we'd written the character traits, one of the things it said was that Victor is a shy boy who is surrounded by lots of loud people.
Seeing all of those people, did that help you narrow your focus on what you wanted the characters to be?
Evans: Yeah. I started with what I didn't want. There's some great stories I can tell you about people who went through the door. But as you see people coming in, you start going, "I don't want that." Everybody had a very pre-determined idea of how they want to do it. We wanted someone to give the character some sort of flesh to the bones.
Julian, you were apparently the only person to take the tender approach in the audition. Did you ever question beforehand that it might not mesh with Kieran's vision?
Morris: When you read a script, it speaks to you or it doesn't. "Kelly + Victor" spoke to me as loudly as anything I've ever read. As soon as I read it, I had strong instincts on the general direction I'd want to take him. And from the beginning, I saw him as a pure soul, with a purity and innocence. And the things I loved in him, his love of nature and wilderness…growing up, what I wanted to do was work with animals. My dream was to work as a game ranger. The same with Victor.
With the most interesting roles, they're the ones you can offer the least in the audition space because they're the ones that demand collaboration with the director and the research and getting into it. And with Kieran, he's amazing. He does so many things you only find with the most experienced directors, and that's to inform the actor, give him the background, and also to give him space. To let him play and fuck up if he needs to. I always felt safe and in good hands with Kieran, and with the film and a role that is so raw, that's what you need.

Any advice for aspiring actors?
Morris: Educate yourself as much as you can with life. Just go out there. Acting for me is finding those things that finding the strings of humanity that tie us all together. And you only find that by living life and loving and breaking up. Wandering around Austin in the rain and the thunder…
Evans: To live life and see things from different perspectives is a wonderful quality to have. I always encourage people to look at other actors from other cultures. To learn about other cultures is important to learning about other people's psyche.
And finally, Julian, what was your worst audition?
Morris: A reality TV show on making a movie. It wasn't about the movie, it was about the reality TV show. They had no clue on filmmaking. And I shouldn't have even been auditioning for it, but I went along anyway. And I don't think I gave a bad audition, but they ripped me apart. In the room! I was doing my scene, and they said, "Stop, stop, stop." And they literally went on for 10 minutes telling me how awful I was. It was ridiculous. And the other thing is, they wanted me to sign a release before I went in to audition. And I didn't sign it, but if I did sign the release it would have been on episode three of whatever it was. But there were so many. I've been asked to take off my clothes for a few auditions, but I didn't.