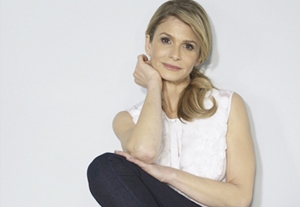 For five years, Kyra Sedgwick has thrilled viewers with the glee of swiftly served justice as Deputy Chief Brenda Leigh Johnson, head of the LAPD's Major Crimes Division, on TNT's hit procedural "The Closer." Perhaps the next major crime Johnson's team should be solving is why there's no Emmy or SAG Award gracing Sedgwick's mantel for the role, despite nominations for each honor every season since the show's inception.
Perhaps it's because she makes it look easy. Never mind that animating Johnson is a titan task: Professionally she's a tiger disguised as a kitten; personally her life is a tangled ball of yarn that often ends up collecting dust in a corner. In either case, she seems to be going in a million directions at once.
"She's looking for something while speaking her lines while walking down a hall while trying to eat a piece of chocolate while trying to manipulate somebody," says Sedgwick of a typical scene involving her character. "I think one of the things that the writers like to do, because they like to see Brenda in difficult, complex situations, is to give me a lot of difficult, complex situations where I'm juggling 20 different things."
The sixth season of "The Closer" begins July 12, and Sedgwick, also an executive producer on the show, says some of the monumental acting challenges have subsided during her tenure. "I don't pick up a script anymore and cry because I think I can't do it and go, 'There's just no way I'm going to be able to learn all these lines.' That muscle has gotten really strong," she says. "My stamina's always been good, but it's better."
She has a stellar cast to buoy her, most of them veteran actors—including Jon Tenney, Robert Gossett, and J.K. Simmons—along with a crew that has been remarkably constant. "You spend more time with these people than you do your family, and so it's really great when you love them," she says, adding, "It's a well-oiled machine here."
It doesn't hurt that Brenda, from Sedgwick's perspective, has "stayed very much the same in the sense that she's not a self-aware person that has any desire to grow emotionally and spiritually." And the actor likes that about her. Even so, Sedgwick works to avoid repeating herself, and she credits the writing with helping her keep the character fresh. About the series' creator, she says, "I bet if you asked James Duff if he thought that she changed over the years, he would say, 'Absolutely,' but I think I'm so in it that it's really hard for me to be objective."
Indeed, she adds, "She's sort of taken over my body and soul in some really creepy, weird way. It really has become this mind-body meld that takes less preparation." Sedgwick contends that the hardest scene she has done on the show was one she filmed with her daughter, Sosie Bacon, who played the niece Brenda took in during Season 5. "I had to say goodbye to her and tell her that she had to go home," Sedgwick recalls. "It was a real Kyra-Brenda mindfuck. When she says, 'Do you not want me to stay?,' I just completely really lost it, trying to rein it in as Brenda-slash-Kyra."
Although the mom-actor line tended to blur, she had a great time working with her daughter over several episodes. The collaboration came about thanks to Duff, who Sedgwick says has wanted Sosie on the show since he saw her in the 2005 film "Loverboy." Sedgwick admits to being nervous about it: "The first scene of the first episode that she did, they were doing her coverage first, and the camera was behind me, and she was speaking her lines. I was with Jon Tenney, and he pulled me over and said, 'You know, you're mouthing her lines,' and I said, 'No, I'm not,' and he was like, 'Yeah, you are.' " Sedgwick widens her eyes. "I was like, 'I'm so sorry!' It was first grade the last time I did that."

A Serious Family
Work and life have often mixed for Sedgwick. She knew early on that acting was for her and took a serious approach to it: "I came from a serious family. We were serious." She began training at age 12. "I was actually really lucky," she says, "because we had a family friend who was a manager, who when I was 16 said to my mom, 'Kyra wants to be an actress. Why doesn't she just go out for experience and audition?' And I went out for the experience of auditioning, and I got a soap." The part on "Another World" in 1982 was the first in a steady string of film and TV credits.
Yet her career was still young when at age 23 she married actor Kevin Bacon and had their son, Travis. Bacon and Sedgwick met while appearing in the TV movie "Lemon Sky" and have since worked together on several projects, sometimes as actors ("Murder in the First," "The Woodsman"), sometimes with him directing and/or her producing ("Losing Chase"). Perhaps the height of the family affair was "Loverboy," directed by Bacon, produced by Sedgwick, and starring the pair and both of their kids. And Bacon has directed his wife in a handful of "Closer" episodes.
When
Back Stage spoke to Sedgwick
three years ago, she said she hoped her kids wouldn't follow in their parents' footsteps. And, Sosie's recent arc notwithstanding, Sedgwick still doesn't believe (and isn't hoping) they will. "My sense is that [Sosie] really had a good time and she was like, 'It's not for me,' " says the actor, adding, "It's a very difficult business, now almost more so than ever, and I have bigger dreams for her. Of course, it's her life—whatever she wants."

Work to Learn, Learn to Work
Sedgwick admits to sticking her own head in the sand when it comes to the odds of success in the industry. "I remember in my 20s I heard for the first time, 'It's really tough out there,' and I was like, 'Yeah, right, that's your excuse for not getting me a job' or 'That's an excuse for my not working,' " she says. But the industry "has gotten a lot smaller; studios are making six movies a year now, whereas they used to make, like, 20. I don't really know the intricate details of it, because otherwise that's just too daunting and upsetting for me."
Instead, she has steadfastly relied on training and doing good work to get her to the next job. "I did summer stock; I did children's theater during the summer when I wasn't in school. I took class with many, many different teachers, including Stella Adler, Jack Garfein, Peggy Feury, and Nancy Donohue," Sedgwick says. "Working with different teachers teaches you a great deal, even if they can only give you one good thing you walk away with."
"You always learn from working," she continues. "And if you aren't working, getting paid to work, then you better be studying, because it's like I always say—actually, Kevin always says; I'm going to steal his line—that a painter can go home and paint, but we have to be given a job. We have to keep our instrument really going strong in between jobs. That really separated me from a lot of people my age when I was first starting out."
Though Sedgwick hasn't trod the boards in a decade, stage work is still part of the equation, and she's "desperate to do it again." "It makes you a better actor, more so than anything, more than any other work," she says. "If you can keep something fresh eight shows a week, and if you can have that dance that you do with the audience, and if you do that kind of deep work that is essential when you're doing a play, it's the best training you can have."
Luck also plays a role, according to Sedgwick, who adds that when one gets a great opportunity, it's then important to not screw it up. How? "Stay facile," she says. "Come really prepared and be willing to change something." Of auditioning, she notes, "I think it's important to read a script twice to really get all the details. It's important to work with someone on your audition, even if it's a friend or something, just to read with them."
After nearly 30 years in the business, she says, "I get offered stuff but I still have to audition." Fortunately, her worst audition is a distant memory: "It was for 'Flashdance.' They told me to come in with a short skirt and no tights. I wouldn't do the no-tights thing, because I didn't like my legs. So I wore tights, but I did wear heels, which I never wore, and I wore a short skirt, and I was in the middle of my audition, and [director] Adrian Lyne took a phone call."
How did Sedgwick recover? "Honestly, I had a lot of chutzpah in those days," she says with a laugh. "I think I might have said something like, 'Are you gonna really take that phone call while I'm sitting here auditioning for you?' Of course now I'd probably just go home and cry in my soup." That last bit may be an exaggeration, as she assures us, "Frankly, I really like to audition, because I feel like, 'Let me show you what I can do.' "

Custom Detailing
And what does she do? "I really just put a lot of shit against the wall and see what sticks," she says, laughing, of her hodgepodge method. But there's a foundation beneath that: "I worked with someone who did the
Uta Hagen 'Respect for Acting' method
—if any actor doesn't have it, they should buy it, two copies, just in case they lose one. That whole way of working is absolutely my fundamental building blocks."
Beyond that, "it's all in the details; it's all in the choices you make," Sedgwick notes, adding that the character's history is key, stitched together from the script, the imagination, and the research. "If I had a movie that took place in Georgia, I would go there and spend a day in a coffee shop watching people."
It's not an idle example: The New York–raised Sedgwick spends several months of the year speaking in Brenda's Georgia drawl. To learn the huge amount of dialogue she spouts on "The Closer," she engages a dramaturge, who also helps her break down scripts. And she tapes her scenes into a recorder, with which she cues herself. "I don't recommend it for everybody," she says. "I always worried that I'd get into line readings that way, but I haven't found that to be the case."
Strong scene partners, of which Sedgwick has many in the mostly male cast, also keep things from becoming rote. Having grown up with brothers, she doesn't notice any unusual dynamic as the lone female, but she says it's been "awesome" working with Mary McDonnell, whose Internal Affairs captain went head to head with Johnson last season and will return for another run of episodes this year. "She's fantastic," Sedgwick raves. "She always surprises me. You go, 'Oh, I didn't know you were going to do that. Now what am I gonna do?' It's exciting."
Role Model
But her praise of McDonnell goes beyond day-to-day work: "She's such a substantial actress, and so kind and generous and open." Sedgwick speaks of McDonnell as someone she can look up to "as I get older and grow up in this business."
Of course, Sedgwick is no slouch when it comes to being a role model. She has managed to keep gaining ground as an actor while raising a family and branching out into producing, though the latter was a natural extension of how she approaches projects. "I've always sort of been in everybody else's chili, so to speak," she says. "I've been in this business a long time, so I see things from the producer's perspective, the A.D.'s perspective, the actor's perspective, the craft service perspective. Now I have the opportunity to actually open my mouth and not feel bad about speaking my mind."
She tries to keep the two jobs separate: "For the most part, I have to kind of put the producer's hat in the trailer." She'll be donning both caps again soon with "Story of a Girl," which Sedgwick hopes to shoot during her fall hiatus. She optioned the book by Sarah Zarr and hired Laurie Collyer ("Sherrybaby") to write the script and direct. "We're going to get some great unknown for the girl," says Sedgwick. She and Terrence Howard will play the parents.
Despite a solid career, Sedgwick once considered leaving it behind. "I always said to myself, if six years went by and I didn't get work, I would quit," she says. "It was after 'Phenomenon,' after 'Something to Talk About'—every time I had a movie that came out, it was like, 'This is gonna be the one, this is gonna be the thing,' and I never got that thing. There was a three-year period I didn't work at all and I couldn't get arrested, and I was like, 'You know what? Fuck it; this is too hard. My heart is breaking.' "
Ultimately, the passion proved stronger than the pain, and Sedgwick now speaks of her calling with reverence: "It's given me a wonderful, wonderful life, and I couldn't do anything else emotionally—it's my dream; it's the thing I love the most." 
Outtakes
Screen credits include "Amazing Stories," "Singles," "Secondhand Lions," and "Gamer"; has appeared on stage in "Oleanna," "Twelfth Night" at New York's Lincoln Center, and "Stranger"
Recently shot the independent feature "Chlorine" with Vincent D'Onofrio
Says her only hobby is taking photos and making albums: "I do like to shop, but that's not really a hobby!"
Earned her Screen Actors Guild card as an extra on an ABC Afterschool Special: "I had to play spin the bottle, and I got my first kiss and my SAG card. They weren't going to give anyone lines, but then they gave me a line and a kiss, and so they gave me my
SAG card."