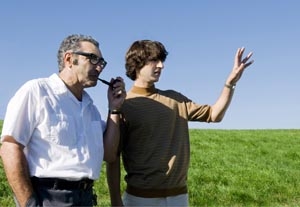 Demetri Martin is one of the hottest comedians working today, with 12 years of standup and a 2007 Comedy Central special under his belt, and now his own TV series, the very funny and smart "Important Things With Demetri Martin," which debuted earlier this year on Comedy Central and has been picked for a second season. Still, he's probably not the first person who comes to most people's minds when thinking of actors to headline a film, let alone one directed by Ang Lee.
Still, that's exactly what happened. Martin, who had little acting experience, was cast by Lee to play the lead in "Taking Woodstock," which hits theaters this week. The comedic drama is based on the true story of how the concert promoters of the 1969 Woodstock Festival had to scramble to find another venue after the initial permit to hold the concert was yanked. Martin plays Elliot Tiber, a closeted gay artist who returns to the Catskills to help his parents' ailing motel business and is greatly responsible for the legendary concert relocating and drawing more than 450,000 concertgoers to his hometown.
Lee's longtime producer James Schamus, who also wrote the screenplay for "Taking Woodstock" and runs Focus Features, had called Martin in for a general meeting that led to a second meeting with Lee, that led to a screen test for the film, that led to Martin getting the part. The comedian credits a YouTube clip with setting this series of unlikely events in motion.
As Martin recalls, "James told me that one of his daughters said, 'Hey, this is a comedian I like. Check this guy out.' And so she showed him a clip of me on YouTube, and that's how James came to know what I do or who I am. That led to the general meeting, and then that led to the casting. So basically a clip from YouTube of my standup got him interested to say, 'I wonder if this guy could
act or if he'd be right for something?' "
Lee recognized something special in Martin right away. "I had a sudden feeling about seeing the movie on him," recalls Lee of their first meeting. "This is how I choose my main actors in a movie, particularly leading men and women. At first meeting them, I very much believe in my gut instinct. And how he talked didn't matter, how he did in the interview with me and James didn't really matter that much. I don't trust that as much.
"The second thing I'll notice is how directable they are," Lee continues. "You have to check further in. So I did a screen test with him, a pretty lengthy one, like, the whole afternoon. I had him do three or four scenes that he had to prepare and memorize the lines, and I had somebody read with him, and just take after take, try to direct him and give him different possibilities of direction, just to see how he'd respond. And I saw some chances. Even though he was very fresh to acting, I was willing to take the risk."
The rest of Martin's time on the project, according to Lee, involved a lot of hard work. First, Lee signed Martin up for private lessons with acting coach Harold Guskin, who spent three months working with the novice actor during preproduction. Lee then spent close to a month rehearsing with Martin in upstate New York, where the film was shot. Lee gave Martin one-on-one direction and also brought in some of the other actors from the film—including Emile Hirsch, Liev Schreiber, Imelda Staunton, and Henry Goodman—to work with Martin on scenes. On set, Martin worked every day of the 45-day shoot and according to Lee, "worked very hard. He was very determined."
Martin greatly appreciated the tips and support his fellow actors provided: "I can honestly say there was not one actor who didn't offer help when it seemed like I needed it. They were all really available, and we'd have lunch together a lot of times—like, different combinations of actors depending on who was working that day. It was really fun to feel like I was a part of this kind of weird summer camp with these great actors." He especially valued Staunton's encouragement and nurturing. He recalls one day in particular: "I was complaining one day because I was tired and I had worked every day in a row and they had rain machines on. And she said to me, 'You're not working in a coal mine, are you?' She was so right; it just put everything in perspective."
Law and Disorder
Martin came to standup after years following an ordered and impressive path in which he got good grades, served as student council president, and graduated from Yale, followed by acceptance into NYU School of Law. But soon into law school, he came to a realization: He was bored.
"I started asking myself hard questions: Why am I doing this? Do I actually enjoy this? And the answers all led me away from law school. The problem was I just didn't have another plan," admits Martin, who proceeded to read self-help books, which he says, "as corny as it sounds," helped him greatly. "It made me think about this idea of 'peak experiences' and how important it is, in life, to actually be invested in what you're doing. And the answer was: I like joking around with my friends. I should be a comedian."
Martin soon dropped out of school, took work as a temp, and signed up for open mikes at night. Like most beginning standups, he says he bombed at first, but he knew in his heart comedy felt right. "My worst day in comedy is better than my best day in law school," he says.
Known for his intellectual approach to his comedic material, Martin has had many breaks in addition to his Comedy Central work: acceptance into comedy festivals, a writing gig on "Late Night With Conan O'Brien," a correspondent post on "The Daily Show" (host Jon Stewart now serves as a producer on Martin's TV show), and the sale of a couple of pilot scripts for NBC. But his latest job, as the lead in a major motion picture, is not something Martin says he saw on his trajectory. Most recently, he was cast opposite Brad Pitt in "Moneyball," but the film is now on hold. Lee predicts of Martin, "He should have a great acting career outside of the comedian career."
Martin hopes his latest venture into acting will help extend his comedy career and further grow his audience. He says, "I feel lucky because I'm at a point where I can go to a town and people come to a theater to see me," as opposed to, "and the next guy up is…."