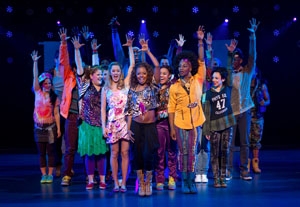 Few casts boast their own cheer, but "Bring It On: The Musical" is not your typical show.

"1-2-3-4, who's about to run this floor?" stars Adrienne Warren and Taylor Louderman cheer enthusiastically, belying their fatigue from a late tech rehearsal the night before. "Hey, you know, it's 'Bring It On!' Don't be scared. Don't be alarmed. We do what we do, skip, dance, sing a song! B-R-I-N-G it on! We're gonna bring it! We're gonna bring it! We're gonna bring it! Bring it on! Hey!"

"If something cool happens, someone will just start '1-2-3-4!' " Warren says.

Well, something cool has definitely happened. Fresh off a 13-city national tour that launched in Los Angeles in October 2011, the actors will make their Broadway debuts at the St. James Theatre when "Bring It On" opens Aug. 1 for a limited engagement.

Though inspired by the "Bring It On" film franchise that began with the original 2000 movie, starring Kirsten Dunst and Gabrielle Union, the musical doesn't aim to re-create the movies verbatim. Some character names and plot points have changed, but the rivalry between schools and the world of cheerleading remain the same, a world Warren and Louderman were not familiar with before they were cast.

"If you had told me last year I'd be standing on someone's hands, flying forward, I would have been like, 'Girl, please,' " Warren says.

Luckily, there are 13 cheerleaders with competitive or professional experience in the cast to help everyone out. "It's so cool to have learned a new skill, and to do something I never thought I would do," says Louderman, who spent a month working with a stunt coordinator before the tour began. And the 36-person cast -- 30 of whom are making their Broadway debuts -- do a stunt call before every show.

"You have to pace yourself," Warren says. "It's like running a race. You're like, 'OK, I have this huge dance number coming up, so let me figure out what I need to do.' It's kind of like a game, eight times a week."

The dancing was a struggle initially for Warren. She worked with director-choreographer Andy Blankenbuehler on "The Wiz" for Encores! in 2009, and he called her in for the show's premiere production at the Alliance Theatre in Atlanta in 2011, before the tour began. She landed the part of Danielle without ever doing a dance call.

"He took a leap and a prayer with me," Warren says, adding that Blankenbuehler's choreography style was new to her. "I knew it was going to be a little tough, dance-wise. I didn't know it was going to be all dancing, all the time! It's great to be challenged, and to do a role where you dance, sing, and act is actually quite rare. You feel like you really did something great at the end of the day."

Louderman was in her sophomore year in the musical theater program at the University of Michigan when she got a call from Rachel Hoffman at Telsey + Company to come in for Skylar in the Atlanta production. She wasn't right for the part, but when Campbell, the lead, was recast for the tour, Louderman landed it.

"It's probably my dream role," says Louderman, who dropped out of school to join the show. "I grew up playing sports, and being athletic was just something I have always hung on to."

Louderman says she feels like her character in real life and likens Campbell's goal of winning the cheerleading national championship to her own high school goal of going to the University of Michigan. Louderman grew up in Bourbon, Mo., and pursued musical theater in St. Louis at the Muny and other venues. Her first stage role was the title role in "Annie" at age 10.

Warren also played Annie when she was 10, the first African-American actor to play the role in the U.S., though her first part was a street rat in "Aladdin" in Virginia, where she was raised. Warren studied theater at Marymount Manhattan and has been working since college in shows such as "The Wiz" and the 2009 "Dreamgirls" national tour.

Developing an original musical is a first-time experience for both actors. Working with a creative team of multiple Tony winners, including composer and lyricist Lin-Manuel Miranda ("In the Heights"), librettist Jeff Whitty ("Avenue Q"), composer and orchestrator Tom Kitt ("Next to Normal"), co-lyricist Amanda Green ("Hands on a Hardbody"), and Blankenbuehler ("In the Heights"), has been unbelievable.

"I studied Lin's name on a note card!" Louderman says. "They're crazy, crazy geniuses, all of them."

Since the material is new, the actors can bring elements of themselves to their characters.

"There'll be a run I mess around with, and Tom [Kitt] will be writing the run into the music," Warren says. "It's so cool you can say you were a part of that."

And the creative team is continuing to make changes from the tour for Broadway before opening night.

"It was about high-flying stunts and energy, and now we put a lot more heart into it," Louderman says. "And for me, that's what musical theater's all about."