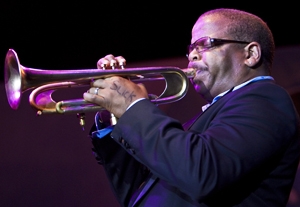 The core characters of Tennessee Williams' seminal "A Streetcar Named Desire" are familiar to many: the animalistic Stanley, the fading Southern belle Blanche, the put-upon Stella, and the milquetoast Mitch. But Emily Mann's new revival of the play, opening April 22 at the Broadhurst Theatre, aims to make the presence of another character equally integral to the story: the city of New Orleans.
To ensure this, producers Steven C. Byrd and Alia M. Jones recruited composer Terence Blanchard to score the show, which for the first time on Broadway, casts non-white actors. According to Byrd, the Grammy-winner is a perfect fit not just because of his storied career as a jazz musician, but also, as a native New Orleanian, he adds authenticity to the production.
"He was someone I always had in mind," explains Byrd, who is a big fan of Blanchard. "He's totally unique, and plays with distinctive sound rhythms. He plays with a certain soulfulness that conveys messages in a way not unlike how Miles [Davis] had a way of doing."
"The city is so special, it has its own ambience," Blanchard adds. "Whether people have been there or not, everyone has a relationship to the city. A friend of mine once described it as 'a city of moments.' And 'Streetcar' is like a love letter to New Orleans. You can just tell that Tennessee fell in love with it while he was writing the play there."
"Streetcar" is the second Broadway show Blanchard has scored. In 2011, he also provided the music for Stephen Adly Guirgis' "The Motherf---er with the Hat." But past experience aside, Blanchard admits that the idea of working on "Streetcar" was intimidating. "Intellectually, you know it's a big deal," he says. "There's a lot of history to the show. And then, right before the curtain goes up, your brain goes 'Oh shit!'"
Blanchard began composing for the show while working in New Orleans. He watched videos of rehearsal, which set the tone as he conceived of themes for the production. All told, he says there is about an hours' worth of his music throughout the show. "It's more like the real New Orleans, where there's always a cacophony of sounds," he says.
Over the course of his career, Blanchard has composed regularly for television and film, including a partnership with Spike Lee that has lasted decades and covered roughly a dozen movies. (He received a Golden Globe nomination for Best Original Score for 2002's "The 25th Hour.") One of the aspects of "Streetcar" that Blanchard enjoyed was how it was closer to the type of live performance that's a part of his lifeblood.
"Working on film is great, but when it's done, it's done," Blanchard explains. "What's interesting with 'Streetcar' is that it's more like performing live with a band. Playing live or live theater will always be different because it's based on what's going on right in front of you on a given night."
It's that feeling of spontaneous energy that makes the city of New Orleans such a draw, according to Blanchard. "Music is in the city's pulse," he explains, and then contrasts it to New York City, where he lived throughout the 1980s and early 1990s. "You don't see people congregating in the streets as much in New York. In New Orleans, there's an interesting dynamic, a social thing. The streets are full of musicians playing with heart.
"During the Saints Super Bowl two years ago," Blanchard continues, "I had a party, and said, 'Bring an instrument or an umbrella.' And we marched up St. Charles Avenue and had an impromptu parade. You don't need to have much there. Parties don't have to be lavish, but they're always magical."
Don't be mistaken into thinking that Blanchard's interests are all fun and games, though. His next project is an opera about world champion welterweight Emile Griffith. The work will include a look at Griffith's controversial 1962 bout with Benny Paret, in which the former violently beat the latter after Paret purportedly threatened to out the closeted Griffith, thereby ruining his career. A fight fan to begin with, Blanchard found a connection to Griffith. "The idea of a gay individual is similar to that of a black man in that both have been marginalized," he says. "He was a champion, but couldn't share it openly. The world applauded him for who he beat up, but forced him to hide who he loved."
"Streetcar" audiences, however, will be applauding his music for all the right reasons.