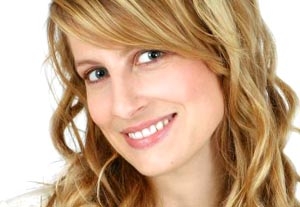 Imagine working a 9-to-5 desk job in New York City while pursuing a career as an actress. In balancing the two, drama ensues. Plus you try to have a personal life.
Sound vaguely familiar?
Ann Carr
understands these life choices as well as anyone.  So she decided to broadcast her personal struggle in her comic web series, "The Actress." 
"It's pulled from my life," she said recently. "[But] it's heightened. I write to make it funny."
Carr has been living and working in NYC since she moving from her hometown of Iowa City, Iowa in 2000, and it hasn't been easy.
To offset the grind of auditioning, she started doing open mic nights. She had a particular fondness for Rififi, whose home on East 11th Street in Manhattan was a "nurturing environment" for her for many years (it closed in 2008). Over time, Carr developed a reputation in downtown venues for performing quirky original character sketches, which she wrote herself.
After appearing on
Comedy Central's
Emmy-nominated web series "Honesty," Carr found her niche at the
Upright Citizens Brigade
. It was there that she workshopped and performed her one-woman show "Use It."  The show ran for a year in New York, and Carr performed for sold-out audiences at UCB in Los Angeles.
After the show was over, Carr returned to New York—and her 9-to-5 office job—feeling stuck and uninspired.
"I had that lull of not knowing what I wanted to do next," she said, "and feeling sad about the show being over."
Carr's director and friend
Eliza Skinner
suggested that she put scenes from the show online. Carr soon realized that she could turn her one-woman show into a web series, and began co-writing the script with her fiancé,
comedian Warren Holstein
.
"The Actress" focuses on Hannah, a young woman struggling to maintain her creative spirit while working a soulless day job in an office. This rings true to Carr, who said many aspects of the show are autobiographical.
"I do a lot of temp work and I have to deal with a lot of people who... don't really know what it's like to be a performer or an artist," Carr said. "I struggle with feeling like somebody who's not able to fully express themselves in their environment. I'm sure a lot of performers feel that way. But you know, you gotta pay rent."
Carr's portrayal of Hannah's journey is anything but rosy. She makes sure not to sugarcoat the process of "making it in the business."
"A lot of people comment on the honestly of it. They love that it's not painting a rosy picture... of the actor's struggle," she said.
In the first episode
, Hannah is seen hysterically crying in a Starbucks after (another) botched audition. She pours out her heart to a friend on her cellphone.  But she rallies; by the end of the episode Hannah takes a deep breath, gets off the phone, and readies herself for yet another audition.
Carr draws on her own experiences to portray the personal side of being an actor.
"It feels good to go out and make something about being human and having a lot of flaws," she said. "I feel like that's where we should be drawing from: our humanity."
Though best known for solo work,
Carr
enjoys working with other actors on the series. Margot Leitman—who bears an uncanny resemblance to Carr—plays Hannah's judgmental overachiever sister. Christina Guasas and Tom Shillue play her domineering boss and an overly flirtatious co-worker. Carr plans to add more to the cast as the show goes on.
"I'm learning so much from other performers," Carr said. "It's that euphoric feeling you get when you perform with people you really like: You're charged.  You're drawing all this energy you didn't have before."
Thus far, she says the response to the series has been overwhelmingly positive.  Plans for future episodes are in the works, but Carr admits it's difficult to balance the demands of being writer, director, and performer in the series.
Much like Hannah, Carr stays committed to her craft. On
her blog Carr said
, "Sometimes life requires a little danger and daring. Or at least, faking it till you make it."