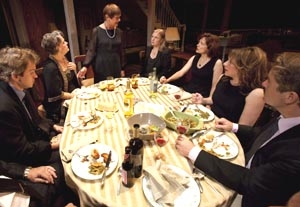 In Tracy Letts' award-winning masterwork "August: Osage County," you'll find enough dysfunction and deception to fill a dozen Eugene O'Neill plays. Over the course of three acts, Letts dissects and eviscerates the Weston clan, an Oklahoma dynasty full of secrets and lies.
At the center is the battle between pill-popping matriarch Violet and her eldest daughter, Barbara, who struggles to keep her own family from fracturing. Deanna Dunagan and Amy Morton originated the roles at Chicago's Steppenwolf Theatre before taking the show to Broadway, where both received Tony nominations for lead actress in a play—with Dunagan winning. (It also scored wins for best play, direction, scenic design and featured actress Rondi Reed.)
Now, the national tour of "August" is under way with Oscar winner Estelle Parsons, who took over the role on Broadway from Dunagan, playing Violet. Shannon Cochran, a Steppenwolf member who previously appeared in the Letts plays "Bug" and "The Man From Nebraska," goes head to head with her as Barbara. "August" is playing in Los Angeles at the Ahmanson Theatre through Oct. 18, and though the tour only began recently, both actors remark on its universal appeal. "People from everywhere relate to it," Parsons notes. "They say, 'How does he know about where I grew up?' "
Back Stage
: When did you first see "August: Osage County"?
Estelle Parsons
: I'd been working when it opened, so I didn't see it right away. I went to see it on Broadway and was just stunned.
Shannon Cochran
: I first saw it in Chicago. It kind of destroyed me. Then I saw it on Broadway, and it had grown in so many ways. And the audience had grown; it was like a rock concert. They were so primed. I found on the road it's the same thing. People know about it already, you don't have to sell it to them.
Back Stage
: As an actor, did you see the play and think, "I'd love to do that role"?
Cochran
: Absolutely. Amy and I have traded shows over the years in Chicago. We were similar types even though I think we've grown to be extremely different actresses. What's so great about Tracy is, what playwright is out there that's giving women of all ages such great roles? It's such a male-dominated world; we don't have a female David Mamet. And every show Tracy has written contains at least one, sometimes multiple, great roles for women.
Parsons
: No, not at all. I've been doing a lot more cutting-edge, sort of experimental stuff in the last 10 or 15 years. I'd been heading a different direction. I was just there to see my friends and then [Steppenwolf members] Rondi Reed and Laurie Metcalf said, "Oh, Estelle, you should play that part. Deanna's leaving; you should think about it." I went to meet with the director and got so excited about the character. Tracy writes these theatrically truthful characters you can really dig into with everything you've got. I've been playing it over a year and I still come off stage thinking, "Wow, there might be something else there I can discover."
Back Stage
: Estelle, had you ever done a Letts play before?
Parsons
: No, I don't really even know them. I went to the first act of "Bug" because a friend was in it, and I lasted through one act and was so scared, I had to leave. His plays really cut to the bone.
Back Stage
: Shannon, how did you become involved with his work?
Cochran
: Somebody actually recommended me to Tracy for "Bug." He knew of my work, but I didn't know who he was. Isn't that funny? So I did "Bug" and then also the premiere of "Man from Nebraska."
Back Stage
: Do you think he's changed as a writer over the years?
Cochran
: Not necessarily. I think that for a while he has been collecting ideas to put into this one large idea about family and loss. So I don't think it's like an evolution so much as inevitably he found a group of people in Steppenwolf he could hang these tales on. So many of these stories come from his personal life or the lives of his friends. It was just a matter of time. I think his playwriting structure is as sophisticated as it's ever been.
Back Stage
: "August" is an emotionally grueling play. Is it hard to let go of the character at the end of the day?
Parsons
: No, not really. I've been acting all my life, so I know what my art is and what my life is.
Cochran
: Not at all. I think that's why it's not wearing me down. "Bug" was a different story; I was in New York, by myself, and very alienated. So I felt the weight of it, and I would see people on the subway who made me think about my character. But this one is easy for me to slough off and say, "That's not me, those aren't my problems, this is not my family." In fact, this play makes my family look pretty great. So I just let it go.
Back Stage
: What's been the hardest part about performing the show?
Parsons
: I think the three-and-a-half-hour run time makes it very difficult for all of us. It means it's too late afterwards to go out with friends. And a lot of the fun of being in a commercial show is getting out with the rest of the company between and after shows and having a lot of community fun, as it were. It's just not possible with this; after all that time nobody feels like doing much but going home.
Cochran
: The hardest scenes are where I have to yell at my parents or husband. I've never cared for confrontation in life—not just mine, but when I see people yelling in a public place, it's very upsetting to me. I don't know why; I don't like to see people at the top of their emotions just hurling things at each other. But I'm not really exhausted by doing it. The only thing that gets tired is my voice. I try to get through the day with a minimum of yelling and screaming so I can warm up prior to the show. It gets raggedy on the two-show days. But there's something about this play that lets you spend a bunch of energy and leave all of your crap and sadness and irritation and anger about everything out on the stage. So I actually feel pretty good!
Back Stage
: Estelle, you've worked with several different actors playing the role of Barbara. How does it affect you when the actor opposite you changes?
Parsons
: They've all been excellent. Shannon has done a lot of Tracy's plays, and she understands his style so well. It's a great deal of fun to play it with her. When I played it with Amy, she'd been doing it a year, and I was coming in fresh, I was the new person. But in this play it doesn't really matter. Everyone in this play is, out of necessity, very self-involved because their lives have been so abusive. The style he writes in, if you can play your part, it almost doesn't matter who's in the other roles. So I've had a good time with all of them, and they've all been playing the part to the hilt, which is the only way to play that part.
Back Stage
: Shannon, what is it like working with Estelle?
Cochran
: I try to keep it pretty much all on stage, frankly. Estelle has a routine for herself she's faithful to. She's somewhat private. So I sort of made a decision early on to not try to get in her head off stage in any way, to try and just keep everything that we have on stage. It's worked pretty well. Everyone once in a while she'll pass me in the hall and say, "How are you?" She's all about the work. She is word perfect; she almost never misses a single word of Tracy's text. Which I'm sure he loves. She is so disciplined. So you have to bring your game when you come on stage with her. You've got to be sharp, you've got to pick up your cues, and you have to be on. Because that's what she's doing for you.
Back Stage
: You've both performed on film, in television, and on stage. Do you have a medium you prefer over the others?
Parsons
: Oh, I'm a theater person. I've been very lucky to have some wonderful film experiences and television experiences but my real work is in the theater. I have the skills and gift for it, and I think it's a shame to waste those in a mechanical media where the director's calling the shots. And I love to be performing for human beings, not a camera. One of the great things about doing a play is the audience is so much a part of the experience. The way they laugh and groan and cheer, it's just fantastic.
Cochran
: I'd rather be on stage the rest of my life. It's just so…fun. This waiting around and sitting in a trailer is hard for me. And in TV, when you're at my level, people are respectful to you but not really. I mean, nobody wants my input in a TV show. Maybe I'd feel differently if I were higher up. I mean, TV and film work is great when you can get it because the money is so damn good. But if I could do theater all the time, that would be my choice.
Back Stage
: Acting is a tough business. Was there ever a time you thought about doing something else?
Parsons
: I've done a lot of other things. I ran the Actors Studio for five years. I direct. And sometimes I don't work at all; I like to go do wilderness activities like canoeing and mountain climbing and that kind of thing. And I love to travel. That's why I like touring.
Cochran
: At times I thought of trying to transition into something that would pay me more steadily. Here's a yin-and-yang thing: I've always been interested in finance. I met a guy when I was younger who taught me how to invest. At one point I thought that artists don't know how to deal with their money and I could be a financial advisor to them. But it's hard to walk away from the thing you love. And every time I'd get serious about leaving, something would come up. After a while, the profession has just chosen you.
"August: Osage County" runs through Oct. 18 at the Ahmanson Theatre in L.A.. For tour schedule and tickets, visit www.augustonbroadway.com.