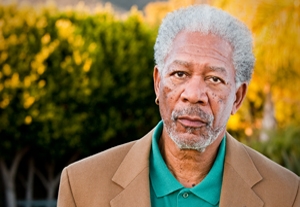 Morgan Freeman was born to play Nelson Mandela. Or maybe Nelson Mandela was destined to be played by Morgan Freeman. Whichever it is, when posters and other advertisements began sprouting for the new film "Invictus,"
in which Freeman stars as the former South African president, the casting felt inevitable. Of course one of America's most revered and respected actors would be portraying a man of such greatness.
Even in 1995, when Mandela published his autobiography, "Long Walk to Freedom," detailing the 27 years he spent in prison struggling against apartheid, the activist had the actor in mind, saying Freeman should be the one to play him if the book became a movie. Admits Freeman, "It's been a foregone conclusion that, at some point or another, I would play him."
Freeman, who runs the company Revelations Entertainment with his producing partner Lori McCreary, spent years trying to help get a film version off the ground but ultimately found it impossible. "It's just too hard to try and tell the whole story in one movie," he explains. McCreary recalls being "devastated" when she realized the adaptation wouldn't happen. "But Morgan reassured me, 'Lori, when a door closes, a window opens,' " she says. "And literally the next week, I received a four-page proposal on John Carlin's book about the '95 World Cup."
Carlin's proposal would eventually become the book "Playing the Enemy," about how President Mandela teamed with the captain of South Africa's national rugby team, Francois Pienaar, to aspire to win the World Cup. Called the Springboks, the team represented to many the South Africa of old, their green-and-gold jerseys a symbol of apartheid. But when some attempted to rename and rebrand the team, Mandela saw that it could be used as a symbol of unity instead. Freeman secured the rights to the story before the book was even published. Asked how he knew it would make a great film, he explains, "You'd have to hear a storyteller like Carlin tell it. It was this amazing tale of how Mandela manipulated this whole thing. It was just…right."
And in case they had any doubts, a conversation between Freeman and Mandela, known in South Africa as "Madiba," sealed the deal. Says McCreary, "Morgan started off by saying, 'Madiba, we've been working a long time on this other project, but we've just read something that we think might get to the core of who you are.' And before he even finished the sentence, Madiba said, 'Ah, the World Cup.' That's when I knew we were heading in the right direction."
Freeman sent the script to his friend and frequent collaborator Clint Eastwood, who directed the actor to an Oscar in 2004's "Million Dollar Baby." Aside from Freeman as Mandela and Matt Damon as Pienaar, "Invictus" was cast in South Africa, which Freeman says helped generate genuine enthusiasm in the cast and crew. "Even the extras were completely gung ho," he says.
As for the practical aspects of playing Mandela, Freeman says he had hours of video to study: "Just everyday stuff: him in his office, greeting people, talking to his secretaries, things like that." Asked if he noticed anything in particular in his research, Freeman pauses. "I've watched him so carefully over the years that it surprised me to find something I had never noticed before," he says. "He doesn't use his left hand much. I didn't ask him why, but I was sort of relieved, because I can't use mine well either, since my car accident last year." Freeman didn't feel the need to justify why Mandela doesn't use the hand much. "There's no reason to," he says. "You don't act like there's something wrong with the hand; you just don't use it."
Freeman admits that he put an unusual amount of research into Mandela because he's a real person. "I don't play living people—I've only done it twice now," the actor says, citing principal Joe Clark in "Lean on Me" as the other instance. "With 'Lean on Me,' the real Joe was there every day, and that made it easier, because if you're going to play a living person, it helps to hold hands, literally. You get a sense of their energy, whether it's high or low or if this person is calm or humming with anxiety."
Red and Black
At age 72, with almost 100 film performances behind him, Freeman is confident of his place in film history. He's also not one to mince words. Upon winning the Screen Actors Guild Award for "Million Dollar Baby," he stepped backstage to speak to the press. One journalist pointed out that he received a standing ovation when his name was called and asked the actor if that surprised him. "No," Freeman said, which elicited laughter from the crowd. "I'm aware I'm well thought of in the business." Reflecting on that moment today, he says, "Well, I didn't want to lie. I'm sorry."
But Freeman wasn't always a well-known actor. Though he has always worked steadily, whether in theater (he earned a Tony nomination in 1978 for his role in "The Mighty Gents") or children's TV (he spent seven years on "The Electric Company" playing the Easy Reader and other characters) or daytime dramas (such as "Another World"), he got what he considers his true "big break" at age 50, in the 1987 film "Street Smart," in which Freeman portrayed vicious pimp Fast Black. "That was absolutely my entrée into the movies," he admits.
The role came through an audition, and Freeman's intense, terrifying performance earned him his first Oscar nomination. He says he was happy to do the role: "I've seen some of my friends play pimps, and there was a sort of a—how do I put it?—an approach to pimpdom that I didn't want to do. I wanted to show a different side that you don't normally see. I'd met some pimps. The guys who run ladies can be scary, because sometimes you need to be forceful in your control. But the thing I was thinking of more was how they comport themselves, how they dress. I didn't want to be wearing crushed velvet or drive a pimpmobile. So I was in Armani."
When "Street Smart" came out, it coincided with Freeman's appearance onstage as gentle chauffeur Hoke in the play "Driving Miss Daisy." Playwright Alfred Uhry saw the film and gave Freeman the best of backhanded compliments. "Alfred told me, 'That movie scared me to death. If I'd seen that film before, you never would have gotten hired for this part. I don't want a pimp in my play,' " Freeman recalls with a laugh.
Still, when it came time for a film version of "Driving Miss Daisy," Freeman had to campaign for the role. He auditioned repeatedly before finally winning the part, which earned him his second Oscar nomination. "They weren't going to give me the movie," he admits. "But they couldn't find nobody better." Freeman lets loose with another long, unabashed laugh.
That's when things changed for him, in his own words, "big time." Soon he became the go-to actor for sidekicks ("Robin Hood: Prince of Thieves," "Unforgiven"), seasoned cops ("Seven," "Kiss the Girls"), and men of gravitas, such as the president of the United States ("Deep Impact") or God ("Bruce Almighty" and its sequel, "Evan Almighty"). Then there was his indelible turn as prison lifer Red in "The Shawshank Redemption." Noble yet afraid to hope, uneducated but wise, Red was the kind of role that actors wait their entire lives for. Freeman was 57. He admits there were many times over the years when he thought his film career would never take off. "By the time you hit 50, half your life is shot. You think, 'Gee, it isn't going to happen,' " he says. "But it can. I'm proof of that."
Falling Back, Springing Forward
Freeman doesn't hesitate when asked what has been his most difficult role. "Othello," he says, sighing. "I never managed to get it right. I'm very unhappy with my performance." What does he think he did wrong? "Everything! I accepted the role!" To Freeman, the part is virtually impossible. " 'Othello' was one of those challenges [where] actors sometimes say, 'I gotta try it.' I should have known better. When I was getting ready to do it, I went to see James Earl Jones. I saw him do it with Christopher Plummer, and after the show we were talking. I said, 'Jimmy, you've done this six times now. Do you feel you've ever gotten it?' And he said, 'No.' "
In choosing his roles, Freeman says, he reads as many scripts as possible. "You can't take a job on somebody else's say-so," he reasons. "Mostly I'm drawn to the story and the part. If you've got a good story, you've probably got a good part to play. Size doesn't really matter—although I do like to tap-dance, and I like people to watch while I'm tap-dancing." He also says he treats every role as equally important, whether it's Shakespeare or an action flick: "People are paying you a lot of money to be serious about what you're doing."
When it comes to his directors, what Freeman values most is autonomy. "I want them to think that I know what I'm doing," he says. "A lot of young directors go into it thinking you have to direct, you have to get a performance out of your actors. And it's wrong. Ninety-nine times out of 100 you get a performance if you just back away. That's what Clint does." And has he ever found himself not getting along with a director? "Oh yeah," he says with a sigh. "What can you do? You just get through, take the money, and go."
Freeman admits he is frequently approached by people looking for advice on breaking into acting. "Most of the time I say that the easiest way to fail is to quit," he notes. "A lot of people say, 'My son or daughter wants to be an actor, and we've convinced them to get a degree first.' You're talking about a fallback position. There isn't one. If you get a fallback position, that's where you're always going to be."
Freeman never gave himself a fallback position, he says. "I did think about doing something else for a short period. I thought I wanted to be a fighter pilot with the United States Air Force. It's an awesome thought, but I can just play a fighter pilot. That was the whole point. I thought that's what I wanted to do for life, but actually it's just what I wanted to play."   
Outtakes
-Directed the 1993 film "Bopha!" but isn't interested in directing again: "It was something to get out of my system. I enjoyed it, but it's not for me."
-No longer auditions, which he says is a relief: "I never was good at it. The best audition I ever did was for 'Street Smart.' "
-His last stage performance was in the 2008 Broadway production of Clifford Odets' "The Country Girl," opposite Frances McDormand
-Says most of his roles—in films such as "High Crimes," "The Sum of All Fears," and "The Shawshank Redemption"—were cast without regard to his race