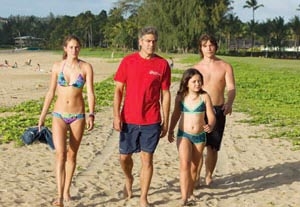 In "
The Descendants
," George Clooney delivers a standout performance as Matt King, a land baron living in Hawaii who discovers that his wife, Elizabeth, has been having an affair. Complicating matters is that Elizabeth is in a coma and Matt is struggling to care for their two daughters, Alexandra and Scottie. Like all of writer-director Alexander Payne's films, "The Descendants" boasts excellent performances from its cast. Three of the actors recently spoke with Back Stage about their roles: Shailene Woodley, who plays Alexandra; Matthew Lillard, who plays Brian, the man having an affair with Elizabeth; and Judy Greer, who plays Brian's unknowing wife.
On their most difficult scene to shootMatthew Lillard:
I only have one scene, and I didn't want to suck. At the read-through, I realized I was part of something fantastic. I think the movie's spectacular, and Alexander's one of the great filmmakers in the world right now, and I think it's one of George's great performances in a great career. Going into the experience, I had a real sense of wanting to be proud of my work. It's like playing basketball with Kobe Bryant: You just don't want to suck. Alexander does a great job of casting; he hires you for a reason. So when you get there, there's a sense of comfort in the fact that you've been hired not because of your Q score, or because you represent something in England, or you're on a series. He hires you because he can, and he wants to, and he wants you. And that's really reassuring as an actor.
Judy Greer:
I'm in three scenes, and the last one was probably the hardest. I shot my first two scenes and left to go work on another job. As I was leaving, I asked Alexander, "How do you want me to prepare for the [last] scene?" He said, "Don't do anything different; just do what you did in your audition." He's just so happy with his casting.
Shailene Woodley:
There's a scene where George spanks me, and logistically it was hard to shoot. There's another scene that was as hard, but it was cut from the film. It was something I struggled with—maybe that's why it's not in the film!
On the actor who plays Elizabeth, who spends most of the film in a comaWoodley:
Her name is Patricia Hastie. She was originally hired as a local background artist, and after Alexander saw her commitment and dedication to the role, he demanded credit for her, and she's actually in the front credits. She lost over 20 pounds for the role. She would stay up all night and come to work in the morning, go through hair and makeup, pop a melatonin, and go to bed and say, "Don't wake me for lunch." She was so available for us and so dedicated. For George Clooney or anybody to be yelling at her and all the emotional scenes that she had to lie there through and not have any eye movement, not have any twitch in her nose, it would have ruined the take and we would have had to start over. She was incredible, such an amazing woman and such dedication to the role.
On working with Alexander PayneWoodley:
Alexander creates such a comfortable environment on set, and he gives you the freedom to express in whatever way you want. He kind of has unspoken guidelines—he never really tells you what they are; you just kind of figure it out. And he lets you go and play. So you can try one thing, and then you can try another thing, and if it's not working, he'll come up and he'll tell you it's not working. And if it is, he actually tells you you're doing a good job. And in life, nobody ever tells you when you're doing good; they just point out when you're doing bad.
Lillard:
To speak to the talent of Alexander Payne real quick: This is a movie about a guy, his wife is dying, he's left with two kids and [dealing with] indigenous land rights in Hawaii. There's not a studio in the world that would make that, except for Fox Searchlight. And Alexander Payne made it so that it's funny and touching.