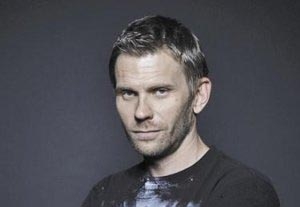 Just because he plays Jacob, the enigmatic leader of the island on "Lost," doesn't mean Mark Pellegrino has any answers. Try to pry secrets from him about the show's final season, and he laughs. "I would love to tell you—if I actually knew," he admits. "It's all in the brains of the creators and writers, and none of us know."
The character of Jacob was often spoken of but never seen until the final episode of the show's fifth season. Not being a regular viewer of the show, Pellegrino had no idea that he was auditioning for such a mythic role. "There's so much secrecy surrounding the show that they literally send out false sides with false character names. I think his name was Jason in the sides, and all I knew was I was doing a scene on the beach with somebody," he recalls. "It wasn't until the first day of shooting when someone said, 'Yeah, we've been building this character up for about three years.' I'm kind of glad I didn't know that, to be honest with you. It might have freaked me out a little."
Jumping into such a secretive role was a challenge for the actor, who normally prefers to do a lot of research into his parts. "I've done projects where I've read 25 books and did all kinds of journal and character work for hours," he says. "I could do none of that for this, because I really don't know, other than the vaguest outline, who this character is. Fortunately, I do have a couple of thoughts and ideas in my mind that I keep under lock and key that kind of act as a standard for me."
The actor seems to specialize in shadowy characters with murky motivations. Many viewers likely recognize him as Paul, the abusive ex-husband of Rita (Julie Benz), on Showtime's "Dexter." Though odious, the character was driven by a genuine love for his children—in Pellegrino's words, Paul "was trying to do good but was just twisted up a bit." And in addition to the ongoing role on "Lost," Pellegrino can also be seen recurring on the CW drama "Supernatural" as none other than the ultimate bad guy: Satan.
"I actually didn't audition for that," Pellegrino reveals. "I got a call, and they said, 'They want you to play Lucifer.' I said, 'How can I turn that down?' though it's a little disconcerting when someone says they want you to play the devil. I'm like, 'What do they see in me?' " But the actor notes that the character as written is very sympathetic. "He's kind of [a] simple and normal and down-to-earth person," Pellegrino notes. "So I take it as a compliment that they thought I could play a nice guy, because a lot of people don't see me that way. I walk into a room, 6-[foot]-3, 210 pounds, and people automatically kind of tense up." And though there have been many variations on Beelzebub in the past, Pellegrino isn't intimidated by previous incarnations. "The great thing about Satan is it's kind of like Hamlet," he says. "Everyone puts their own signature on it in a way, whether it's Al Pacino or little old me."
In the Playhouse
Ironically, Pellegrino says he knew he wanted to be an actor after he was already acting professionally. He credits one of his favorite casting directors, Sharon Bialy, with getting him his SAG card by casting him in the 1987 Whoopi Goldberg vehicle "Fatal Beauty." There was only one problem. "I didn't really know how to act," Pellegrino admits. "There's a scene where I had to die, and I had no idea how to die on camera. And if you watch that scene, you'll see. I only had the TV show 'Bonanza' as a reference. It was kind of like Sofia Coppola dying in 'Godfather III,' only three or four times worse." He laughs good-naturedly before adding, "But it got me my SAG card, damn it!"
Though he was doing "okay" on auditions, Pellegrino was in his mid-20s when his agent suggested he enroll in an acting class. The agent handed him a list of teachers, and Pellegrino decided to try out Playhouse West "because it was near me and very cheap." There, he met teacher Robert Carnegie and says his eyes were opened: "It was just amazing. Bob Carnegie came from the New York theater tradition under the arm of Sanford Meisner. I even got to sit in on Sandy's classes, and I got really enamored. I finally understood it was a craft, and I fell in love with it."
Pellegrino now teaches at Playhouse West when his schedule allows, which he says helps to keep him in the moment. "I think L.A. actors don't have much continuity, so you kind of have to force the issue by doing plays and putting up scenes and staying in class," he notes. "For me, teaching helps to reaffirm the right principles and values of acting. It helps me focus on the good stuff that can be easy to lose sight of because the business is so result-oriented."
When asked for advice, Pellegrino tells his students to remember that the business requires endurance. "Your instrument grows at its own rate," he says. "I still think I'm growing into myself. Sandy Meisner would say it takes 20 years to make an actor. Some people it takes five, some people 30. And you have to have patience and forgiveness for yourself. It's hard when you see people at your age or younger becoming successful. So perseverance and patience with yourself are necessary—but also understanding that your path is completely and entirely your own."
Outtakes
-Other memorable roles include "Spartan," "The Big Lebowski," and a hit man in "Mulholland Dr."
-One early role was the film "No Holds Barred," playing Hulk Hogan's little brother. Says Pellegrino, "I was young and learning, and you can tell."
-After appearing on "NYPD Blue" as several different characters, Pellegrino was cast by show creator Steven Bochco in a spinoff set in the future called "NYPD 2069" alongside Anna Gunn and Giancarlo Esposito
-Says he fares better in auditions where he's given difficult material: "I love emotional, intense stuff; it's easier to grab onto than just being simple. Being simple and relaxed can be the hardest thing. It can be easier to get your hooks into something big."