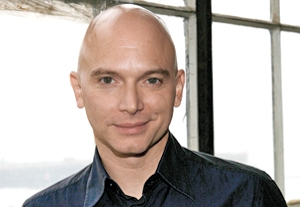 "To stand naked on the stage is an outward manifestation of what we do in the best performances," asserts Michael Cerveris, who is literally naked at one point in Sarah Ruhl's "In the Next Room or the vibrator play," a Lincoln Center Theater production at the Lyceum Theatre on Broadway. Indeed, he contends, "I hesitate even to talk about it because it's the least interesting part of the job to me." Set in the 1880s in a New York spa town, the play recounts the evolving relationships among Dr. Givings (Cerveris), his frustrated wife (Laura Benanti), and his patients. It is also an exploration of vibrator therapies employed by doctors to treat hysteria, depression, and other forms of "female" maladies.
Cerveris says the major challenge in playing Dr. Givings is the arc of the character and the fact that the payoff is a long time coming. Though the doctor has a limited understanding of his wife and is unable to expose himself emotionally, one hopes the audience is pulling for the relationship and perhaps even likes Givings, notes Cerveris. "You can wink at the audience and say, 'And I do value my wife,' but that's cheating," he says. "The other thing you worry about is that you'll be so convincing as a buttoned-up guy that when you do communicate love, you want to make sure there have been signs of it along the way. It's a tricky balance."
Perhaps best known for his Tony Award–winning turn as John Wilkes Booth in Stephen Sondheim's "Assassins" and his critically acclaimed (and Tony-nominated) performance as the title character in the recent revival of Sondheim's "Sweeney Todd," the 39-year-old native of Bethesda, Md., says that to the extent he has any method, it begins with reading and rereading the script. "But mostly it's getting into the language of the playwright and the events that happen to the characters and how those events affect them," he adds. "At some point there is a crossover, and I look at aspects of my life and the experiences I've had to find parallels as a way in."
Still, he says his method varies with genre and medium. He credits his acting teachers at Yale with offering an array of techniques instead of one dogmatic approach. Cerveris was an undergraduate at the university and not at the graduate School of Drama. Still, up until his performance in "Sweeney Todd," he wasn't fully comfortable calling himself an actor, in part because many people's idea of an actor was not in sync with his. He says other actors talked relentlessly about how much they loved what they were doing, whereas for him acting was a tremendous emotional, social, and financial struggle. While he has observed that for many acting was an opportunity to display their personality as opposed to disappearing into a character, he says, "For me the greatest compliment is when someone says to me, 'It took me 10 minutes to realize you were playing that character. You were so unrecognizable.' 'Sweeney Todd' was the first time I was not second-guessing myself. It's when I realized it was exactly what I was meant to be doing. I guess I felt I was being an instrument in service of something really worthwhile on stage, that the endeavor of being an actor was something to be proud of."
Though not something he was aiming for, winning the Tony "was also an amazing treat and made it possible for me to relax," he says. "It opened up some doors but not as many as people think. It made it possible for 'Sweeney Todd' to happen. It made producers more comfortable giving me big parts. It was a change in other people's perceptions. But my career is not defined by other people's perceptions."
Roles That Terrify
Brought up in Huntington, W.Va., the son of a music professor, Cerveris was performing since he was a youngster in college and summer stock productions his father directed. Cerveris had opted for a liberal-arts college program rather than a conservatory because he wasn't sure acting was his vocation, and he wanted a broader education. He says he believes all actors profit from being fully educated human beings.
He is further troubled by the huge number of conservatory-produced actors who are sent into the marketplace, some of whom are snatched up for television shows right away. "That might sound great, but it stunts growth," he says. "I wouldn't have learned as much as I did if I hadn't struggled. If TV actors come back to New York at all, the only roles they get are in those productions that need a TV star. They're thrust into leading roles, but without those smaller stage roles, they don't have the experience or craft that make it possible to develop as an actor." In the interest of growing as an actor, he will often tackle roles that are terrifying to him. "That's all the evidence I need that I should do it," he says of the fear.
He says auditioning is still nerve-racking, though he does not audition much for stage anymore. "If you try to fit yourself into what you think they want, it's a real roll of the dice," he says, recalling David Hyde Pierce's advice on auditioning. "A. You may not be guessing what they want. B. They may not know what they want. C. If you're doing a role not the way you truly see it but the way you think they want, if it doesn't fit right, you won't get the part and you'll be giving the CD no clear idea of what you might be better used for in something else. Instead, do it the way you'd do it if you had the role. If you get the part, it will be a terrific work experience because you will have been hired because of the way you see the role. And if you don't get hired, it's probably not the right thing anyway." 
Cerveris does not go out for every role that comes down the pike. Indeed, he says he has turned down career-making parts, not least because he found the material distasteful. The projects that are of greatest appeal start with the ensemble of artists who are involved, and he cites Peter Brook's "The Empty Space" and Jerzy Grotowski's "Towards a Poor Theatre" as the sources for his idea of what theater is all about. Says Cerveris, "I want to get those people in a room, and then we'll figure out what we want to do together. It's not about my playing a particular role and then surrounding myself with people who make me look good."
Bio Brief
- Made his Broadway debut as Tommy in "The Who's Tommy," for which he won a Theatre World Award and earned a Tony Award nomination.
- Appeared on Broadway in "Hedda Gabler," "Cymbeline," "Love-musik," and "Titanic"
- Was a regular on "Fame," played The Observer on "Fringe," and has guest-starred on "Law & Order: Criminal Intent," and "CSI: Crime Scene Investigation."
- Featured in the films "Cirque du Freak: The Vampire's Assistant" and "Brief Interviews With Hideous Men," among others.
"In the Next Room or the vibrator play," presented by Lincoln Center Theater, runs through Jan. 10, 2010, at the Lyceum Theatre, 149 W. 45th St., NYC. Tickets: (212) 239-6200 or www.lct.org.