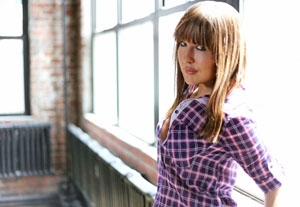 British native Emma J. Purvèy is thankful her American-based talent agency sponsored her O-1 visa to work here. "I want to act in film, and there are so many more film opportunities here," she says. "I can now do everything here within my profession—concentrate on my acting—and not worry about the paperwork." Indeed, she has already racked up a host of credits and has been able to purchase a lovely condo. "I'm also grateful for my booker, who has always been there for me; my parents, who are my heroes; my cousins; and my friends. I'm grateful for my health. And I now have a man in my life who brings out the best in me and makes me smile."
Other actors Back Stage spoke with also feel appreciative this Thanksgiving. Though their journeys are varied, the common denominator is seeing the glass half-full. "It's all about perspective," says Pierre O'Farrell.
Obstacles to Optimism
O'Farrell was not always so optimistic. It's not that he had any terrible experiences, but he didn't think he could really make a living at as an actor. He believed you should give yourself a timeframe for achieving a certain level of success and then call it a day and get a 9-to-5 job. He also felt that, should you reach the next rung on the career ladder, you'd encounter a mean-spirited competitiveness with your fellow actors. But what almost pushed him out of the business was plain old stage fright. He had just been offered the lead role of Eddie Carbone in "A View From the Bridge" in a 2003 Brooklyn production. "I wasn't sure I'd take it," he recalls. "I was so fearful."
Bettye Zoller suffered from loneliness. She had been a successful singer with her own touring jazz group. Still, after seven years on the road, "it was a low-point," she says. "I remember we were in Boulder, Colo., and I was staring out the window thinking there's got to be more to life than this. I had been an actor and singer my whole life, and I wondered, 'What do I do now? Where does this lead?' It was disillusioning."
By contrast, Erica Livingston didn't really know she was struggling until her circumstances changed. But she had little doubt that she was artistically unfulfilled.
Filling the Glass
The turning point for Livingston was joining the 5-year-old New York Neo-Futurists, an experimental and political theater group. She performs and writes for the company and is especially grateful because she never realized she had a writing talent until she tried it. After three and a half years with the troupe, she says, her confidence level is all the way up, she auditions with far greater frequency for projects outside the Neo-Futurists, and she has landed an agent who saw her perform at the company. "I'm seen by people who would not have seen me otherwise," she says, adding, "I am so thankful to have found a company that challenges me consistently as a performer and writer. The productivity I now have is so much more than I could have imagined. My work within the company helps me so much with the acting work I do outside of the company."
She's now able to support herself as an actor by doing commercials and serving as a teacher artist in addition to performing with the Neo-Futurists, where she earns some money. She is particularly pleased because she is able to show her 13-year-old stepdaughter that it's "possible to make a living in the arts," Livingston says. "My husband is a musician, and I'm a performer, and our daughter is interested in the visual arts. We show her through example that it can be done. I'm thankful for that every day."
O'Farrell appreciates the unexpected outpouring of support he received from veteran actors when he let it be known how fearful he was about going on. After admitting to longtime friend Dan Frazer (who played Captain Frank McNeil on "Kojak") how he was feeling, Frazer set up a meeting with Oscar nominee Jack Warden, who was in the original 1955 Broadway production of "A View From the Bridge." At that point, O'Farrell had no idea that "Jack" was Jack Warden, and when he saw Warden sitting there with Frazer, O'Farrell was floored. "The fact these men had enough faith in me and were willing to help this rookie, still to this day, blows me away," says O'Farrell. "I am so thankful to be part of this illustrious community of New York actors."
He also received concrete advice from Warden, whose easy and matter-of-fact manner was reassuring. "He said, 'The role of Eddie is simple. There are just two things. First, don't do what Van Heflin [who originated the role] did, which is hang out in bars all day. And two, just think of Eddie as the proverbial bull in a china shop.' That gave me something to hang on to."
But something more subtle had occurred, says O'Farrell. Observing the genuine fellowship between the actors, as well as their clear-eyed appreciation of the actor's life, changed O'Farrell's perspective about theater and even his own prospects. Like the veterans, he says he now accepts the idea that he's in for the long haul and can be confident and maintain a level of self-respect despite the struggle. He also overcame his stage fright. "These guys made me realize you take your work seriously, but you don't take yourself that seriously," he notes.
Zoller is thankful for a couple of serendipitous events that changed the course of her life more than 30 years ago when she was in despair about her future. A producer who heard her sing approached her and asked if she had ever considered doing jingles. She admits the idea had never occurred to her, but a few months later she was singing jingles for his production company and earning more money than she had ever seen in one check for touring. In short order she had a new satisfying career that also afforded her the chance to stay in one place.
She had a home and a new baby when more good fortune came her way. A jingle singer she knew talked to her about doing voiceovers, another universe with which Zoller was unfamiliar. But she was curious, enrolled in a voiceover class, made a reel, and shortly thereafter was employed as a voiceover artist.
"I do literally hundreds of voiceovers," she says. "I'm the singer on jingles and pre-recorded backgrounds for Disney on Ice, Cadillac Show, Coca-Cola in Las Vegas," she says. "Now I own a recording studio in Dallas, Texas, and have morphed into a really skilled audio engineer too who does postproduction and recording for talent demos, audio books, audio podcasts, audio for films, TV, and more."
Lessons Learned
Zoller had good luck, but she also had the wherewithal to follow through on all opportunities that came her way, and she is thankful she did. She is a strong advocate of diversifying. "You have to plan ahead," she says. "What happens if your film or TV career doesn't work out? Don't limit yourself to being a film or TV actor. You should always be thinking of other ways to be making money."
Livingston has come to appreciate the actor's journey "and the hidden moments of inspiration along the way that keep you going and remind you why you're doing what you doing, even if that means performing a monologue in the bathroom." She says she knows the actor's life is hard, but she's "proud for choosing the hard road."
O'Farrell has learned "if you have the passion, you shouldn't give up, because you never know what the next moment will bring." Perhaps he sums it up best when he says, "If the glass is half-empty, that also means it's half-full."