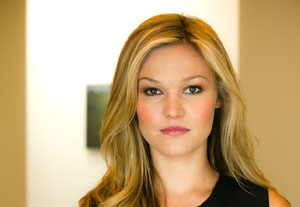 Sometimes, Hollywood feels like high school: impenetrable cliques, appearance angst, and of course the sobering sting of rejection. Julia Stiles, who first garnered notice in high school–set flicks, knows this all too well. "There was a chunk of time right before '10 Things I Hate About You' that I got rejected so much," she recalls, wincing a little at the memory. "And I remember just sobbing on the floor. I was devastated. It was like one role after another where I would get really close and it'd be down to me and somebody else and I wouldn't get the part."
Of course, she finally got the part—the one she was supposed to get all along. As whip-smart teen Kat Stratford in the 1990s classic "10 Things I Hate About You," Stiles emerged as a force to be reckoned with, an actor who could zing us with tart-tongued bons mots in one breath and bare herself emotionally in the next. And she knows that everything ultimately worked out for the best.
"I mean, it's easy to say this now, but things happen for a reason," Stiles says. "I look back on the movies I didn't get, and it never would've made sense for me to be in them. 'Hot cheerleader' probably wouldn't have been a good fit. I was quite angsty." She has tried to move beyond the angst as well, to stop caring about what people might think of her in certain roles or how the industry perceives her in general. Her latest gig, as a bruised soul out for revenge in Showtime's twisty "Dexter," is quite a departure from many of the über-confident women we've seen her portray before. And though she's excited to show another side of her talent, she doesn't really think about it in those terms.
"It's hard to ignore that urge to please other people; you want affirmation," Stiles says. "But I think I've made a conscious decision to try and stay focused on being satisfied with the work that I've done. I can't really anticipate how people are going to respond. I can just focus on doing the best work that I can be proud of and hope the rest follows." She pauses thoughtfully, considering her words, then breaks into a bemused smile: "But maybe I just tell myself that."
Her work on the current season of "Dexter" has certainly inspired rapturous responses so far. As Lumen, a traumatized young woman who forges an unlikely bond with our favorite serial killer (Michael C. Hall), Stiles is heartbreaking, terrifying, and utterly watchable. A fan of the show, she says she heard through the grapevine that producers were crafting a mysterious female character and asked her agents to look into it. She usually chooses parts based on the writing, but with "Dexter," she said yes even though the role hadn't been penned yet.
"I jumped at this opportunity and they had not shown me a single word on paper," she marvels. "I just spoke to the producers about what they envisioned for the arc of the character over the whole season, and after they told me what they imagined, I was speechless. I was so amazed and eager to be part of the show."
She was offered the role without having to audition, though she's quick to note that advocates like "Dexter" executive producer John Goldwyn, who'd previously worked with her on "Save the Last Dance," helped tilt the scales in her favor. She has been immersing herself in Lumen's unique world ever since. The character has been through a major trauma, so Stiles has found herself doing quite a bit of work to connect to the experience.
"I'm a firm believer that you don't have to necessarily draw on personal experience. I cultivate my imagination, almost like meditating," she explains. Lumen "has an association: If someone touches her in a certain way, she'll flinch, and to get that physical response takes a lot of thinking that then will connect to the muscles. I think I learned this from doing stage work: After repetition, the mind connects to the body."
Higher Learning

Stage work has always been a big part of Stiles' career—it is, in fact, the root of her inspiration to become an actor. She grew up in New York, and her mother, a ceramics artist, surrounded her with creative people of all different stripes. One painter friend also happened to be a set designer for Ridge Theater. "They needed a kid in one of their plays, and I was this precocious little girl who wanted to play dress-up and perform all the time, so I actually wrote a letter saying, 'I want to be in your show, and here are the characters I've created,' which is kind of ridiculous," Stiles says, laughing at the memory.
She didn't have any lines in her first show—a spoof of 1930s jungle movies—but the experience led to other plays with the company, which ultimately helped her find representation. "I was young and not really thinking about 'What am I gonna do as a profession?' " Stiles says. "I was kind of like, 'It's really fun to hang out with these wacky adults. You get paid to do make-believe!' But then as I got older, I started auditioning and getting some work."
One of her first roles was a decent-sized part in the Claire Danes–Jude Law film "I Love You, I Love You Not." As with Stiles' stage debut, the character didn't have any lines, but the experience offered a nice intro to the business. "It was really fun," she says. "When I went to the set to have my final audition, I saw Claire Danes walk to the craft-service table and I was totally starstruck."
Within a couple of years, her own star was on the rise: She landed "10 Things I Hate About You" her junior year of high school and followed it up with filmmaker Michael Almereyda's ambitious take on "Hamlet" and David Mamet's "State and Main." She can now recall a lot of surreal moments as a young actor learning the ropes. "I have a story of a director that shall remain nameless," she says, chuckling a little. "I was supposed to meet him for his new project at the Beverly Hills Hotel, and it ended up being, like, a two-hour weird meeting where he was wearing a bathrobe and telling me about all the coke that he did when he made another movie."
Luckily, Stiles' mom was around to keep her grounded—and to keep crazy directors at bay. "I was 19 or 20, in California for the first time. She came with me to protect me, and two hours into this meeting, the concierge called and said, 'Julia's mother is downstairs. She just wants to know if everything's okay.' " Stiles grins at the memory. "I love her for that."
Although many young actors would have used Stiles' considerable momentum to do as many movies as possible, regardless of quality, she tried to keep her choices smart and interesting. She also made the unlikely decision to go to college: Columbia University, where she earned a degree in English. "Part of it was my own curiosity about having that experience, having that safety net of a place where you can make mistakes and make friends," she explains. "My parents definitely said, 'You have to go to college.' And then, oddly, because 'Save the Last Dance' had come out and I was doing interviews and talking about being in school, I was like, 'Well, I have to finish now, because it's been written about.' "
Though she downplays the weight of her decision to attend school ("A lot of people go to college; it's not that special"), Stiles acknowledges that it was occasionally challenging to balance her studies and acting work. But she feels that living a normal student-type life helped her remain grounded in the midst of potential craziness. " 'Save the Last Dance' came out when I was a freshman," she says of one of her biggest hits to date. "And as bizarre as that was, it was so humbling to be at a rigorous school where they're focused on other things besides how much money your movie's making."
A Star is 'Bourne'
Unlike many of her former teen actor peers, Stiles has made the tricky transition to grown-up roles, winning acclaim for her subtle work as a CIA agent in the "Bourne" movie series. But, she notes, it hasn't always been easy. "It was maybe a very slow, gradual change, but there was a period of time where I didn't work for a while—by choice and not by choice. And I spent a year doing 'Oleanna,' " she says of the production on Broadway and in Los Angeles. "To people in the movie end of the industry, that's meaningless. So there were long periods of unemployment, and time just kind of had to pass so people would see me in a different way."
But those periods of not working haven't made Stiles any less choosy about what she takes on. Right after the third "Bourne" movie, there was a bit of a lull, but some of it was by choice. "There were parts that I didn't get or wouldn't be considered for, and then there were things that were offered to me that I would turn down, which is a scary thing to do when you just want to work," she says. "They were largely just things that I didn't connect to. I wasn't going to service the story."
Stiles says her process for picking projects is "more conscious" than it was when she was starting out: "I think when I was younger, it was, 'What do I feel like doing today? Oh, yeah, that sounds fun, that sounds cool.' Very cavalier. Now I'm much more focused about what I want to do. I think about it strategically: How is this going to come out or be received? But ultimately, I think the main factor for me is if I imagine myself in the part, do I think I could do something interesting with it? A lot of times, if I read something and I'm still thinking about it the next day, that's a good sign."
She also makes every effort to incorporate stage work. Since those first few moments as a kid actor, theater has remained a staple of her career. Recently she returned to her roots, collaborating once again with Ridge Theater, for "Persephone," part of the Brooklyn Academy of Music's Next Wave Festival. "There are resources you can develop in stage work that are hugely beneficial when you're working on film or television," she says. "It's like going to the gym for an actor. There's a discipline and a lack of preciousness about actors that I think is really important. It's so easy to go on a film set and everybody's tiptoeing around you: 'Can I get you water?' That kind of thing. It feels really nice, but I would never want to be reliant on that."
This kind of sentiment—assured, mature, astonishingly grounded—seems to represent all the wisdom Stiles gained during the high school period of her growth as an actor. Now that she has graduated to the big leagues of acting, everything that has come before enhances her choices in craft and career. Take "Dexter," where she's still using the stage muscles that first sent her on the path.
"They work so fast, and to know that you can think on your feet is great," she says. "Working on stage, you know that at 7:30 they're going to call half-hour, and it's a countdown to when you have to go on stage, and there's not an editor to fix your performance. That's something you can revert back to, no matter what the medium. You always know, 'Okay, I can do this.' "   
Out Takes

-Repped by ICM and Untitled Entertainment
-Wrote and directed the short film "Raving," starring Zooey Deschanel: "Directing a feature is a long-term goal for me. But I'm schizophrenic about it, or maybe a little hesitant. At least right now I feel like I love the acting side of it, being in front of the camera. But I also loved being able to create something from scratch and see this crew come together and realize my vision and also learn the whole process of filmmaking."
-Took things from her college experience back to her acting: "It's always a tricky balance with actors to be intellectual and emotional. There was a danger when I was in college to get a little too intellectual and a little detached from that. So I became really good at analyzing scripts, but it wasn't until I finished school and I was doing more stage work that I could tap back into that visceral thing, which is what makes acting more powerful, I think."